Take a speedy grade I winner from a hot sire line who could carry his speed up to 1 3/16th miles. Cross him with a classically-oriented family whose credentials include two Kentucky Derby/Preakness (gr. I) winners, an Epsom Derby (Eng-I) winner, and a Prix du Jockey-Club (Fr-I) winner. What do you get?Well, if you are fortunate, you get a colt like Going Wild, winner of the Jan. 17 San Miguel Stakes. With early fractions of 21.61 and 44.32 for the San Miguel, he has already demonstrated that he has speed aplenty, and his pedigree suggests he will have the endurance to carry that speed over a distance.
Golden Missile
, the sire of Going Wild, had his biggest win in the Pimlico Special (gr. I) at 9 1/2 furlongs and never won at less than a mile. This statistic is somewhat misleading, however, as he was a speedy type who usually ran close to the pace and could run out of gas if challenged in the stretch. Much of his speed can probably be attributed to his dam Santa Catalina, a dual grade III winner at sprint distances and a daughter of Cure the Blues, a quick horse who was among the best juveniles of his year. Given this background, perhaps it should not be surprising that Golden Missile's first crop has so far produced two stakes winners at sprint distances in Going Wild and Inspiring, winner of the 6 1/2-furlong Sorrento Stakes (gr. III) at two.The stamina that enabled Golden Missile to go a distance came, of course, from his sire
A.P. Indy
, himself a Belmont Stakes (gr. I) winner and now one of the world's premier sires. As grandsire of Going Wild, he meets another proven stamina source in Going Wild's broodmare sire Strawberry Road, who has already crossed well with the Seattle Slew male line in 2002 champion juvenile
Vindication
. Grade III-placed Scipion, an A.P. Indy half-brother to Vindication, has also shown promise, and the reverse cross of Strawberry Road on Seattle Slew has produced 1998 champion older female Escena.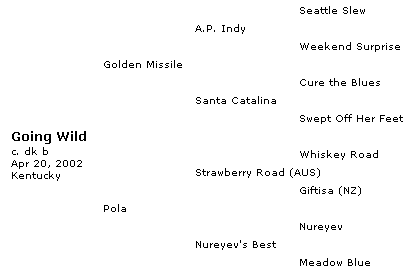 Pola, the dam of Going Wild, ran only twice, scoring in a six-furlong event. Had she stayed in training longer, she might well have shown a preference for longer distances, for her dam Nureyev's Best (by Nureyev) is a stakes-winning half-sister to Really Blue, dam of 1998 Kentucky Derby and Preakness (gr. I) winner
Real Quiet
. The next dam, Meadow Blue, is by Raise a Native out of Gay Hostess and so is a full sister to 1969 Kentucky Derby and Preakness winner Majestic Prince and a half-sister to Betty Loraine (by Prince John), dam of 1974 champion and Prix du Jockey-Club (Fr-I) winner Caracolero and granddam of 1984 Epsom Derby (Eng-I) winner Secreto. Few families in American breeding can show better credentials for producing Classic winners.Nonetheless, Nureyev's Best's other two North American winners both preferred sprint distances despite being by Blushing John and Seattle Slew, both accomplished at 10 furlongs or more. This may well reflect the influence of Nureyev, who excelled at a mile or less and is generally known as a source of miler speed. Thus, Going Wild's breeding features a sire and a dam who are both by staying sires out of mares by speedier broodmare sires, although the female line of Pola is more stamina-oriented than is that of Golden Missile.
Going Wild is not closely inbred, but an interesting feature of his pedigree is the presence of the close relatives Forceten (second damsire of Golden Missile) and Special (dam of Nureyev) in the fourth generation: both are by Forli out of mares by sons of Nasrullah. Another interesting point is that the mating that produced Going Wild is an outcross to the predominant inbreeding in both sire and dam: Pola is free of Bold Ruler, who appears 5x4x5x5 in Golden Missile's pedigree, while Golden Missile is free of Northern Dancer, who is found 4x3 in Pola's pedigree.