Horse of the Year in 1994, Holy Bull had one glaring hole in his resume that year, the Kentucky Derby (gr. I), in which he struggled over a muddy track to finish an ignominious 12th of 14 behind winner Go for Gin. Saturday, that defeat was avenged when his son Giacomo charged from far off the pace to win the Kentucky Derby by half a length over a dead-game Closing Argument.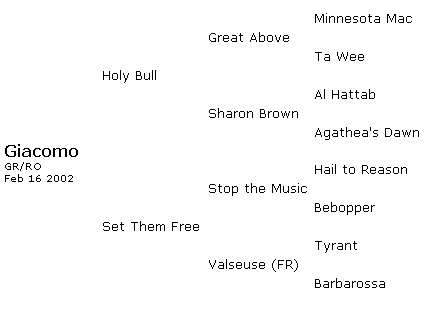 Giacomo not only avenged his sire, but scored a classic victory for one of the oldest American male lines still extant, that of the 1898 Derby winner Plaudit. Also the male line of the great Dr. Fager, this line has never been large in numbers but has been in the United States since the importation of Eclipse (by Orlando) in 1859. Eclipse's son Alarm sired Himyar, whose progeny included not only Plaudit but Domino, a great racehorse and sire and the progenitor of another uniquely American line that now depends primarily on the sons of the recently pensioned Broad Brush.Giacomo is the first stakes winner out of Set Them Free, a daughter of Stop the Music. A son of the stamina influence Hail to Reason, Stop the Music was one of the better members of the 1970 crop though no match for Secretariat, whom he defeated via disqualification in the 1972 Champagne Stakes. He raced through age five and proved a good but not spectacular stallion, his sons including the top regional sire Cure the Blues. A leader of the New York state sire list for years, Cure the Blues sired another good stallion in the recently deceased American Chance, whose son America Alive won the Woodford Reserve Turf Classic (gr. IT) on the Derby undercard.
A winner of three listed stakes, Set Them Free was produced from the Tyrant mare Valseuse. Also the dam of the French stakes winner Vachti, Valseuse hails from a female line which has consistently produced good runners that were primarily at their best at a mile or less. The fifth dam of Giacomo, however, is Mistress Ford, winner of the 1936 Prix de Diane.Like most of the better offspring of
Holy Bull
, Giacomo is a complete outcross within five generations; the closest duplication in his pedigree is a 6x6 cross to Discovery. His pedigree, however, contains line breeding to the great taproot mare Mumtaz Mahal, who appears 7x7x8x8x7. Another line of Mumtaz Mahal's family is added via Fair Trial, sire of Giacomo's fourth dam Barbara, whose granddam is Mumtaz Mahal's dam Lady Josephine.