The Fasig-Tipton Kentucky July select yearling sale posted first-session results for gross and average Monday that didn't change dramatically from 2004's figures, but the buy-back rate rose sharply."If you give the buyers what they want, then you get plenty of money," said consignor Francis Vanlangendonck of Summerfield. "I think the market is good; I'm tickled to death with it. But I think it's maybe not as strong as last year across the board. Last year, if you had a good average horse, you still got pretty good money. This year that good average horse kind of dipped some in value and you had to adjust for it."Fasig-Tipton is offering more yearlings than ever before in Lexington in July, with 679 catalogued, up more than 37% from 2004. Vanlangendonck thought the increase in supply caused the upswing in the buy-back rate."I think it's because of the numbers," he said. "You just can't bring that many horses in here and expect them to be absorbed."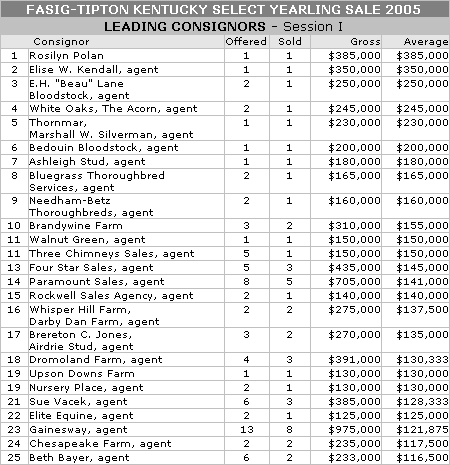 Fasig-Tipton reported 184 horses were sold for a gross of $17,503,000 and an average of $95,125. Compared to a year ago, when 169 horses were sold, the gross advanced 4.5% and the average declined 4%. The median of $80,000 remained the same. However, the buy-back rate for the opening session jumped from 24.9% last year to 38.3% this year.The figure that I don't like is the 38% (buy-back rate)," said Fasig-Tipton president Walt Robertson. "But were the increased numbers (in the catalogue) the reason? I don't know. Let's see how it is tomorrow. Today, if you're just going to sit there and look at this year's numbers against last year's numbers, you have to assume that.""If you asked me would I be happy to be down 4% today (in average), well, you're never happy being down. But I'm sure OK with it, and I don't think it's time to panic because it's a good horse market."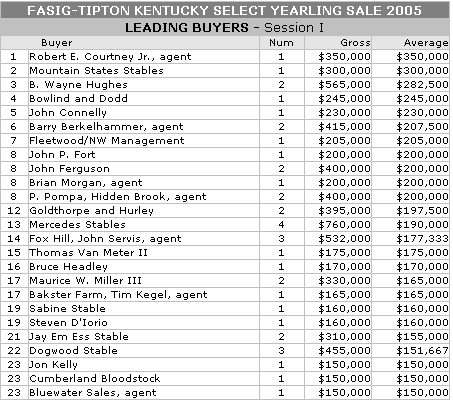 According to Robertson, the average for this year's new sire showcase, which consisted of the first 305 horses in the catalogue, was $94,970, a slight increase from $94,117 last year.A colt from the second crop of
El Corredor
brought the highest individual price Monday, selling for $385,000 to Californian B. Wayne Hughes, who owns Spendthrift Farm in Kentucky. The colt's breeder and consignor was Rosilyn Polan, who used to be known as the "Bag Lady" at the Kentucky sales because she catered lunches for barn help."B. Wayne Hughes--I'm starstruck," said Polan, who had never before sold a horse for a six-figure price. "This is phenomenal."Polan and her husband, Kenneth Ross, own 100-acre Sunday Morning Farm near Versailles, Ky., and have only eight broodmares. She used her money from catering to make farm improvements over the years, but now devotes her time to raising her daughter and breeding horses.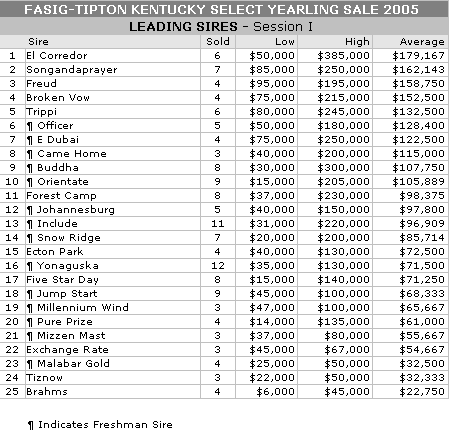 "Polan bought Meadow Bryte, an unraced daughter of
Meadowlake
, while the mare was carrying the El Corredor colt, for $51,000 at the 2003 Keeneland November breeding stock sale. Polan liked the mare because she had a "baby doll head" and big, strong-looking hindquarters. Meadow Bryte is a half-sister to three stakes winners.Hughes said his racing manager, Seth Semkin, picked out the colt, which Semkin described as "the best horse in the sale." Semkin said he was impressed with the colt's athletic appearance and graceful walk.The Fasig-Tipton July auction's second and final session is scheduled for Tuesday, beginning at 10 a.m. (EDT).
Hip-by-hip results of FTK session 1