Fasig-Tipton's Kentucky July yearling sale lost ground in the stretch Tuesday in Lexington, ending with small to moderate declines in gross, average, and median. With the auction offering its largest catalogue ever, the buy-back rate increased significantly.Compared to a year ago, the gross suffered the least damage, falling 3.9%. However, the average and median slumped 11.8% and 6.3%, respectively, after soaring to all-time highs last year. Meanwhile, the buy-back rate advanced from 25.2% to 38.8%."It wasn't as easy as it was last year, but it was a good horse sale," said Fasig-Tipton president Walt Robertson. "Good horses sold well, but the average horses didn't seem to sell as well."Fasig-Tipton reported 368 horses were sold during the auction's two-days for a gross of $37,106,000, an average of $100,832, and a median of $75,000. Last year, when 338 horses were sold, the gross reached the auction's second-highest level ever of $38,620,000. The average climbed to $114,260 and the median rose to $80,000.The highest price for an individual horse fell from $825,000 last year to $650,000 this year. The number of horses sold for $500,000 or more dropped from four to two.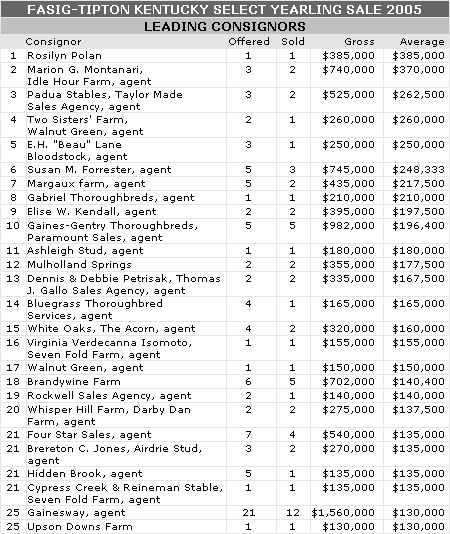 When asked why this year's figures didn't keep up with last year's hot pace, Robertson replied: "I truly don't know. Was it that we didn't have as many special horses? Possibly. Could the market be getting tighter? Possibly. I can't answer that. I do know that last year we had some obvious horses that we knew were going to bring a lot of money going in and this year everybody was scratching their heads, as you well know, trying to find out where the top was going to be. We had a fairly a good idea, but it wasn't as obvious as it was last year. Those upper horses, if you don't have them in your sale, you miss them."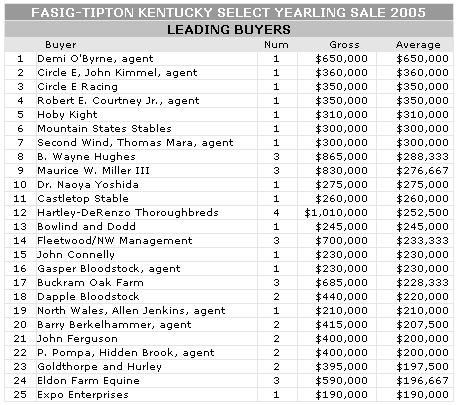 One big change from 2004 was the number of yearlings catalogued. The total of 679 was up more than 37%. The declines in key business figures coupled with the rising buy-back rate suggested that the supply of horses was greater than the demand."It was certainly a factor, but I don't know that it was the sole factor," Robertson said.According to Fasig-Tipton executive vice president and chief operating officer Boyd Browning, "there were a couple of factors that were in play. We saw a little tightening in the 2-year-old sales, with the exception of (Fasig-Tipton) Calder and Maryland (Fasig-Tipton Midlantic)."And you're going to see an increased supply in the yearling marketplace this year," he continued. "This catalogue was bigger, OBS's (Ocala Breeders' Sales Co.'s August sale) is bigger; (Keeneland) September is bigger; the Midlantic October is bigger; and (Fasig-Tipton) Texas is going to be bigger. There is some additional supply out there without any great increase in demand. You've got probably a similar demand overall in the marketplace that you had last year with a little bit of increased supply. So, you have a slight adjustment in the marketplace. But overall, I think most of the consignors walked out of here happy. Are they ecstatic, was it an outrageous market? No. Was it a pretty satisfactory market? I think so. It was a very, very strong sale last year, and it's tough to be like that two years in a row."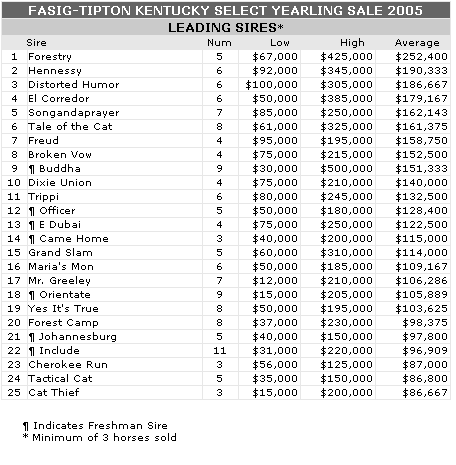 The sale-topper was a colt by one of the world's hottest sires,
Giant's Causeway
, sold for $650,000 Tuesday. Irish agent Demi O'Byrne, a member of the Coolmore Stud team, purchased the muscular chestnut colt with the flashy white blaze. Giant's Causeway stands at Ireland-based Coolmore's Kentucky division, Ashford Stud.David Hager's Idle Hour Farm consigned the colt for his breeder, Marion G. Montanari of Florida.
Hip-by-hip results of FTK session 2