The Fasig-Tipton July sale Monday and Tuesday offered public-auction buyers the first opportunity to acquire yearlings of stallions represented by their first crops.Here is a sampling of observations by buyers and consignors about some of the first-crop sires that impressed them the most and first-crop sires in general.
Compiled by Leslie Deckard, Esther Marr, David Schmitz, Pete Spanos, and Amy Whitfield
Dan Pride, Darley at Jonabell, consignor/buyer:
"The results speak for themselves (with
Street Cry
and
E Dubai
). It's everyone's goal to be the leading freshman sire at the sales and that's what we accomplished. The sale of all four of E Dubai's consigned yearlings at a sale with nearly 40% buybacks exceeded our expectations. It was solid all over and we've got better ones selling in September."
Michael Hernon, Gainesway Farm, consignor:
"We figured
Officer
to be popular among pinhookers because he was a successful pinhook himself, selling for $175,000 as a yearling and $700,000 as a 2-year-old, and a successful runner at that age. His first foals sold well last year, and we'll see continued market acceptance with his 2-year-olds next year at the breeze up sales.
Orientate
, a Gainesway-bred, was pursued by end users (non-pinhookers), but that didn't mean they weren't attracted to pinhookers. People told us what good looking movers they were."
Dan Kenny, FourStar Sales, consignor:
"I was impressed with a lot of the new sires. All of the offspring by
Orientate
had a very uniform look. The
Buddha
s were very impressive and you would have expected the
Came Home
s to look exceptional and they did. I also like the
E. Dubai
s and the
Include
s also had a very uniform look. The
Yonaguska
s were hit and miss but they attracted attention. I think of all the new sires,
Pure Prize
is going to be your sleeper. He didn't have very many in the sale, but what he did were outstanding. Of the new sires, I don't think there are any real superstars, but there is a lot of depth for the future."
Bobby Hurley, buyer:
"I like the
Unbridled's Song
line and the
Buddha
s looked real good to me too."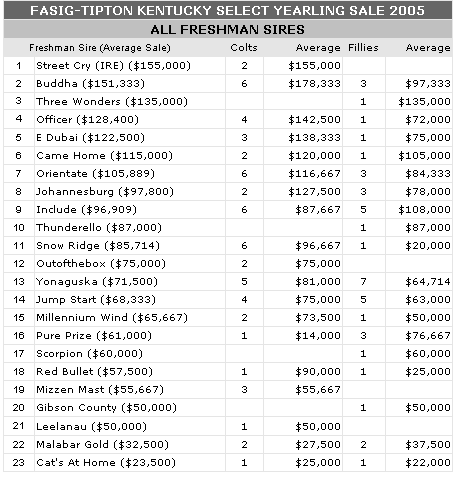 Bobby Dodd, buyer:
"For the new sires we liked
Officer
and
Orientate
---theirs looked good."
John Servis, trainer/buyer:
"We bought two
Buddha
s and a
Songandaprayer
--there's a strong
Unbridled's Song
influence here. The
Include
babies look good and you don't always get that with (sons of) Broad Brush."
Tom Van Meter, Eaton Sales, consignor:
"For the new sires it looked to me like
Buddha
sold pretty well."
Bob Baffert, trainer/buyer:
"
Officer
looked pretty good, and so did
Include
."
Ron Ellis, trainer/buyer:
"The
Include
s looked nice, and
Yonaguska
."
Larry O'Byrne, Hill 'n' Dale, consignor:
"For young sires I thought,
Buddha
,
Orientate
, and
Officer
stood out."
Ken McPeek, agent/buyer:
"The sale has gone well for us. We got what we were looking for. We bought a
Pure Prize
I really like, as well as a
Jump Start
and a
Yonaguska
I was thrilled with."
Niall Brennan, buyer:
"I bought an
Include
that looked nice and a
Jump Start
that was pretty nice too. It's still a little early to say, but
Buddha
and
Yonaguska
sold well."
Bruce Headley, trainer/buyer:
"I thought all the new sires were all pretty nice and Fasig-Tipton did a good job picking them out. "
John Fort, buyer:
"I bought a
Came Home
(yearling) for $200,000 so you could say he was a young stallion that caught my eye."
Dean DeRenzo, Hartley/DeRenzo Thoroughbreds, buyer:
"The new sires didn't stand out as well as I would have liked them to. I think the
Buddha
s were pretty well respected and I liked several of them."
Randy Hartley, Hartley/DeRenzo Thoroughbreds, buyer:
"I was a little disappointed. The
Officer
s and
Snow Ridge
s were more consistent and solid at this sale anyway. With new sires, the offspring can change from sale to sale."
Ciaran Dunne, Wavertree Stables, buyer:
"The most consistent of the new sires was
Include
. He was probably the star of the bunch, just because of the athleticism of all his foals. They looked like they were fast and that you could train them. I also liked
Snow Ridge
. They were big, pretty horses and they looked athletic and like they would train easily."
Claire Reece, Rockwell Sales Agency, consignor:
"I sold the highest-priced filly (in the first session) by
Include
. It seems like any of the new stallions are doing well.
Johannesburg
is another that is doing well."
Bill Oiser, buyer/consignor:
"My favorite new sires are
Buddha
and
Johannesburg
because I like the type they're throwing."
Mark Taylor, Taylor Made, consignor:
"I think the new sires are doing a little softer than they have been in the past, especially on the lower end."
Bob Anderson, buyer:
"The highlight of this event is the new sire showcase. This attracts a lot of buyers and gives them a whole day to come out and get a feeling for what they will produce--and then they might buy one or breed to them. I saw some horses that I wouldn't have considered breeding to that had some real nice individuals. Some people like to get on a horse early."
Bates Newton, Vinery, consignor/buyer:
"We were pleased with the prices of (Vinery stallions)
Yonaguska
and
Pure Prize
. The Yonaguskas were very uniform and nicely athletic, and we bought four of them. We're going to race them, not pinhook them, and they'll be sent to our farm in Florida for training. We have 12 of them, and have about nine or 10 by Pure Prize. At the sale, we bought a Pure Prize filly. The numbers (either withdrawals and/or buybacks for Yonaguska and Pure Prize) were consistent with the sale. The sellers probably weren't realistic with their prices, and there was a (lack of) depth among buyers."
Brereton C. Jones, Airdrie Stud, consignor:
" We were told what a special horse
Include
is instead of us telling everyone. We couldn't be happier about his prices. When that happens, it's a good sign. There also were a lot of people telling us that we need an outcross (for Northern Dancer and Mr. Prospector). Another good thing is that Include's average was steady and not blown out of proportion by one big horse."