A $2-million filly by
Fusaichi Pegasus
was the session topper of a strong opening night of the Fasig-Tipton Saratoga yearling sale Tuesday night in Saratoga Springs, N.Y. The sale, under a new format of two nights instead of three, saw 51 yearlings sell for $16,525,000, good for an average of $324,020 and a median of $250,000. Seventeen yearlings, or 25%, were reported as RNAs. Last year's three-evening run saw 150 yearlings sell for an average of $304,700 and median of $212,500."The market is strong here tonight, don't you think?" mused bloodstock agent Demi O'Byne after paying $1.1 million for the top-priced colt. "We put a good horse before them tonight -- we played a good first half tonight," said Fasig-Tipton president and auctioneer Walt Robertson."Walt and the entire group held the line," said D. G. Van Clief, chairman of Fasig-Tipton. "They did not let standards slip. The positive buzz around the grounds over the last few days is that it's a good, solid group of horses, and I think that showed.""Buyer response over the last few days kind of echoed our thoughts," said Robertson. "I would have been surprised if it hadn't been like it is."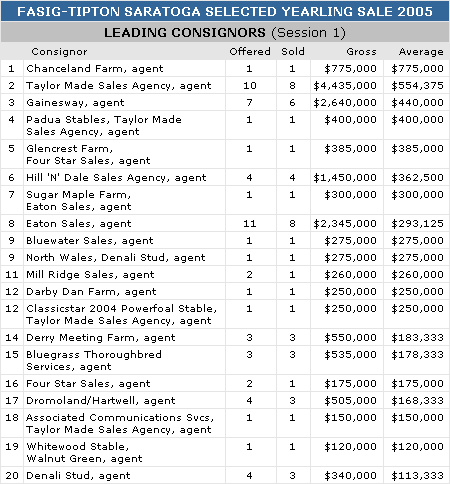 The market place was strong at Saratoga, and the sale's top price and most spirited bidding duel came down to a battle of wine and vodka, with wine pouring it on to the tune of $2 million to get the job done. The final bid was struck by bloodstock agent John Moynihan, bidding for Kendall-Jackson owner Jess Jackson. The immediate underbidder was Lee Einsidler, a liquor importer who was instrumental in the launch of Grey Goose vodka in the United States. He was accompanied by trainer John Kimmel. Agent Seth Semkin, acting on behalf of owner B. Wayne Hughes, was also in the bidding process early while in the back of the pavilion.The sale topper, the bay filly Call Collect, is the first foal out of grade III winner Collect Call by
Fusaichi Pegasus
. The filly is from the family of grade I winner Mitterand and French Deputy and was consigned by Taylor Made Sales Agency, agent. She was bred in Kentucky by Rod Rodriguez and Lorraine Rodriguez. It was the first horse they've ever consigned to an auction.Moynihan said he purchased the filly on behalf of Jackson and his Stonestreet Stables."She's absolutely beautiful," said Moynihan. "And I love the stallion. She looks like she'll be fast, and she's out of a great family. It was a lot of money to give, but I think that's what you've got to do. The ones you want... you've got to go after. I knew before the sale she'd be in excess of a million to a million five. With these kind of horses, you just don't know. She's just one we really wanted."Einsidler, joined by his wife, Daniele, and sporting a bright sunburn, lives in New York City. Along with the launch of Grey Goose, which was sold to Bacardi last year, Einsidler also imports the liquor Jagermeister. He races under the
nom du course
Circle C Racing. He said he bought four yearlings last year.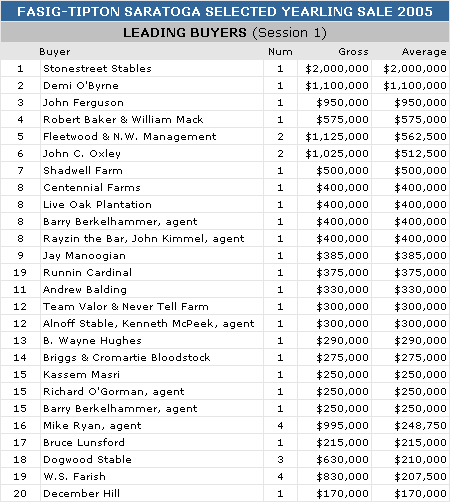 "We loved the filly," said Kimmel. "We tried, but we were unsuccessful."The top-priced colt during the sale's opening session, Hip No. 60, brought a final bid of $1.1 million from O'Byrne. The seven-figure purchase is a son of
Giant's Causeway
out of Affirmed's daughter Exchange Place, a full sister to Affirmed Success."He had great action; extra remarkable," O'Byrne said.The colt, consigned by Eaton Sales, agent, was bred in New York by Albert Fried Jr., who bred and raced $2.2 million-earner Affirmed Success.The second-highest priced colt came toward the end of the sale as Hip No. 73 brought a final bid of $950,000 from bloodstock agent John Ferguson for a son of Mr. Greeley. The chestnut colt, with four white stockings, is out of the Raja Baba mare Hard Knocker and is a half-brother to graded stakes winner Chimchurri (by
Elusive Quality
) and the stakes-winning Huambo.Property of Eldon Farm Equine, the colt was consigned by Gainesway, agent.Bred in Kentucky by Manganaro and Blackwater Investments, the colt was purchased by Eldon Farm Equine for $400,000 as a weanling last November at Keeneland."He's a top individual, and the sire line has worked with the mare," Ferguson said. "We're delighted to have him."The underbidder was Semkin.

The second-highest priced colt was Hip No. 25, a striking bay colt by
Giant's Causeway
, who brought $775,000 on a final bid by Stan Fulton. Sitting to Fulton's right was bloodstock agent Tim McMurray, who signed the sales ticket under the Fleetwood/N.W. Mgnt. name. The colt is the first foal out of grade II winner Belterra, a daughter of the late Unbridled and a half-sister to grade II winner Royal Haven. He was consigned by Robert Manfuso's Chanceland Farm, agent."Stan loved him," McMurray said, finishing up the paperwork. "He's bred right, and he's a nice colt. He's immature, but he's got improvement in him, and he's by Giant's Causeway--he's the hot horse. This colt was near the top of our list."Belterra is a homebred who was raced by Manfuso and trained by Carl Nafzger. She won the Golden Rod Stakes (gr. II) at 2 in 2001 and also ran third the following year in the Ashland Stakes (gr. I)."A lot has been said about us changing formats from the previous three-day format to a two-day format this year," said Van Clief after the first night of the sale. "That decision was reached some months ago for what we thought was a demand by what seems to be an ever-busier market place. Professionals don't have the time they used to have in previous years. We thought that condensing the format would provide a service to the marketplace."There's been some talk around the grounds and in the industry within the last few days that perhaps the boutique Thoroughbred sale was on its way out. The results tonight clearly indicate that
it is not
. Saratoga is still a magic place to sell a horse. The boutique format we offer here is a perfect place for a good horse, and good horses sell very well."The second night of the sale begins at 7:30 p.m. Wednesday night at the Humphrey S. Finney sale pavilion.
Hip by hip results