The lone
Storm Cat
colt in the Fasig-Tipton select yearling sale elicited a protracted bidding duel between a pair of racing titans Wednesday night which resulted in a final $3.1 million winning bid from bloodstock agent Demi O'Byrne. The sale-topping colt added to a session total of $16,890,000, which was good for an average of $324,808 and a median of $200,000. Sixteen horses were RNA'd, or 23.5% of the night's total.Overall, the two-day auction recorded 103 yearlings sold for $33,415,000 which resulted in an average of $324,417 and a $225,000 median. The two-day buy-back rate was 24%.A year ago, during the three-day format, 150 yearlings sold for $45,705,000 which resulted in an average of $304,700 and a $212,500 median. The buy-back rate was 21.5%."We learned one or two things this evening, and we confirmed some others," said D.G. Van Clief Jr., chairman of Fasig-Tipton. "We learned that the new, condensed two-day format works and works well. We think that by condensing the sale we have increased the energy level and increased the efficiency of the sale without sacrificing any of the elegance.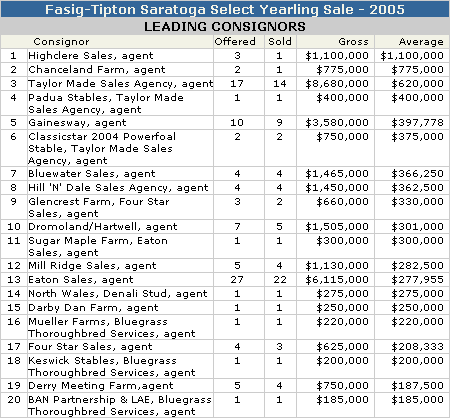 "What we've confirmed is that the market is still selective, but the demand at the top for the best is urgent. There is very strong demand at the top," he said. "This sale has also demonstrated that in this format, good, athletic, physical horses, well selected and properly presented sell very well."Overall, four yearlings at this year's sale at the Humphrey S. Finney pavilion in Saratoga Springs, N.Y. sold for seven figures, compared to five last year. Last year's top price was $1.85 million for a filly by
Giant's Causeway
. At this year's auction, 16 sold for $500,000 or more. In 2004, 24 brought at least a half-million during three nights of selling."We had a real solid bunch of horses from start to finish," said Fasig-Tipton president Walt Robertson, clearly pleased with the results. "The selection committee held this thing to stricter standards than they did last year, and it paid off."O'Byrne, representing the Coolmore group, was bidding against bloodstock agent John Ferguson, who represents Sheikh Mohammed, for the sale-topping colt. Out of grade I winner Rings a Chime (by Metfield), the colt was bred in Kentucky by Robert and Janice McNair's Stonerside Stable and consigned to the sale by the Taylor Made Sales Agency.O'Byrne, bidding out back while accompanied by Tim Hyde, Clem Murphy, Patrick Biancone, and Paul Shanahan, almost lost the colt when Walt Robertson was poised to drop the hammer at $2.75 million. O'Byrne nodded at first, signaling another bid, then yelled out "eight" to bid spotter Bill Robbins. There was little hesitation from O'Byrne after Ferguson double-jumped with a $3-million bid, and the Coolmore team got the colt for $3.1 million."She was good, wasn't she?" O'Byrne said of Rings a Chime, winner of the 2000 Ashland Stakes (gr. I) at Keeneland. Calling it his highest-rated colt at the sale, O'Byrne said he had no idea how much it would bring. "You don't know at this sale," he said. "There's no pattern. At a small sale, sometimes a horse will bring more."I love this sale, and I loved the (Keeneland) July sale. I don't understand why people don't send more horses here. It's so much easier to work a select sale."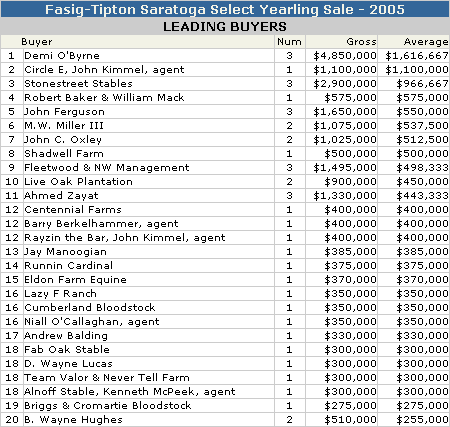 That was a big hit," said John Adger, racing manager for Stonerside Stable. "We're really pleased. We didn't expect that much. When you get over a million five, you never know really what they're going to bring. "I'd have to thank Taylor Made doubly so because they recommended we buy the mare several years ago," he said. "Also, we're pleased of the tremendous job (Stonerside manager) Bobby Spaulding did on the farm getting the colt ready."Taylor Made Sales Agency consigned the then 5-year-old Rings a Chime, then barren, to the 2002 Keeneland January sale where Stonerside purchased her for $800,000.O'Byrne also spent $650,000 for a filly by
Giant's Causeway
out of Slide that was consigned by Eaton Sales. Shut out on the $2-million
Fusaichi Pegasus
session-topping filly the first night of the sale, Lee Einsidler and trainer John Kimmel struck early in Wednesday's session, going to $1.1 million for Hip No. 98, a colt by the 2000 Kentucky Derby (gr. I) winner out of the Lost Code mare Lost the Code. Named Star of Pegasus and consigned by Jeffry and Stuart Morris' Highclere Sales, agent, the dark bay colt is a half-brother to champion sprinter and Breeders' Cup Sprint (gr. I) winner Squirtle Squirt.The colt was bred in Kentucky by Dr. Audrey Narducci and Ashford Stud.
Fusaichi Pegasus
stands at Ashford Stud near Versailles, Ky for $150,000.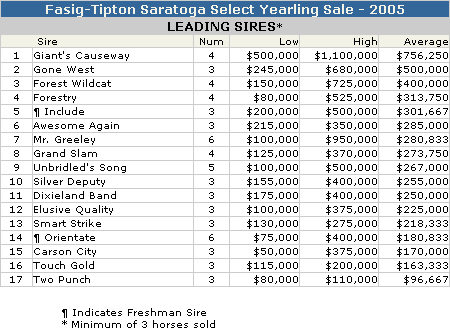 ""We tried real hard last night to buy the Fu Peg filly," Kimmel said of their losing battle with bloodstock agent John Moynihan on the filly Tuesday night. "We think he is going to be the preeminent sire in North America. So we looked at this colt and feel, if he becomes a top race colt, he'll have tremendous value as a stallion prospect being a half-brother to a champion. The horse has a lot of presence; physically, we couldn't knock him. We think he's a special colt.""I'm proud to own him and even more proud to give him to a top trainer," said Einsidler, who is executive vice president of sales and marketing for Sidney Frank Importing Co., a liquor importer based in New Rochelle, N.Y. Kimmel said he has five horses currently with Einsidler, who races under the Circle E Racing. He has three other yearlings and two 2-year-olds in training. "Lee wants to stay with top-echelon, quality stuff." "Obviously, after last night, we saw what kind of stallion appeal he has," said Jeffry Morris. "We pretty much had everybody that can play at that level look, and they seemed to come back. All of our information was that the colt was 100%. We thought it was just a matter of whether he was going to bring seven, or eight, or nine-hundred thousand or whatever."Kendall-Jackson wine mogul Jess Jackson, who purchased the session-topper Tuesday night through Moynihan, bought Hip. 122, a son of
Forestry
--Potential Pleasure, by Unbridled for $525,000. Kentucky pinhooker Maurice Miller III was active, buying a
Tale of the Cat
colt for $575,000. The colt, Hip No. 112 out of the Eastern Echo mare Mrs. Filio, was consigned by Eaton Sales, agent for Sugar Maple Farm, and was bred in New York by Sugar Maple Farm. Earlier in the evening, Miller went to $500,000 for a filly by
Giant's Causeway
out of the Forty Niner mare Lemon Dove. Consigned by Dromoland/Hartwell, agent, the filly was bred by Hill 'n' Dale Farm and N.E.T.P. in Ontario.