The Ocala Breeders' Sales Co. sold more horses than ever before at its August yearling sale, which ended its five-day run in Central Florida with a Friday afternoon session. But the gross revenue and average price, which failed to keep pace with last year's record-setting numbers, suggested that the supply of stock outstripped the demand of buyers.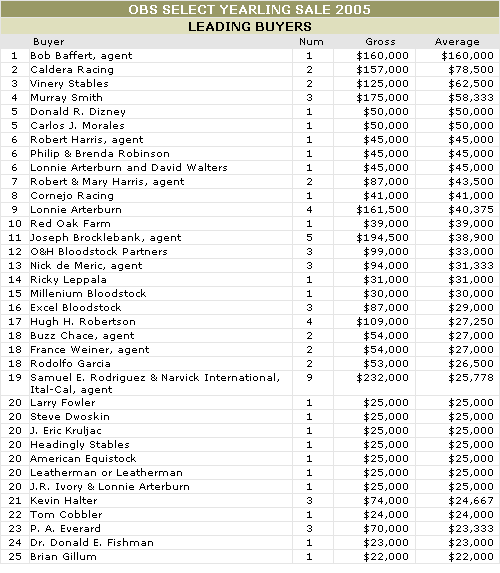 The 972 horses sold generated $17,285,300, which was down 5.9% from last year when the total was $18,361,400 for 891 yearlings sold. The auction's previous record for horses sold was 965, set in 2000. This year's average was $17,783, which represented a 13.7% decline from 2004's comparable figure of $20,608.The auction started Monday with a select session and preferred yearlings from the first phase of the Farnsworth Farms dispersal.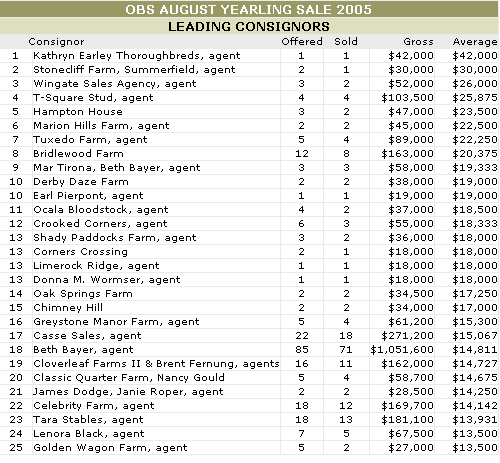 The 182 select yearlings sold grossed $9,171,500 and averaged $50,393. The median was $40,000. All figures, except for the number sold, were down from a year ago, when the gross of $9,252,000, the average of $52,271, and the median of $45,000 were all-time highs for the select session (excluding horses from Mockingbird Farm, which traditionally sold on the auction's opening day). The number sold in 2004 was 177. The buy-back rate rose from 21.3% last year to 30.2% this year.The 39 Farnsworth yearlings sold this year on opening day produced a gross of $404,700, an average of $10,377, and a median of $8,500.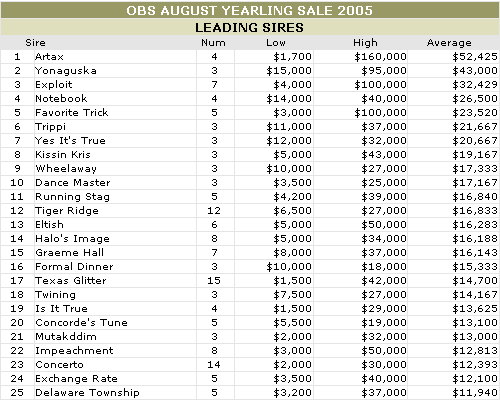 There were four open sessions this year. Their combined statistics, which included the results for more Farnsworth yearlings, were 751 horses sold, a gross of $7,709,100, an average of $10,265, and a median of $6,000. Compared to 2004, when there were three open sessions, the number sold increased 5.2% from 714; the gross dropped 15.4% from the open record of $9,109,400; the average decreased 19.5% from the open mark of $12,758; and the median declined 14.3% from $7,000. The buy-back rate advanced from 18.1% last year to 27.5% this year.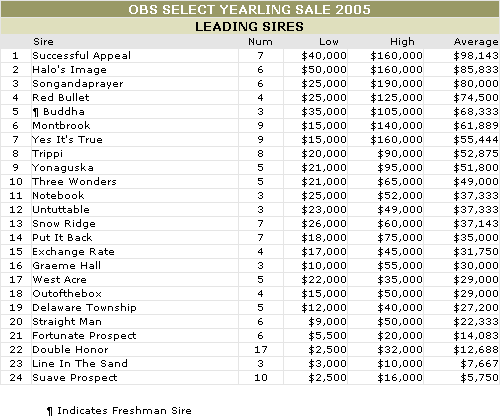 The results for Friday's open session this year were 161 horses sold, a gross of $1,412,200, an average of $8,771, and a median of $5,500. The buy-back rate was 32%. The final day's top-priced yearling was a West Acre – Aunt Pia colt. Eisaman Equine purchased him from Tuxedo Farm, agent.