Hurricane Katrina and the lack of expanded gaming legislation in Texas contributed to declines in the 2005 Fasig-Tipton Texas yearling sale held Aug. 29-30 at Lone Star Park. Final figures for the two-day sale showed declines in gross, average, and median from a catalogue that was 33% larger than last year.The sale grossed $3,335,100, down from last year's figure of $3,360,800. The average was $10,325, down from $12,447 last year. The median was $4,500, which dropped from $7,000 in 2004. The sale saw 323 horses find new homes compared to 270 last year. The number of horses not sold increased from 97 last year to 175 this year.Three horses sold for more than $100,000 and seven topped the $70,000 marker this year."The good news is more horses sold for more than $100,000 this year, but the bad news is people were shy about buying Texas-breds because the state legislature is not giving them anything to be positive about," said Fasig-Tipton Texas sales director Tim Boyce. "The top quality Texas-breds sold well but, like anywhere, good horses will sell well.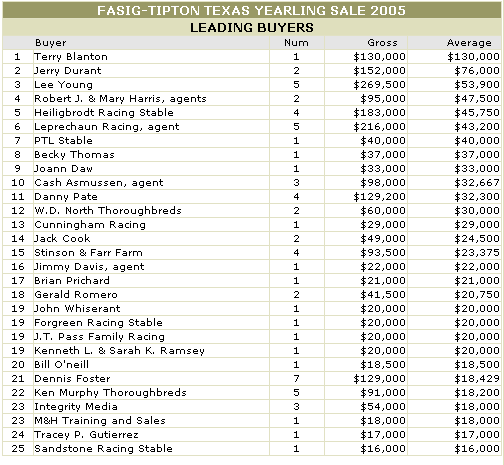 "I also think we lost about 30% of our buyers from south Louisiana who could not either get here or were more concerned with saving their homes, rightly so."Topping the sale was a $132,000 Texas-bred son of
Lemon Drop Kid
purchased by Weatherford, Texas resident Jerry Durant, who is a brother to owner Tom Durant. The colt, which topped Tuesday's session, was offered for a partnership of Ed Few and Stonerside Stables out of the Lane's End Texas consignment. Durant, who owns car dealerships, said he was attracted to the colt because of his overall physical appearance. "I thought he might bring a little less, but he was a good looking horse, and they bring good money."The colt will be sent to Durant's Silverado Ranch. Few, in partnership with Bob and Janice McNair's Stonerside Stable, bred the colt in Texas from the winning
Gilded Time
mare Salsa Stacy, the dam of stakes winner Philadelphia Jim (by
Mr. Greeley
).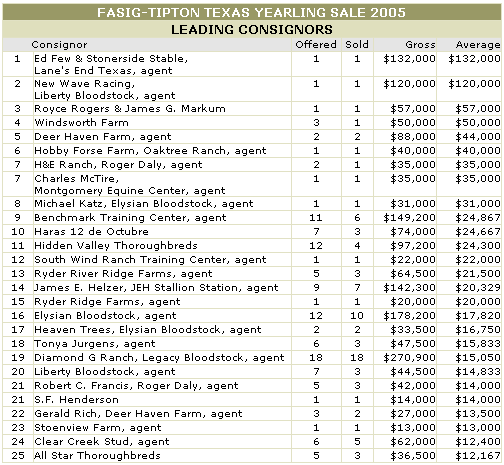 The mare was purchased by Few for $21,000, in foal to
Boundary
, at the 2001 Keeneland November mixed sale from the consignment of Elm Tree Farm, agent. Few still owns Salsa Stacy, who has a
Valid Expectations
colt on the ground and is back in foal to
Congaree
. "She's always been an awesome mare and throws real quality babies," Few said.Few said it was the decision of Stonerside Stable to sell the colt in Texas as opposed to another sale. "He's a Texas-bred, and we want to do all we can to support the Texas program," said John Adger, Stonerside Stable racing manager. "We're both directors of the Texas Thoroughbred Association, and we want to do what we can to support the breeding program. I think a colt of this quality would have sold well at any sale."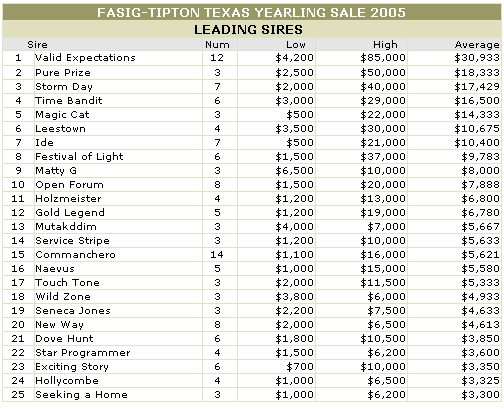 The second day of the sale saw 153 horses gross $1,420,900 for an average of $9,287. The median was $3,800. A total of 91 horses failed to find new homes. Last year on the second day, 136 horses grossed $1,455,900 for an average of $10,705. The median was $6,100. Forty-two horses failed to find new homes.
Hip-by-hip results