They don't make them like Gallorette any more. The champion handicap mare of 1946, Gallorette won or placed in 54 of her 72 starts while battling against the likes of Armed, Assault, and Stymie in one of the deepest handicap divisions ever seen in America. So impressive was she that in a national survey conducted by Delaware Park in 1956, Gallorette was voted the greatest American race mare since the Civil War, ahead of such luminaries as 1944 Horse of the Year Twilight Tear, 1945 Horse of the Year Busher, and 1915 Kentucky Derby winner Regret.Gallorette was not as stellar a producer as she was a racer, but she did produce two stakes-winning fillies. One, Mlle. Lorette (by Lovely Night), is the ancestress of a family that includes Canadian champion Charlie Barley and grade/group I winners Whitmore's Conn, Greenwood Lake, Success Express, and Air Express. The other, Courbette (by Native Dancer), is the fourth dam of
Saint Liam
, who has proven himself a worthy descendant of his great ancestress.The
pro tem
leader of the American older male division, Saint Liam heads for the Breeders' Cup Classic - Powered by Dodge (gr. I) with three grade I wins and a close second to Commentator in the Whitney Handicap (gr. I) while conceding six pounds. Like Gallorette, he has improved with maturity, coming off a 4-year-old season in which he won the Clark Handicap (gr. II) and ran eventual Horse of the Year Ghostzapper to a neck in the Woodward Stakes (gr. I). His only bad race this year has been in the Santa Anita Handicap (gr. I), in which he failed to fire and finished sixth.If there is a hole in his armor, it is the question of whether he will prove as good a horse at 10 furlongs as at nine, for the Big 'Cap has been his only start at the distance. His pedigree is an interesting mix of stamina and speed, beginning with Misty Flight, sire of his third dam Flight Dancer. A son of the staying Princequillo and the speedy Grey Flight, Misty Flight proved best as a late-maturing 2-year-old, winning the Remsen Stakes.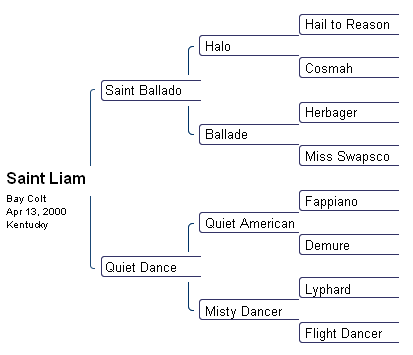 Like her sire, Flight Dancer proved best at age two, running third in the Queen Mary Stakes at Ascot. Her daughter Minstrella (by The Minstrel) took after her, earning championship honors in Ireland as a juvenile. But her other good daughter, the Halo filly Misty Gallore, won a grade II stakes at nine furlongs.Misty Dancer, Flight Dancer's 1988 foal, was by Lyphard, one of the stronger stamina influences among Northern Dancer's sons. How well she herself stayed is open to question as she ran unplaced in her three starts. Her best daughter, Quiet Dance, ran second in the nine-furlong Demoiselle Stakes (gr. II) at two and won the restricted Gala Lil Stakes over the same distance at four before producing Saint Liam as her second foal.Quiet American, the sire of Quiet Dance, was essentially a miler and has generally transmitted a similar preference to his offspring unless helped out by stamina from the dam's side, as in the case of dual Classic winner Real Quiet. But the late Saint Ballado, the sire of Saint Liam, is another story. Although he never ran over more than nine furlongs himself, his champion daughter Ashado and son Captain Bodgit have demonstrated that he could sire offspring capable of going 10 furlongs without needing strong stamina influences on the dam's side. Saint Ballado's sire Halo and grandsire Hail to Reason have both been significant influences for stamina, so it remains to be seen whether Saint Liam will follow in the footsteps of his staying sire line or will show more of the influence of a more speed-oriented female line as the distance stretches out.
Horses do not race as often now as they once did, and Saint Liam is committed to beginning his stud career in 2006 regardless of the outcome of the Classic. But if he cannot match Gallorette for durability, he can make a fair claim to matching her in class by winning the Classic. One could hardly ask for a better legacy from a great mare.
---
American Classic Pedigrees
by Avalyn Hunter
In
American Classic Pedigrees
, author Avalyn Hunter examines the pedigrees of the winners of the five American Classic races from 1914 to 2002: the Kentucky Derby, Preakness Stakes, Belmont Stakes, Kentucky Oaks, and Coaching Club American Oaks.
Readers can trace the rise and fall of various sire lines through the decades as Hunter shows how the Thoroughbred breeding market often dictated which bloodlines had a stronger chance of surviving and gaining prominence.
Available online now from
ExclusivelyEquine.com
, the official store of
The Blood-Horse
.