Close inbreeding is a tricky proposition, able to concentrate bad traits of the inbred ancestor as well as good ones. For this reason, it is often avoided by breeders. Yet it has produced a number of excellent horses, among them grade I winners Skimming, Two Altazano, and Storming Home.
Flower Alley
can now be added to the list. A great-grandson of Mr. Prospector twice over through his sire
Distorted Humor
and his maternal grandsire
Lycius
, he is also inbred 4x5x4 to Northern Dancer through three of the latter stallion's best sire sons.Flower Alley represents a departure from the early successes of his sire
Distorted Humor
, which were primarily through outcrossing away from Mr. Prospector and Northern Dancer. Of the nine stakes winners of the stallion's first Northern Hemisphere crop, only three had inbreeding to Northern Dancer, and none were inbred to Mr. Prospector. Funny Cide, the best of the group, has a 5x5 cross to Ribot as his only inbreeding.
Distorted Humor
is showing signs of being one of those stallions that can work with a variety of pedigree patterns, however. His second crop includes the speedy Commentator, winner of this year's Whitney Handicap (gr. I) and, like Flower Alley, inbred to both Mr. Prospector and Northern Dancer.Given that neither
Distorted Humor
or Mr. Prospector won at more than a mile, one might question Flower Alley's ability to go the 10 furlongs of the Breeders' Cup Classic - Powered by Dodge (gr. I). However, the colt answered that question with a powerful victory in the Travers Stakes (gr. I) at that distance, and a review of his pedigree reveals plenty of stamina sources.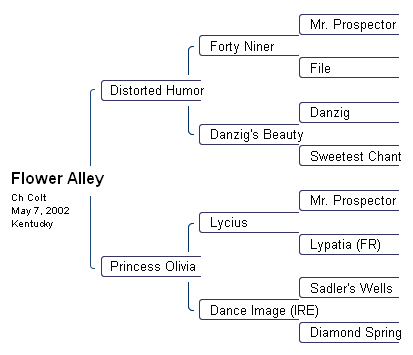 First, while
Distorted Humor
was best known as a sprinter, he placed well in races up to nine furlongs and stayed better than the title "sprinter" would imply. Second, Mr. Prospector has proven one of those rare stallions that defy easy categorization, getting runners all over the distance spectrum. Given that he himself had a "could be anything" pedigree with the brilliantly precocious Raise a Native as sire and the Classic winners and sires Nashua and Count Fleet as his first and second damsires, it hardly seems surprising he could sire horses with a wide range of distance aptitudes.Finally, one need look no further than the pedigree of Flower Alley's dam, Princess Olivia, to find all the stamina that one might wish. True, Princess Olivia did her best running in sprints, while her sire
Lycius
scored his primary stakes win in the six-furlong Middle Park Stakes (Eng-I). But Princess Olivia's dam, Dance Image, is by Sadler's Wells, the premier living sire of European Classic winners. Himself a group I winner at up to 10 furlongs and second in the 12 furlong Prix du Jockey Club (Fr-I), Sadler's Wells has sired the winners of 28 events generally considered Classics in England, Ireland, and France as well as the two-time Ascot Gold Cup (Eng-I) winner Kayf Tara.Princess Olivia is inbred to another stamina source in Goofed, a fine race mare who gained her biggest win in the 1963 Ladies Handicap, then at 12 furlongs. Best known as the dam of Lyphard, one of the stronger stamina influences among Northern Dancer's sons and the damsire of
Lycius
, Goofed is also the dam of Dumfries (by Reviewer), the fourth dam of Flower Alley.
Diamond Spring, the third dam of Flower Alley, is by an even more notable stamina source in Vaguely Noble. Winner of the 1968 Prix de l'Arc de Triomphe, Vaguely Noble is probably best remembered in the United States for his brilliant staying son Exceller, winner of the 1978 Jockey Club Gold Cup (gr. I) by a desperate nose over Seattle Slew, and for the great international star Dahlia, champion grass horse in the United States in 1974. Dumfries is a half-sister to the high-class mare Nobiliary (Vaguely Noble--Goofed), who defeated males in the Washington, D. C., International Stakes and ran second to Grundy in the Epsom Derby.Close inbreeding does not always work, but with careful selection of the parents, it has the potential for first-class results. One need look no further than Flower Alley for proof.
---
American Classic Pedigrees
by Avalyn Hunter
In
American Classic Pedigrees
, author Avalyn Hunter examines the pedigrees of the winners of the five American Classic races from 1914 to 2002: the Kentucky Derby, Preakness Stakes, Belmont Stakes, Kentucky Oaks, and Coaching Club American Oaks.
Readers can trace the rise and fall of various sire lines through the decades as Hunter shows how the Thoroughbred breeding market often dictated which bloodlines had a stronger chance of surviving and gaining prominence.
Available online now from
ExclusivelyEquine.com
, the official store of
The Blood-Horse
.