Last year,
Imperialism
was trying to go the distance--not too successfully. After a respectable third in the Kentucky Derby (gr. I) behind
Smarty Jones
, he ran fifth in the Preakness Stakes (gr. I), fourth in the Super Derby (gr. II), fourth in the Oak Tree Derby (gr. IIT), and third in the Hollywood Derby (gr. IT). His frustrations continued in early 2005 as he lost the Strub Stakes (gr. II) by a heartbreaking nose to Rock Hard Ten and then ran seventh in the Santa Anita Handicap (gr. I).A pulled back muscle was diagnosed after the Big 'Cap, sending Imperialism to the sidelines for more than five months. That the Pat O'Brien Breeders' Cup Handicap (gr. II)--a seven-furlong sprint--was chosen for his comeback may have been a surprise to those who were used to seeing him as a distance runner. It shouldn't have been. A winner of both of his previous starts at seven furlongs, including the San Vicente Stakes (gr. II), Imperialism clearly relished the distance and closed strongly to win in a brisk 1:21.70.Imperialism's transformation from Classic contender to come-from-behind sprinter was probably no great surprise to those familiar with the career of his sire
Langfuhr
. Like his son,
Langfuhr
spent the spring of his 3-old-season on the Classic trail--in his case, in Canada, where he ran second by a nose in the Plate Trial Stakes and then finished a disappointing sixth in the Queen's Plate. Dropped back to sprint distances at four,
Langfuhr
won the Forego Handicap (gr. II) and the Vosburgh Stakes (gr. I) and was named Canada's champion sprinter. At five, he added the historic Carter Handicap (gr. I) and stretched out enough to take the one-mile Metropolitan Handicap (gr. I).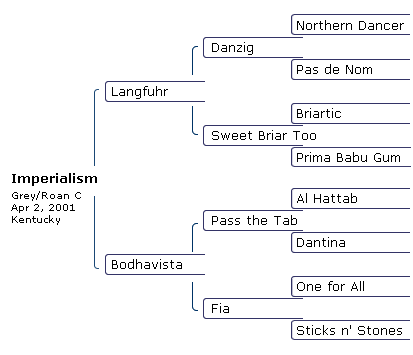 Langfuhr
's stud career got off to a flying start thanks to 2003 Canadian Triple Crown winner
Wando
and 2004 Canadian champion older male Mobil, both of which emerged from the stallion's second crop. As of Sept. 29, he has sired 30 stakes winners, 10 of them graded, and is currently 13th on the list of leading American sires. His standing reflects the modern tendency towards huge books as much as it does quality, for his 30 stakes winners represent 4% of his 781 foals of racing age. Nonetheless, as long as he continues to get headliners like
Wando
and Imperialism, he will no doubt continue to be popular.Langfuhr comes by speed honestly, for his sire Danzig showed brilliant ability before being forced into retirement by a knee injury. Now pensioned, Danzig was capable of getting Classic runners but was best known for siring sprinters and milers, among them Green Desert, Danehill, Anabaa,
Dayjur
, and Lure.
Langfuhr
may also have drawn some of his speed through a 3x3 inbreeding to Danzig's grandsire Nearctic, sire of both Northern Dancer and of
Langfuhr
's broodmare sire Briartic. A brilliant sprinter who stretched out to win the 1958 Michigan Mile in track record time, Nearctic also sired the good stallions Icecapade and Explodent, both good sources of speed.Imperialism's dam Bodhavista never won but is also the dam of multiple stakes winner White Beauty (by Robyn Dancer). Her sire Pass the Tab (by Al Hattab) stayed well enough to win the Ohio Derby (gr. II) over nine furlongs but was better at shorter distances, winning the Carter Handicap (gr. II) at seven furlongs and the Jamaica Handicap (gr. III) at a mile.One for All, the sire of Imperialism's second dam Fia, was another story. Canada's champion grass horse in 1970, One for All was best at distances of 10 furlongs or more. A son of Northern Dancer (to whom Imperialism is inbred 3x4) and an unquestioned source of stamina, he is doubtless a factor in the versatility that Imperalism has shown during his career.
Imperialism is much the best horse to emerge from his female family in recent generations, but his sixth dam is Untidy, generally considered the American champion 3-year-old filly of 1923. Broadly speaking, this family has been more a source of stamina than sprinting speed, its members including the Saratoga Cup winner Cochise and the Prix Vermeille winner and champion 3-year-old French filly Casaque Grise, but in this case, the infusion of speed from a top-class sprinter seems to have produced a horse with similar gifts.Like father, like son.
---
American Classic Pedigrees
by Avalyn Hunter
In
American Classic Pedigrees
, author Avalyn Hunter examines the pedigrees of the winners of the five American Classic races from 1914 to 2002: the Kentucky Derby, Preakness Stakes, Belmont Stakes, Kentucky Oaks, and Coaching Club American Oaks.
Readers can trace the rise and fall of various sire lines through the decades as Hunter shows how the Thoroughbred breeding market often dictated which bloodlines had a stronger chance of surviving and gaining prominence.
Available online now from
ExclusivelyEquine.com
, the official store of
The Blood-Horse
.