Cross a strapping stamina-oriented stallion with a precocious speedster of a mare. What do you get?If you are lucky, you get something close to
Rock Hard Ten
, a horse with enough speed to win the seven-furlong Malibu Stakes (gr. I) and enough stamina to win the 10-furlong Santa Anita Handicap (gr. I). A son of the late stamina influence Kris S. out of 1988 French champion juvenile filly Tersa, Rock Hard Ten has defied the old adage that states the a stayer with a sprinter all too often results in a foal with the speed of the stayer and the stamina of the sprinter.Actually, despite their differences as racehorses, Kris S. and Tersa have more in common than initially meets the eye, beginning with Bramalea and Gold Digger. These tough, classy race mares are the dams of Kris S.'s sire Roberto, and Tersa's sire Mr. Prospector, respectively. Both are daughters of 1955 Horse of the Year Nashua--an influence for both stamina and soundness--out of mares with both Bull Dog and Blue Larkspur close up in their pedigrees. The presence of close genetic relatives such as these along the damlines of two sires' pedigrees often points to a potential affinity between the descendants of the two, and in the case of Roberto and Mr. Prospector, had already struck gold in 1993 champion 3-year-old filly Hollywood Wildcat, by Kris S. out of the Mr. Prospector mare Miss Wildcatter.Kris S. and Tersa also share Hail to Reason as a common ancestor. The champion juvenile male of 1960 is the paternal grandsire of Kris S. and the third damsire of Tersa, Rock Hard Ten is inbred 3x4 to Hail to Reason in addition to his 4x4 cross to Nashua. With so much common ancestry, there was a better chance than usual for this "fish and fowl" mating of stayer to sprinter to succeed, and in fact, Rock Hard Ten is far better than any of Tersa's previous produce by such quality staying sires as
Theatrical
and Strawberry Road.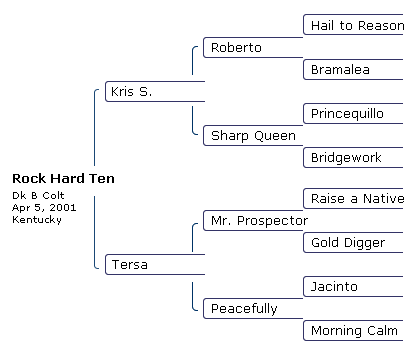 Tersa is a half-sister to 1982 Kentucky Derby winner Gato Del Sol (by Cougar II) out of the Jacinto mare Peacefully, ample evidence her female line could throw stamina under the right conditions. Likewise, Kris S., though primarily a stamina influence, has sired several runners whose forte was miler speed, most notably 1995 Metropolitan Handicap (gr. I) winner You and I, and 1988 Jerome Handicap (gr. I) winner Evening Kris.The key to Kris. S.'s ability to work effectively with more speed-oriented mares may lie in his granddam, Bridgework, by 1943 co-champion 2-year-old male Occupy (by the speed influence Bull Dog) out of Feale Bridge, by crack English sprinter and speed influence Gold Bridge.This blending of speed and stamina may make Rock Hard Ten one of the best candidates to carry on the male line of his sire and grandsire. To date, Kris S. has been represented by several useful sires in
Prized
,
Kissin Kris
, and
Arch
, but none of these sons have yet to sire a son likely to be given a serious chance at stud in the United States. This is regrettable, for Kris S. was one of the few reliable sources of stamina in the commercial stallion market prior to his death in 2002, and Roberto's other important American-based son,
Dynaformer
, is now 20 and likewise has not (yet) sired a likely successor.Whatever happens during the rest of Rock Hard Ten's racing career, his combination of racing talent, size, scope, and magnificent good looks will doubtless afford him excellent opportunities as a sire. Whether he will be able to deliver on those opportunities, only the future can say.
---
American Classic Pedigrees
by Avalyn Hunter
In
American Classic Pedigrees
, author Avalyn Hunter examines the pedigrees of the winners of the five American Classic races from 1914 to 2002: the Kentucky Derby, Preakness Stakes, Belmont Stakes, Kentucky Oaks, and Coaching Club American Oaks.
Readers can trace the rise and fall of various sire lines through the decades as Hunter shows how the Thoroughbred breeding market often dictated which bloodlines had a stronger chance of surviving and gaining prominence.
Available online now from
ExclusivelyEquine.com
, the official store of
The Blood-Horse
.