Everyone loves a rags-to-riches story, and among this year's Breeders' Cup horses, few fit that label better than Choctaw Nation--though the rags are perhaps not as ragged as for some of the sport's legends. The son of a talented if underachieving sire from a mare whose family has had its moments, Choctaw Nation has risen from a modest start as a $40,000 maiden claimer to an equine millionaire with a shot at North America's richest prize.
Louis Quatorze
, the sire of Choctaw Nation, won the 1996 Preakness Stakes (gr. I) from eventual 3-year-old male champion
Skip Away
and ran second to
Alphabet Soup
in that year's Breeders' Cup Classic (gr. I). He was not quite able to match that form as a 4-year-old but did capture the 1997 Ben Ali Stakes and Creme Fraiche Handicap, both grade III events, before retiring to Ashford Stud.As a freshman sire,
Louis Quatorze
attracted attention with
Repent
, winner of the Kentucky Cup Juvenile Stakes (gr. III).
Repent
became one of the better 3-year-olds of 2002 before going into retirement with a knee injury, but
Louis Quatorze
had trouble following up on that initial success and was transferred to Murmur Farm in Maryland in 2004. Since then, he has had several more good runners emerge, including the Brazilian group I winner Mr. Carrea and the well-regarded Second of June, but has remained an inconsistent sire with only 42% winners and 3% stakes winners from foals of racing age as of Oct. 19.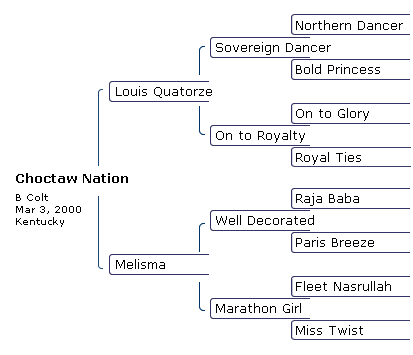 Louis Quatorze
is a strongly inbred horse, with the close relatives Bold Princess (Bold Ruler--Grey Flight) and Bold Lad (Bold Ruler--Misty Morn, by Princequillo--Grey Flight) appearing 2x3 in his pedigree; he is also inbred 4x4 to Native Dancer and 4x5x5x5 to Nasrullah. Like Second of June, Choctaw Nation adds another strain of Bold Ruler through his dam's sireline so that he is inbred 4x5x4 to the 1957 co-Horse of the Year. In addition, Choctaw Nation adds another strain of Nasrullah through the great sire's son Fleet Nasrullah, making him line bred 5x6x6x5x4 to Nasrullah, and is also inbred 5x5 to the mare Precious Lady. Some breeders do not care for this much inbreeding in a pedigree, but in Choctaw Nation's case, the continued inbreeding/line breeding to Bold Ruler and Nasrullah certainly does not seem to have done any harm.Choctaw Nation was produced from Melisma, a half-sister to the 1994 Beaumont Stakes (gr. II) winner Her Temper. Despite her staying heritage--she was by 1980 Belmont Stakes (gr. I) winner Temperence Hill, who relished 12 furlongs--Her Temper was most effective at sprint distances, and this proclivity may well have been shared by Melisma, whose sire, Well Decorated, was a useful sire of sprinters and milers. Since Melisma never started at a distance greater than seven furlongs, it cannot be dogmatically stated she could not stay farther, but it is worth noting her two winners prior to Choctaw Nation were both most effective at sprint distances even though one was by
Peaks and Valleys
, a multiple grade I winner at nine furlongs.Marathon Girl, the second dam of Choctaw Nation, may have had a name suggesting stamina, but precocious speed was apparently more her forte as her best race was a third-place run in the Spinaway Stakes (gr. I) as a juvenile. This tendency towards speed in Choctaw Nation's immediate female family leads to questions as to whether he is really as good at 10 furlongs as he is at a 1 1/16 miles or 1 1/8 miles. His performance in the Pacific Classic (gr. I), in which he was fourth but beaten only three-quarters of a length, certainly suggests he is effective at 10 furlongs, but whether that is his best distance is another question, and one that will only be answered when the division's stars come together Oct. 29.
---
American Classic Pedigrees
by Avalyn Hunter
In
American Classic Pedigrees
, author Avalyn Hunter examines the pedigrees of the winners of the five American Classic races from 1914 to 2002: the Kentucky Derby, Preakness Stakes, Belmont Stakes, Kentucky Oaks, and Coaching Club American Oaks.
Readers can trace the rise and fall of various sire lines through the decades as Hunter shows how the Thoroughbred breeding market often dictated which bloodlines had a stronger chance of surviving and gaining prominence.
Available online now from
ExclusivelyEquine.com
, the official store of
The Blood-Horse
.