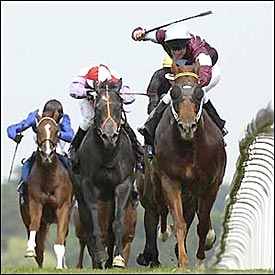 "As a boy growing up anyone in racing knows Royal Ascot and what a prestigious meeting it is, one of the best in the world. This is a great thrill." It was the first time in Ascot history a horse won both of the storied course's leading sprint events. Four days ago, the Newcastle, New South Wales 4-year-old won the Kings Stand Stakes.Saturday, he led nearly all the way, using enough of his unrivaled speed to clear the field and reach the rail, then had enough left to withstand Airwave at the end. In the process Choisir lowered the 11-year-old course record to 1:12.23.

"That's probably it for him until Hong Kong or we could have one more go at the July Cup," Perry said.

Murtagh said, "From the 20 stall I knew that I had to jump out and let him drift, but he has so much speed and I was sure a furlong and a half out that nothing would catch us – not even Airwave."

Airwave was a length better than Baron's Pit. Zipping was fourth. American entry Morluc finished last and returned lame."That was very disappointing," said jockey Gary Stevens. "He loved the ground and broke well, but the first dip he came to he just couldn't handle and rather put the brakes on going down into it. He wants a dead flat track."