---
Media Sandwich
2:40 p.m.The blue and white Brook Ledge van pulled up to a receiving area near the stakes barn at Pimlico at 2:35 p.m. Elvis has entered the building.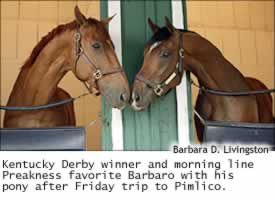 The first horse off the van is the one everybody is waiting for:
Barbaro
. Now the Preakness party can begin.Rumors ran rampant through the track that the van carting Barbaro had left Fair Hill, Md. around 12:15 or so. Television crews began setting up their tripods. Photographers sat and waited. They started to line both sides of the short wood-chipped path about a half-hour out of arrival time, creating a media sandwich.The winner of the Kentucky Derby Presented by Yum! Brands (gr. I) arrived right on time and was the first off the van. Preakness rival
Diabolical
was the second off the van. A trailing van held another Preakness starter,
Greeley's Legacy
.Barbaro is walked to the stakes barn, head held high, taking in the symphony of shutter clicks that is being played in his honor.Driving the van is
Vince Mast
, driver to the stars. "(Trainer) Michael (Matz) likes it when I drive his horses," Mast says. "I've hauled Barbaro all over. I took him to Florida. and I was the one who took him to Churchill Downs."Michael's my man," he says, pulling out, giving a thumbs up.Matz isn't with Barbaro. According to track officials, he had some family obligations and is about two hours behind the horse.
---
Class Time
12:50 p.m.Harrows work the track's surface as the horses from the second race are untacked. On the apron, a vendor hawks Black-Eyed Susans for $8.50 apiece. Exiting the paddock after a schooling session are Preakness entrants
Platinum Couple
and
Brother Derek
. They make their way back to the stakes barn.As the horses pass the eighth pole, in the winner's circle, Pimlico's racing analyst
Frank Carulli
introduces Magna Entertainment's
Don Amos
. Amos is introducing Magna's commitment to the Permanently Disabled Jockeys Fund.
---
Mutuel Attraction
10:40 a.m.It's almost two hours to the first post on Black-Eyed Susan/Pimlico Special day, and there is already a large crowd gathered in the back area of the lower level grandstand.They're breaking off into two lines...and they're holding chairs.Confused?They are the some 300 temporary mutuel clerks that will be employed by the Maryland Jockey Club for today and tomorrow. They're picking up their credentials, floor assignments, and information packets.The two lines? One is for those who live in Maryland, and the other one is for those from out of state. The chairs? A good mutuel clerk brings their own seat. It's going to be a long day."They come from all over," says
Ronald Boozer
, a clerk supervisor for the MJC. "Kentucky, Connecticut, New York, all over. Boozer says there will be more than 500 clerks on the job punching out tickets at Pimlico on Preakness day.
---
Pretty as a Peacock
10:10 a.m.Cruising the barn area is
Cecil Peacock
, colorful owner of Preakness second choice
Brother Derek
.Ironically, Peacock is dressed in black from head to toe.He's listening to a discussion on who is shipping into Pimlico and when. The run down is dizzying."I know when
I
shipped in," he chimes in. "I got in last night."On his agenda between now and Saturday afternoon? "Get my license to run a horse...and have some breakfast...and listen to a few reporters."It's a good ride," he says. "It's a lot of fun."
---
Faces in the Crowd
8:30 a.m.Hanging around the stakes barn is a distinguished trio of New Yorkers. It's
Charlie Hayward
, president of the New York Racing Association,
Bill Nader
, a NYRA vice president, and NYRA racing secretary
P.J. Campo
.They're sizing up the Preakness and the Preakness field. NYRA folks always root for the Derby winner to win the race in Baltimore so a Triple Crown will be on the line in the Belmont Stakes (gr. I). It's good for business.What is a "Triple Crown on the line" worth?"Last year, we didn't have a Triple Crown going, and we had about 60,000 people," Hayward says. "Smarty Jones brought 120,000 people. I think we'd be looking at 100,000. Obviously, we're pulling for Barbaro."And if he doesn't win?"We're still looking at a big race," Hayward continues. "P.J. says there are six horses planning on the Belmont right now that are not running this weekend. We'll get a horse or two out of the Peter Pan (at Belmont Saturday) and a horse or two out of here (Preakness) and clearly it can be a more competitive race than last year. Without a Triple Crown winner, you're looking at 65-70,000 people.
---
Kip's Picks
8:25 a.m."I'm a racing fan," proclaims
Kip Elser
. The South Carolina horseman is in town for the Preakness and also for the Fasig-Tipton Midlantic sale that starts at Timonium Monday. Elser has 16 horses consigned to the sale under his Kirkwood Stables banner.But before the sale, there's a little race on Saturday."It'd be hard to bet against Barbaro," he says. "But if you don't like the price, then I think you go to Brother Derek. That doesn't require any science. Most of us will be way wrong if it comes out differently than that."
---
No Time Like Now
7:30 a.m.Trainer
Kiaran McLaughlin
is hanging out at the stakes barn. Later today he'll send out two horses in stakes races: John Marulli's Evasive runs in The Very One Stakes at five furlongs on the turf and Shadwell Stable's Invasor will start in the Pimlico Special (gr. I).Tomorrow, McLaughlin will saddle
Like Now
in the Preakness for breeder/owner John Dillon. The front-runner won the Gotham Stakes (gr. III) at 36-1, then ran second in the Coolmore Lexington (gr. II) at Keeneland. He'll break from Post 1 and will be ridden by Garrett Gomez."We're down inside and the strategy will be to go to the lead," McLauglin says. "If something happens and somebody guns out of there, we'll let Garrett make that decision, but most likely we'll be on the lead. "We're hoping things will go a little like the Gotham; that they wouldn't be worried about us, like if we're on the lead and they're not thinking about us as the horse to beat and maybe people will leave us alone a little longer than they should so we can keep going because he's a game little horse."McLaughlin had two horses finish behind Barbaro in the Derby.What are his impressions of Barbaro?"He could be a great horse," he says. "He's undefeated. Dirt. Turf. Dry. Twenty-horse field. Eight-horse field. The only chance for all of us is the two weeks rest. He hasn't done that yet. If he gets through this, I think the Belmont could be his most impressive yet because the mile and a half won't be a problem."Like Now is still in New York, but will be on his way soon. He's scheduled to arrive at Pimlico around three or four this afternoon.
---
Big Talk
7:05 a.m.Bounding out of Barn D, the barn next to the stakes barn at Pimlico, is trainer
Richard Small
. The 61-year-old trainer has seen some good 3-year-olds come out his barn through the years. He won the Breeders' Cup Classic (gr. I) with Concern in 1994 and was third in the Preakness in 1986 with Broad Brush.Small likes Barbaro to win this year's Preakness."He looked pretty impressive to me," he says. "It's his race to lose, the way I see it. I thought the Derby was a magnificent race. It looked like he kicked another gear late, and I think he's got a couple of more left."
---
It's a Country Life
The Thursday night before the Preakness in Maryland means it's time for the annual party at
Country Life Farm
. The Pons family's house -- built in the 1890s--and farm far from Pimlico up near Bel Air oozes with the rich history of the Maryland Thoroughbred industry. The back porch area, crowded with chock-full bookcases, instantly takes one back through the years with that overpowering musty smell that hits you with one good breath. The office, filled with black and white photos of Man o' War, is impressive.Enjoying a beverage in the tent off to the side of the house is the legendary
Art Donovan
.The Pro Football Hall of Famer played defensive tackle for the Baltimore Colts in 1950 and from 1953-61, including their championship seasons in 1958 and '59. He was a five-time All Star and Pro Bowl performer.One bio for him said he was "feared on the field, yet admired everywhere for his generous and outgoing personality."That's a given, considering that everyone at the party stops to meet--or pay their respects--to Mr. Donovan.His take on the Preakness?"I watch some races on TV, but I don't know nothin' about horses," Donovan professes. "Back when I was a kid, I worked at the race track for two years. Parking cars at Jamaica--that's where the money was."
---
The Basics: A, B, and P(reakness)
While we're getting warmed up for
Preakness 131
, here are some little known facts:Since 2000, trainer
Todd Pletcher
has had 14 entrants in the Kentucky Derby. He has run second twice, with Invisible Ink in 2001 and Bluegrass Cat this year. However, in the Preakness, run two weeks later, Pletcher has sent out only one horse. Impeachment ran third in 2000.Jockey
Edgar Prado
, who will be making his ninth Preakness start, this time aboard
Barbaro
, is still seeking his first on-the-board performance. Don't think for a minute, however, that he doesn't know his way around Old Hilltop. Like many, many others, he got his first big break as an apprentice on the Maryland circuit. Since taking the 1989/90 fall-winter meet at Laurel, Prado has wracked up 14 Pimlico riding titles and nine others at Laurel Park.
Barbaro
, in seeking the second leg of the Triple Crown, has an odd bit of history going against him -- his name. A whopping 22 of the last 25 winner's of the Preakness have had two names, from Pleasant Colony in 1981 to Afleet Alex last year.On the flip side, favorites -- which Barbaro will surely be--have won the last five runnings.
Read
Thursday Morning Line at Pimlico