By Leslie Deckard and Deirdre B. Biles
Kentucky Derby winner Barbaro, who suffered multiple fractures soon after the start of Saturday's Preakness Stakes (gr. I), has been taken to the George D. Widener Hospital for Large Animals at the University of Pennsylvania's
New Bolton Center
in Kennett Square, Pa. He is scheduled to undergo surgery to be performed by Dr. Dean Richardson Sunday afternoon.His injury is career-ending and life-threatening.The transport from Pimlico Race Course in Baltimore to Pennsylvania was shown live on WBAL-TV.
The winner of the Kentucky Derby Presented by Yum! Brands (gr. I) stumbled and was pulled up by jockey Edgar Prado as the nine-horse Preakness field was racing past the stands the first time in the 1 3/16-mile fixture. Barbaro delayed the start of the race by breaking through the gate after the field was loaded and ready to go.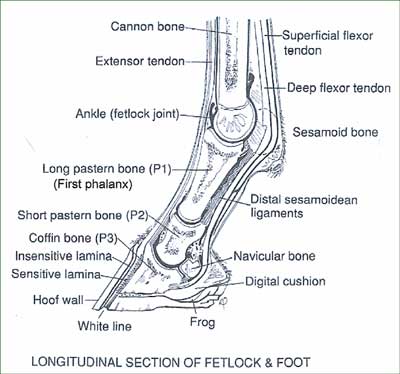 According to Dr. Larry Bramlage, a prominent equine surgeon and On Call veterinarian for the American Association of Equine Practitioners, Barbaro suffered a condylar fracture of the cannon bone in his right hind leg above the ankle. Below the ankle is a comminuted fracture (meaning it is in pieces) of the first phalanx (long pastern bone) and there is a piece off the sesamoid. He described it as a "two-phased" injury."Normally, the way these happen is the one above happened first," Bramlage said. "Before Edgar could get him pulled up, the second fracture occurred, which makes this doubly difficult for the horse to heal everything up. This is a very serious injury. The critical scenario is how the horse responds when you splint him, take care of him and get him on his way to be treated."A special stabilizing device known as the
Kimzey splint
was applied to the injured leg by Dr. Dan Dreyfuss, and Barbaro was vanned to the Pimlico stakes barn. "He came off the van with the splint that was applied on the racetrack," said Dr. Nick Meittinis, a private veterinarian who attended to Barbaro. "He was sedated and backed off the van without putting any weight on the leg. After we X-rayed the leg and found what it consisted of, we put a very large padded bandage on him and the entire time the bandage went on he never moved a muscle. That's going to be critical in his recuperation. His temperament is going to help him in his recuperative state."Meittinis said he could not give a prognosis. "It's a little early," he said. "The surgeons up in New Bolton will see the X-rays and they will determine if any more displacement of the fractures occurred during shipping. That's a possibility."We've got him in a very narrow trailer so that he has something to lean on and he doesn't put weight on it. We've got a padded bandage on him. That's about the best we can do here."Dr. David Nunamaker, who in July will be stepping down as chairman of New Bolton's Department of Clinical Studies after serving on the faculty for 40 years, said in an article in
The Horse: Your Guide to Equine Health Care
that fractures of the first phalanx (long pastern) can be challenging. "Often this is in two pieces, but it can also be comminuted," Nunamaker said, "which means the bone can be in three pieces or as much as 500 pieces, kind of like a bag of crushed ice, which will require an external fixator."Bramlage said Barbaro has two major hurdles to overcome. "One, when he was injured," Bramlage said, "did he damage the blood supply enough that he still has blood supply to support healing? That's always the concern when you have a two-phased injury. It's like dominoes breaking one after the other. The blood supply in that part of the limb is very limited because they don't have any muscle there."The second thing is he will have to undergo surgery and go through a recovery that would put you and I in bed. He'll have to walk around. The stabilization is a critical part, along with the anesthesia and the recovery from surgery. That's why, even at New Bolton Center, they're probably not going to be able to tell you immediately what they have planned because they pretty much have to see how he responds and when is the best time to do the surgery."Bramlage does not believe the injury occurred when Barbaro broke through the starting gate. "I watched him break through the first time and I watched him break the second time," Bramlage said. "He didn't break with the right hind injury. I would guess that it happened sometime out about a furlong. It took an additional 110 yards to 200 yards for Edgar to get him under control because these don't hurt immediately when they happen. There is so much adrenaline that the horse has no concept. Edgar probably knew before the horse knew that something was wrong. I don't think breaking through the gate the first time had anything to do with this.""When he went to the gate, he was feeling super and I felt like he was in the best condition for this race," Prado said. "He actually tried to buck me off a couple of times. He was feeling that good. He just touched the front of the doors of the gate and went right through it."During the race, he took a bad step and I can't really tell you what happened. I heard a noise about 100 yards into the race and pulled him right up."Gretchen Jackson, who bred and campaigned the colt with her husband Roy Jackson under the Lael Stables banner, said she was still in shock. "We didn't expect this. You can expect being beaten," she said. "It looked like a bad fracture. We're hoping that they'll operate on him tomorrow. That's as much as we know."