A.P. Indy, for years one of North America's leading sires, has filled a major void in his impressive resumé. He now has a U.S. classic winner to go along with earlier accomplishments of leading the general sires list and siring a Horse of the Year. The classic moment came when his son, Bernardini, captured the May 20 Preakness Stakes (gr. I) as a homebred for Sheikh Mohammed's Darley Stable. The victory proved bittersweet, however, because of the injury to Kentucky Derby Presented by Yum! Brands (gr. I) winner Barbaro during the race, but it should in no way detract from the winner's effort. A son of Seattle Slew who has stood his entire career at William S. Farish's Lane's End Farm near Versailles, Ky.,
A.P. Indy
flirted with classic success earlier this decade. In 2000, his son
Aptitude
ran second in the Kentucky Derby and Belmont Stakes (gr. I). The following year, another son, A P Valentine, was runner-up in the Preakness and Belmont. It was pretty perplexing for him to go that long without a classic winner, and it goes to show how hard it is to win a classic," said Farish's son, Bill. "You can have a lot of good horses bred to go a distance, but it's hard to achieve."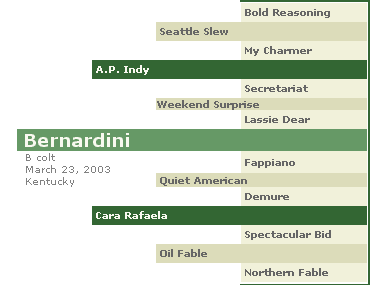 "Bernardini is one of those special horses "bred to go a distance." He not only is by a Belmont Stakes winner noted for transmitting stamina to a pedigree, but his dam, Cara Rafaela, was a two-time graded stakes winner around two turns as a 2-year-old. One of those wins came in the 1 1/16-mile Hollywood Starlet Stakes (gr. I). Part of the attraction of Bernardini's pedigree is that he is a product of the highly successful cross of A.P. Indy over Mr. Prospector-line mares. Cara Rafaela's sire,
Quiet American
, is a grandson of Mr. Prospector. The A.P. Indy/Mr. Prospector-line cross has resulted in such stars as Horse of the Year
Mineshaft
, champion 2-year-old filly Tempera, successful sire
Pulpit
, and grade I winners A. P. Adventure, Jilbab, and Tomisue's Delight. Mineshaft, who was bred and raced by the elder Farish in partnership, stands at Lane's End. It's been apparent from his first crop that this is a very successful cross," Bill Farish said. "The early success made more Mr. Prospector mares come to him. In large part, it's due because of the miler speed influence through Mr. Prospector on the Seattle Slew line. It seems to be a real nick. A large percentage of his book has Mr. Prospector on the bottom side." Bernardini's Preakness win proved special in another way. It added a smidgeon of classic luster to the once mighty Bold Ruler male line. The Bold Ruler male line dominated the classics in the 1970s, but later began losing out to the Mr. Prospector and Northern Dancer male lines. Bernardini, a Bold Ruler great-great-grandson, is the first U.S. classic winner for a Bold Ruler-line stallion since A.P. Indy himself won the 1992 Belmont. The last Kentucky Derby winner tracing in male line to Bold Ruler is Seattle Slew's son, Swale, in 1984, and the last Preakness winner before Bernardini was Secretariat's son, Risen Star, in 1988. Seattle Slew was a Triple Crown winner in 1977.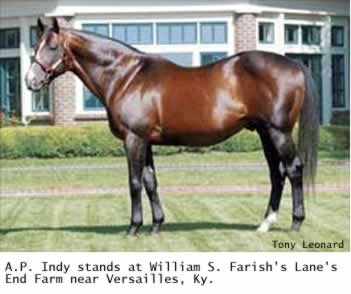 EARLY DAYS
A.P. Indy's days as a racehorse were as sensational as his days as a stallion. Bred by Will Farish and W.S. Kilroy, A.P. Indy commanded $2.9 million at the 1990 Keeneland July yearling sale, the most paid for a yearling that year. He not only boasted a superior pedigree (by Seattle Slew out of the graded stakes-winning Secretariat mare Weekend Surprise), but a half-brother, Summer Squall, had won the Preakness two months before the sale. Consigned by Lane's End, A.P. Indy was bought by the Irish branch of the British Bloodstock Agency for Tomonori Tsurumaki. A.P. Indy was something fun to watch, and not just because he was winning. His distinctive running style in which his head jutted forward and bobbed up and down carried him to wins in the Breeders' Cup Classic (gr. I), Santa Anita Derby (gr. I), Hollywood Futurity (gr. I), Peter Pan Stakes (gr. II), and San Rafael Stakes (gr. II) in addition to the Belmont. A.P. Indy would have been the second-choice behind international champion Arazi in the Kentucky Derby, but missed the race after trainer Neil Drysdale scratched him because of lameness. Farish and Kilroy, in partnership with Harold Goodman, bought an interest in A.P. Indy from Tsurumaki following the Belmont. A.P. Indy was retired after the Classic with eight wins from 11 starts and earnings of $2,979,815. He was the highest-priced sale yearling ever to earn more than his purchase price. His $50,000 stud fee was the highest for any incoming stallion in 1993, but was only half of what Easy Goer commanded the year before when he headed the incoming list. It's probably safe to say the instability of the commercial bloodstock market partly reflected the sizable difference in fees between those two. Several of A.P. Indy's sons are making a mark at stud. Stephen Got Even, who stands at Lane's End, sired last year's champion 2-year-old male Stevie Wonderboy. Aptitude's first-crop son, Steppenwolfer, ran third in this year's Kentucky Derby. Pulpit has remained highly popular and stands for $80,000 at the Hancock family's Claiborne Farm near Paris, Ky. A.P. Indy has achieved a special spot among today's sires. His success at siring runners able to withstand pressure against major competition around two turns has transformed the 17-year-old stallion into the present day standard-bearer of distance racing on dirt. No wonder his fee reached $300,000 in 2002 and has remained there.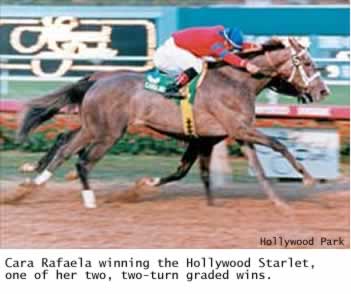 TOUGH MARE
Bernardini, who is the fifth foal from Cara Rafaela, boasts a female family loaded with talent. Not only is Cara Rafaela a stakes winner, but so are Bernardini's third, fourth, and fifth dams. Cara Rafaela was bred in Kentucky by Texas oilman Mike G. Rutherford. Gary Jones, who trained grade I winner Quiet American for Sheikh Mohammed, gave Rutherford the season to Quiet American that resulted in Cara Rafaela, who was foaled at Rutherford's Manchester Farm near Lexington. Cara Rafaela was bought from Rutherford for $70,000 by Albatroz Bloodstock at the 1994 Keeneland September yearling sale. Trained by D. Wayne Lukas, she raced for Gonzalo Borges Torrealba. "She was a pretty filly," Rutherford said. "I showed the filly to Wayne right before the sale, but he said he wasn't going to buy her. I guess he changed his mind." Cara Rafaela not only won the $250,000 Starlet as a juvenile, but also the Alcibiades Stakes (gr. II) at Keeneland. Her stakes-placings that year came in runner-up efforts in the Breeders' Cup Juvenile Fillies (gr. I) and Matron Stakes (gr. I). In the Juvenile Fillies, Cara Rafaela finished behind My Flag and ahead of Golden Attraction, who later was voted champion 2-year-old filly.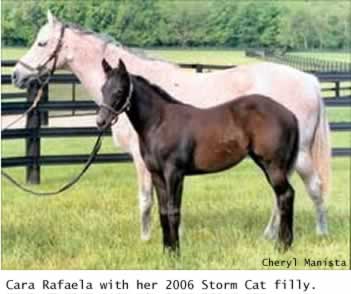 Cara Rafaela's 3-year-old season lacked a single win, but the filly was able to place in six graded stakes, five of which were grade I, including the Kentucky and Santa Anita Oaks. At four, she won a restricted stakes and was retired with 14 wins or placings from 24 starts and earnings of $884,452. Cara Rafaela's first four foals were bred by Torrealba's Stud TNT. Darley bloodstock manager John Ferguson privately bought Cara Rafaela from Stud TNT at the time she was carrying Bernardini. It was Stud TNT that had planned the mating of Cara Rafaela to A.P. Indy. Instead of being sent to Sheikh Mohammed's Darley at Jonabell near Lexington, Cara Rafaela was sent to Hilary Boone Jr.'s Wimbledon Farm near Lexington, where she delivered the future Preakness winner. Darley at Jonabell was being renovated at the time. After being weaned, Bernardini was sent to Sheikh Mohammed's Raceland Farm near Paris, Ky. "We're always on the lookout for queens, the likes of which might be Windsharp and Ashado, and Cara Rafaela fit the bill nicely," Ferguson said. "She's a beautiful mare, plenty of scope, and a grade I winner at two, plus she's tough and consistent, which is so important in broodmares. Not only that, but being by Quiet American, she was a mare we followed because Sheikh Mohammed owns Quiet American. We'd been very aware of her on the racetrack. As soon as I mentioned Cara Rafaela, Sheikh Mohammed told me to pursue her. It was entirely his decision to buy her." Now at Darley at Jonabell, Cara Rafaela produced a Storm Cat filly this year and is in foal to A.P. Indy. Bernardini's Preakness win serves as an encore for Quiet American as a broodmare sire. Last year, Quiet American was represented by Horse of the Year Saint Liam as well as Italian group I winner Cherry Mix. This year, his stakes winners as a maternal grandsire also include graded winners A. P. Warrior (by A.P. Indy), Spellbinder, and Wild Gams. Quiet American tops all broodmare sires with a 3.09 Average Earnings Index on the cumulative list.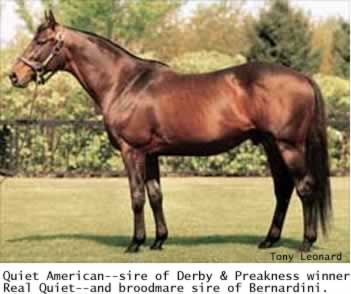 Quiet American, who sired 1998 Derby and Preakness winner Real Quiet, stands at Gainsborough Farm near Versailles. The farm is owned by the family of Sheikh Mohammed's late brother, Sheikh Maktoum. Rutherford raced Bernardini's second and third dams, Oil Fable and Northern Fable, respectively. Whereas Oil Fable captured a single race, Northern Fable was a graded stakes winner. Bred in Kentucky by William Floyd, Northern Fable scored her big win in a division of the 1982 Palomar Handicap (gr. IIIT) over top grass mare Sangue while trained by Charlie Whittingham. Northern Fable captured one other stakes and placed in five others on her way to earning $176,000. Bernardini's fourth dam, Fairway Fable, was bred by Floyd in partnership with Leslie Combs II, who stood Fairway Fable's sire, Never Bend, at his Spendthrift Farm near Lexington. Campaigned by Floyd, Fairway Fable won a division of the 1973 Pocahontas Stakes as a 2-year-old at Churchill Downs. Fifth dam Fairway Fun, who was bred by Maxwell Gluck's Elmendorf Farm and raced by Floyd, captured the 1964 Alcibiades Stakes and two stakes the following year. Darley, which owns a number of major stallions from different sire lines and which has achieved international success, lacks a major representative on its stallion roster from the Seattle Slew/A.P. Indy line. Bernardini might be the one to fill that spot. "His win is significant for us," Ferguson said. "We are developing Darley at Jonabell, and horses of the caliber of Bernardini don't come along often. Jonabell hasn't been going very long, and he'll be one of the first horses to come off Raceland Farm and perform at this level in the United States. It's only in the last few years that Sheikh Mohammed has actively gone out to buy broodmares that suit American racing. It's significant for the team that Sheikh Mohammed employs in North America that they've shown very clearly that from birth to the Preakness they've gotten the job done."