Relative newcomer Ahmed Zayat went to $1.6 million for an
Empire Maker
filly Wednesday night to top the 86th annual Fasig-Tipton selected yearling sale in Saratoga Springs, N.Y. The historic sale, now with a two-day run, had yet another solid performance with the average virtually mirroring last year's figure and the gross increasing significantly.The session-topping and sale-topping filly follows the trend set during Tuesday night's opening session when a filly by first-crop sire
Sky Mesa
bred by Debby Oxley highlighted the evening at $1.15 million.The Empire Maker filly becomes the first filly to top the sale since a
Storm Cat
-- Sacahuista filly sold for $1.3 million in 2002.Later in the evening, a filly from the first crop of
Mineshaft
sold for $1.45 million. With last night's session topper, three of the top four prices were for fillies...all bred by women."It was more of last night, maybe a little stronger," said D.G. Van Clief Jr., chairman of Fasig-Tipton. "Once again, fillies stole the show. It shows that little girls from nice families are still in fashion."For the night, 70 yearlings sold for $23,295,000. Only 10 failed to meet their reserve, or 12.5%. The gross was up 38% over last year's $16,890,000. The average of $332,786 was up slightly over last year's $324,808. The median of $225,000 increased from $200,000.All told, 130 yearlings sold for $42,085,000, which was up 26% over last year's total of $33,415,000 for 103 yearlings. This year's average of $323,731 was almost identical to last year's $324,417. The median of $245,000 was up over last year's $225,000. The buy-back rate this year was 19% compared to 24% a year ago.Five yearlings sold for seven figures, compared to only four last year. However, last year's top-priced colt sold for $3.1 million and a filly went for $2 million."The consignors got their horses sold," said Walt Robertson, president of Fasig-Tipton. "It was a great market out there tonight. The horses that fit sold, and there were few that didn't fit."When the bidding stalled at $600,000 on the sale-topping Empire Maker filly, announcer Terence Collier said she "is worth a million dollars and she's selling for 60 cents on the dollar." When the bidding neared the end, he said, "I said she was worth a million; I was mistaken, she's worth two million."Out of the stakes-winning Sluice, by
Seeking the Gold
, the filly's second dam is multiple grade I winner Lakeway. The filly was bred in Kentucky by Diane Snowden and was consigned to the sale by Falls Creek Farm, Denali Stud, agent.Zayat said the filly would be trained by Bill Mott, who was seated one row in front of Zayat, his wife Joanne, and 14-year-old son Justin. Mott not only trained Sluice, he helped pick her out for Snowden at the 1999 Keeneland July yearling sale, where she sold for $1.5 million."She's a nice, big, scopey filly," said Mott, "and she looked like she has a great disposition."Zayat said he liked "everything" about the filly after his team of advisers conducted what he called "due diligence" during the inspection process, which includes physical inspection, heart and mechanical measurements, pedigree analysis, and racing performance analysis of the family."It's all guesswork," said Zayat, "but you try to stack the odds in your favor. I'm new to the game, but I'm a businessman and try to look at this as I would any business. I don't want to let my ego get caught up in the bidding. Value is hard to determine. But I think this filly has residual value as a broodmare prospect down the road.""It's nice to round out my resume," joked Craig Bandoroff, who operates Denali Stud with his wife, Holly. "This is my first million-dollar horse up here." Bandoroff said he'd been selling yearlings at Fasig-Tipton Saratoga for about 15 years.Bloodstock agent John Ferguson, bidding on behalf of Sheikh Mohammed by raising his eyebrows, was the immediate underbidder on the filly.Early in the evening, Zayat purchased a bay colt by Elusive Quality for $900,000. The Gainesway, agent-consigned colt sold as Hip No. 99 on a night when the session began with Hip No 91.Out of the unraced Boston Harbor mare Mermaid's Tale, the colt is out of a half-sister to graded stakes winner Goldseeker Bud and Canadian stakes star Ashboro.Zayat, 43, is an Egyptian businessman who is president and chairman of Al Ahram Beverages which offers a full-fledged range of beverages including beer, wine, and non-alcoholic carbonated and other soft drinks in Egypt.Last year, Zayat made a splash by purchasing several expensive 2-year-olds in training. He also purchased several yearlings earlier this year at the Fasig-Tipton Kentucky July sale. He owns EZ Warrior, an easy winner of the Hollywood Juvenile Championship for trainer Bob Baffert. Zayat purchased EZ Warrior for $1.2 million at this year's Barretts 2-year-old in-training sale.Toward the end of the night's session, the first yearling from Horse of the Year
Mineshaft
to be offered at public auction sold for $1.45 million. The filly, one of the more anticipated hips in the sale, was purchased by Don Adam of Courtlandt Farm.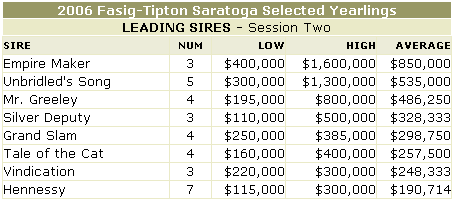 "It's the first yearling I've bought in a while," Adam said. "The pedigree was one you couldn't pass up. She was the only horse in the sale that I had an interest in."Bill Farish of Lane's End, which consigned the filly, was seated next to Jeanie Kilroy, whose Kilroy Thoroughbred Partnership was the breeder. "The filly had more lookers -- 230 people -- than any yearling we've ever sold anywhere," Farish said of the filly produced from the Unbridled mare Unbridled Lassie, a granddaughter of Lassie Dear, dam of Kentucky Broodmare of the Year Weekend Surprise. "That family has been very good to us and continues to be," Kilroy said.The immediate underbidder on the filly was Rick Nichols representing Sheikh Hamdan's Shadwell Estate.Ferguson went to $1.3 million for the highest-priced colt in the sale, a son of
Unbridled's Song
. Out of an unraced
Storm Cat
mare, the colt was consigned by Taylor Made Sales Agency.The gray/roan colt was bred in Kentucky by Seven Island Partnership, Taylor Made Farm, and Unbridled's Song Syndicate. The mare was purchased last November at the Keeneland sale while in foal to Medaglia d'Oro by Dell Ridge Farm for $750,000."He typifies both sires," Ferguson said of the colt's pedigree from out behind the sale pavilion where he signed the ticket. "It will be up to Sheikh Mohammed to decide whether he'll race here or in Europe. He's an athletic-looking colt and we're looking forward to next year.""He's had great success all over the globe," Ferguson said of Sheikh Mohammed when asked if he has ramped his enthusiasm for American bloodstock. "Winning a classic this year, and with his brother, winning two legs of the Triple Crown is fabulous. You know, success doesn't do any harm."Sheikh Mohammed owns Bernardini, winner of the Preakness (gr. I) and recent nine-length winner of the Jim Dandy Stakes (gr. II). Sheikh Hamdan's Shadwell Stables races Jazil, winner of the Belmont Stakes (gr. I).The fourth hip through the ring, a full sister to
Malibu Moon
by
A.P Indy
failed to reach her reserve when the bidding stalled at $1.3 million. Consigned by Taylor Made Sales Agency, agent, the bay filly is out of the group I-winning mare Macoumba (by Mr. Prospector). Pinhooker Hoby Kight, who was out behind the sale pavilion by the walking ring, was a bidder on the filly.
Top Prices for Wednesday's Session
Hip – Sex – Pedigree – Consignor – Buyer – Price146 – F – Empire Maker -- Sluice, by Seeking the Gold – Falls Creek Farm, Denali Stud, agent – Zayat Stables - $1,600,000171 – F – Mineshaft -- Unbridled Lassie, by Unbridled – Lane's End, Agent – Don Adam - $1,450,000122 –C – Unbridled's Song -- Queen's Lady, by Storm Cat – Taylor Made Sales Agency, agent – John Ferguson - $1,300,00099 – C – Elusive Quality -- Mermaid's Tale, by Boston Harbor – Gainesway, Agent – Zayat Stables - $900,000160 – C – Pulpit -- Tempestina, by Storm Cat – Stone Farm, Agent – Rick Porter - $800,000158 – C – Mr. Greeley -- Tell Me Now, by A.P. Indy – Gainesway, Agent – Demi O'Byrne - $800,000111 – C – Distorted Humor -- Our Tomboy, by Bates Motel – Bona Terra Farms, Eaton Sales, Agent - Demi O'Byrne - $650,000115 – F – Forestry -- People's Princess, by Meadowlake – Lane's End, Agent – Mike Ryan, agent - $650,000