With the horses of racing age program implemented this year, owners had a different option for landing their non-nominated horses in the 2006 Breeders' Cup World Championships, and those connected to Aragorn, Invasor, and Lava Man took full advantage of the new avenue of entry.
But seven others selected the more traditional, albeit revised, supplemental program for entry this year, including Ouija Board (GB), who finished first and second, respectively, in the last two runnings of the Filly & Mare Turf (gr. I).
Neither of the programs, however, promises solid returns on investment.
Roughly half (60) of the 119 supplemented horses entered in Breeders' Cup races have finished out of the money since the series began in 1984, and of those that did collect purse money, 23 earned less than their supplemental fee, while three others broke even.
On the top side, you have runners like
Tiznow
, who, off a single supplemental fee of $360,000, earned a collective $4,518,800 in back-to-back Classic (gr. I) wins in 2000-2001. On the bottom side are those like Best Pal, who, in the pre-1997 era before fee credits applied, supplemented three times for a total of $840,000, and yielded just $70,000 in earnings.
Whatever the motivation, owners have through the years collectively anted up nearly $19.5 million in supplemental fees for a shot at Breeders' Cup glory, and another $1.66 million has been invested this year through the two current pay-to-enter programs.
The horses of racing nomination program was unveiled this past April as a way to generate additional revenue for Breeders' Cup purses, including the record total of $20 million for this year's eight championship races at Churchill Downs Nov. 4, said Pam Blatz-Murff, senior vice president of Breeders' Cup Operations.
"It's easy to say we are going to raise $20 million, and it's another to determine how to do it," said Blatz-Murff of the year-long discussion that led to the horses of racing program. "We had to figure how to best serve all of our constituency, and take into consideration all different concerns. And that's when we started talking about the fee for the horses of racing age nomination."
The nomination program differs from the supplement option in a couple significant ways. For a one-time fee of $150,000 (for a horse by a nominated stallion) or $250,000 (for a horse by a non-nominated stallion), a horse whose breeder failed to pay the foal nomination can be forever grafted into all future Breeders' Cup-funded races. This year, there were 135 such added-money races scheduled for the United States and Canada.
"It had to be a significant penalty, so that people wouldn't stop nominating foals" said Blatz-Murff of the nomination fees.
Steve Kenly, who is part of Lava Man's ownership team, said the nomination program came at the right time for them."When I saw the (Classic) purse had been raised to $5 million, I started calculating what it would cost us to supplement," he said of the potential for a $450,000 supplemental fee. "It would have been a hard pill to swallow. This is a better deal for us."And who knows, we might be kicking around next year, and get some more use out of it," he added.
Shadwell Stable's Invasor, who is entered in the Breeders' Cup Classic – Powered by Dodge (gr. I), was the lone horse nominated this year at the $250,000 fee. Before coming to the United States earlier this year, the Argentine-bred son of Candy Stripes raced in Uruguay, winning the country's Triple Crown in 2005.
In addition to Invasor, Aragorn and Lava Man, a fourth horse - Declan's Moon - was also nominated during the course of the year. The 4-year-old son of
Malibu Moon
, who only raced twice this year, including a seventh-place finish last out in the Aug. 20 Pat O'Brien Breeders' Cup Handicap (gr. II) at Del Mar, wasn't entered in this year's Breeders' Cup.
Blatz-Murff said the horses of racing nomination program is not intended to replace the supplement option, which levies a charge of 9% of a race purse for horses from nominated stallions, or the 15% fee (down from 20% for previous years) for those from non-nominated stallions.
"If you have a horse that is concluding its career, or is not going to run in (Breeders' Cup-funded races) year-round, then it might still be appropriate to supplement," she said, noting the supplement fee allows entry only to the eight Breeders' Cup World Championship races.
As an example, the owner of a 9% supplemented horse to one of the $2 million championship races pays $180,000 to enter, which includes all entry fees. An owner utilizing the horses of racing age nominated program at $150,000 must still pay the $50,000 total for pre-entry and entry, jacking the total outlay to $200,000.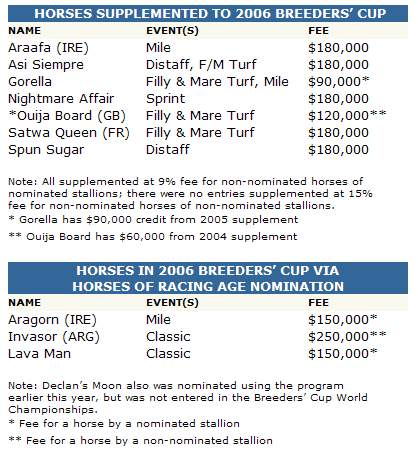 Complete List of
Breeders' Cup Supplemented Horses thru 2005