Funny Cide: Big Man on Campus
by Evan Hammonds
Date Posted: 6/5/2003 11:54:31 AM
Last Updated: 6/5/2003 1:57:23 PM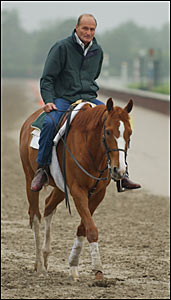 Trainer Barclay Tagg takes Funny Cide back to the barn after Thursday morning work.
Photo: Skip Dickstein

Funny Cide, the Kentucky Derby and Preakness (both gr. I) winner who will attempt to become Thoroughbred racing's 12th Triple Crown winner in Saturday's Belmont Stakes (gr. I), galloped 1 ½ miles the wrong way around the Belmont Park oval Thursday morning. His demeanor following his exercise has the Funny Cide team brimming with confidence for the "Test of a Champion.""It took nothing out of him," said Robin Smullen, trainer Barclay Tagg's assistant and exercise rider. "He's eating good and he's happy."He knows he's the big man on campus," she said. "He's bucking and squealing. You try to contain him the best you can. He's feeling good and you just want to try to keep him as low-key as you can until Saturday afternoon."On Saturday afternoon, the Sackatoga Stable star will attempt to make history, becoming the first Triple Crown winner since Affirmed in 1978.Tagg, the cautious and conservative trainer, also has a guarded optimism. "He's gotten stronger and stronger," he said. "He's just moving forward. It's a thrill to have a horse like this."The poor weather that has plagued the New York area since Tuesday evening is about the only damper on the mood around Barn 6 on the Belmont Park backside. "I don't think it will bother him, but it might help another horse more."Tagg watched Funny Cide go through his morning exercise while aboard his pony, Marche's Triumph. Smullen said because Funny Cide worked a quick :57 4/5 on Tuesday morning, the horse jogged one lap around the Belmont Park track the wrong way and will go his usual two times around the track tomorrow morning.Jack Knowlton, managing partner of Sackatoga Stable, had plenty of praise for Smullen's work with the New York-bred gelding. "Robin has done a tremendous job," he said. "She's helped him learn all his lessons. We wouldn't be where we are without Robin."Other members of the Sackatoga Stable partnership were on hand to see Funny Cide and check out a new member of the stable, a 2-year-old currently named Misty Episode. They are hoping to change the name of the filly to Lake Cide."Barclay said Funny Cide is even better now (than before the Derby and Preakness)," said partner David Mahan. "He said he's gained 25-30 pounds. He's still growing and he's filling out."I don't know when he's going to peak," Mahan said. "It's going to take a great effort by somebody to get by him."The pressure of winning the Triple Crown has not taken its toll on the Sackatoga team...just yet. "Before the Preakness, I was really nervous," Mahan said. "I really wanted to get the horse here (to New York) with a chance at the Triple Crown. I'm fine now, but by Saturday, I might be off the charts. It's exciting because it's a chance to be a part of history."Has his life changed since Funny Cide won the first two legs of the Triple Crown? "I don't think so, but my wife does," he said. "She says, 'you've changed a lot. You're a lot happier now.' What can I say? I'm a lucky guy."



Copyright © 2015 The Blood-Horse, Inc. All Rights Reserved.