Edited press release
A record 16,272 foals were nominated to the Breeders' Cup program in 2006, and the number is expected to increase when information on Southern Hemisphere foals, which have an April 15 nomination deadline, are released.
The 2006 figure of foals by Breeders' Cup-, European Breeders' Fund- and Common Fund-nominated stallions tops the old mark of 16,263 in 2005. In addition, Breeders' Cup-sired foals represent a record high of 52% of the eligible foal crop in North America.
"We thank our nominators for sustaining the growth of the Breeders' Cup program and our industry," Breeders' Cup interim president and chief executive officer Greg Avioli said. "The continued support of our nominators has allowed us to increase Breeders' Cup World Championships purses from $14 million to $20 million in 2006, and to create Breeders' Cup Friday with $3.75 million in new purses for Breeders' Cup-nominated horses."
Breeders' Cup foal and stallion nominations fund the purses for the Breeders' Cup World Championships and the Breeders' Cup Stakes Program. This year's Breeders' Cup World Championships will be held Oct. 26-27 at Monmouth Park in New Jersey. The Oct. 26 program will feature three new $1-million Breeders' Cup races.
Breeders' Cup Foal nominators paid a one-time fee of $500 per foal by Oct. 15, 2006, which made their foals eligible to the Breeders' Cup program for their entire racing careers. For the third consecutive year, foals that weren't nominated by Oct. 15 could also be nominated by Dec. 15 for a one-time fee of $1,500. A record number 152 foals were nominated after Oct. 15 under the late fee program, 29 more than last year.
Based on Breeders' Cup foal numbers and the payment schedule, the 2006 nominations will generate about $8,288,000 in revenue. The revenue figure for the 2005 foal crop was $8,214,000.
Foals nominated online through the Breeders' Cup Web site also reached an all-time record of 8,059 foals submitted through the interactive nomination program. Currently, 50% of all foal nominations to the Breeders' Cup are completed online. Since the interactive nomination system began in 2000, the number of foals registered online has grown 225%.
All nominated foals are by Breeders' Cup-, EBF- or Common Fund-nominated stallions. Breeders' Cup stallion nominators pay an annual fee equal to their stallion's advertised stud fee in order to make those stallions eligible to the Breeders' Cup program.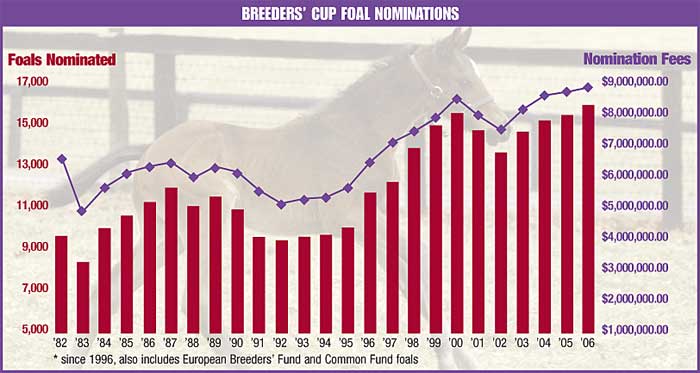 Breeders' Cup Foal Nominations: 1982 - 2006 (PDF Chart)