(Edited Breeders' Cup release)
Breeders' Cup Limited has released the official event logo for the 24th Breeders' Cup World Championships, which will be held Oct. 26-27 at Monmouth Park in Oceanport, N.J.
The Breeders' Cup also released the Breeders' Cup Challenge logo, which will be used in conjunction with 25 sanctioned major stakes races, whose winners automatically qualify for the Championships.
The 2007 official Breeders' Cup event logo features the traditional Breeders' Cup mark in royal blue perched above a rendition of the original 1870 Gates of Monmouth Park. The five-column entry way in the center of the logo is flanked by seagulls. A curved ocean wave stretches across the bottom part of the logo symbolizing the New Jersey Shoreline. At the base of the image, the words "World Championships" are stacked above the words "Monmouth Park."
The event logo will appear in Breeders' Cup advertising, promotions and on officially licensed clothing and merchandise sold across the country and overseas. The logo will also appear on the Breeders' Cup and NTRA Web sites and be utilized by North American and other international media organizations to complement coverage of the World Championships. High-resolution Breeders' Cup World Championships event logos are also available at www.ntra.com/logos.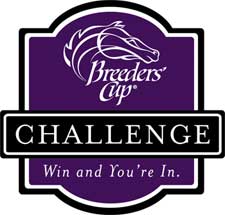 The 2007 Breeders' Cup, which will be televised live on ESPN, consists of 11 championship races with purses and awards totaling $23 million. This will be the first time that Monmouth Park will host the Breeders' Cup.
The Breeders' Cup Challenge logo will be prominently featured during six ABC/ESPN telecasts from Saratoga (July 28), Arlington Park (Aug. 11), Del Mar (Aug.19), Belmont Park (Sept. 30), Keeneland (Oct. 6) and Oak Tree at Santa Anita (Oct. 7). The Challenge logo will also be displayed at nationwide simulcast locations, and in consumer and industry advertising. The Breeders' Cup Challenge, highlighted by its "Win and You're In" format, will debut overseas on April 29 in the Hong Kong Champions Mile at Sha Tin Racecourse.
"The Breeders' Cup Challenge will enhance our television presentation, broaden media coverage and extend the Breeders' Cup brand to many of the most prestigious races in our sport leading to the Championships at Monmouth Park," said Breeders' Cup president and CEO Greg Avioli.