---
12:50 p.m.
Friendly Confines
Matty's Gun, a first-time starter running under a $30,000 claiming tag for trainer Michael Trivigno takes the first race with Billy Trolio aboard. Day two of the spring meet is underway.
The weather at Churchill this Sunday couldn't be better. Springtime in Kentucky has been on the cool side, but today offers up a bright blue sky and a temperature that may be north of 90. A good-size crowd fills the lower level and the suites appear to be teaming with folks.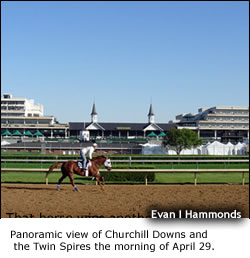 Walking toward the Downs one can't help but notice the size of the Twin Spires. What were once standout features in one of the most famous panoramas in all of sport are now reduced to an architectural feature dwarfed by a pair of corporate towers. It is a sign of the times, not just here, but at all new sporting venues.
Walking under the Twin Spires, you see a mix of the new and the old. Coming in through Gate 10, the brick-lined walkway takes you through a history lesson of the old Churchill Downs of one's youth—the old style betting windows "All Windows Cash/Sell"; the wood paneling with several layers of white paint; a cavernous feel under the concrete grandstand.
Continuing on, the "new" portion of the renovated portion Churchill Downs comes into play. A wide, open concourse; multiple levels of luxury suites; well scrubbed concession stands and gift shop.
There's something for everybody here. You just have to find your spot.
-E.H.
---
10:30 a.m.
Back Home
Assistant trainer Mike McCarthy is chatting with a groom outside Barn 42. He's settling in back at Churchill Downs after wintering with trainer Todd Pletcher's stable at Santa Anita. He'll be on the backside at Louisville until the end of November when the whole cycle will begin again.
McCarthy is actually a California kid. The 36-year-old grew up hanging out at Santa Anita.
"No complaints," he says regarding the SoCal homecoming. "Obviously Ravel not making the Santa Anita Derby (gr. I) was a bit of a blow, but all other things considered…."
While Pletcher served out a suspension this winter, McCarthy was the listed trainer in the program at the "Great Race Place."
"We had some horses run really well out there; Rags to Riches, that was great; Friendly Island; Fairbanks. It was just nice that we were able to win races at Santa Anita."
On this day, Pletcher was at Keeneland where three of five Derby contenders: Any Given Saturday, Circular Quay, and Scat Daddy were scheduled to work, along with Kentucky Oaks (gr. I) favorite Rags to Riches. They'll van over from Lexington Tuesday morning.
McCarthy held down the fort at Churchill and supervised the five-furlong work of Sam P.
Sam P., a son of Cat Thief owned by Starlight Stable and Dom Lucarelli, ran second in the Robert B. Lewis (gr. II) and third in the Santa Anita Derby (gr. I).
"He worked in a minute and a fifth," he reports. "It was just what we were looking for."
While he may be an assistant, McCarthy has trainerspeak down pat.
-E.H.
---
9:30 a.m.
The Right Spot
Trainer Darrin Miller holds court with the media following Domincan's five-furlong work. He's the trainer for Tommy and Bonnie Hamilton's Silverton Hill Farm near Springfield, Ky. They also have Derby hopeful Sedgefield, who will work five furlongs tomorrow.
Miller, and his five horses at Churchill, are housed in Barn 33, the backside home of trainer Bob Baffert. All three of his Derby winners: Silver Charm, Real Quiet, and War Emblem, were under the shedrow in Barn 33.
Miller met Baffert for the first time after Dominican pulled off an 8-1 upset over Street Sense, Zanjero, Teuflesberg, and Great Hunter in the Toyota Blue Grass (gr. I).
"He told me to stay true to myself and my program," Miller says. "Don't sway and keep 'em at work."
As for his first Derby experience, when he walks under the Twin Spires, Miller says "I want it to be fresh sheet of paper. I want it to start when we step out the door."
-E.H.
---
8:10 a.m.
Pink Patrol
The renovation break is taking place…the track is empty.
On the backside, however, the bleacher section is filled with about 20 people.
They're all wearing either pink t-shirts or black t-shirts. All are emblazoned with the name "Dominican."
Haley Shrewsbury is wearing one of the pink variety. Her grandfather is Tommy Hamilton, who owns Silverton Hill Farm near Springfield, Ky., along with wife, Bonnie. They own Toyota Blue Grass (gr. I) winner Dominican, and fellow Derby aspirant Sedgefield.
Haley is 11 and from Bardstown, just down the road from Springfield. She's hanging with her mom, Jennifer and her dad, Dr. Ron Shrewsbury. A dentist, Ron looks to have plenty of business for his "family" practice.
"Pink is the new black," Jennifer says.
The Hamiltons have five kids, 10 grandchildren, and hundreds of friends. They've all been to Turfway (to see Dominican win the Rushaway) and Keeneland for the Blue Grass. Racetracks love people like the Hamiltons.
Ticketing for Saturday might be a problem.
Jennifer reports that her "Pink Patrol" will be soaking up the scene all week in Louisville. They'll be easy to spot.
The kids, however, will shuttle back to Bardstown for school, even though Churchill Downs on Derby week will surely offer plenty of extracurricular activity.
-E.H.
---
7:35 a.m.
Simon Says
Trainer Chuck Simon hobbles down the stairs from the clocker's stand on the backside. He's taking one step at a time…slowly. Playing in a city slow-pitch softball league on Friday, Simon tells us he was attempting to stretch a double into a triple. Then he heard something pop.
"It's sign number 365 that I'm getting too old to play softball," says the 39-year-old. He notes he'll only be 39 for about another month…really.
The local hasn't seen too many of this year's Derby hopefuls. "There haven't been that many around," he says. "They're just getting here. It's unusual. You used to see the horses train for two weeks with the occasional outsider coming in late. Now, everybody is doing their own thing."
But he has watched the preps.
"I think there are 12 horses you can make a case for," he says. "I know Street Sense has looked great since he's been here. The one thing about a horse of his style, is you wonder about luck, because he might get stuck behind horses."
Perhaps he'll be luckier than the gimpy Simon.
"I hope he's sounder than me."
-E.H.
---
6:55 a.m.
Sensible Start
As if on cue, the first horse we see heading toward the track this morning is Street Sense. Last year's 2-year-old champ walks past Barn 28 on his way for some morning exercise. He's being led by Ian Wilkes, trainer Carl Nafzger's longtime assistant. The colt takes a few steps and stops. He takes a few more steps and stops. This goes on for quite a while.
"He doesn't hesitate on race day," says exercise rider Mark Cutler.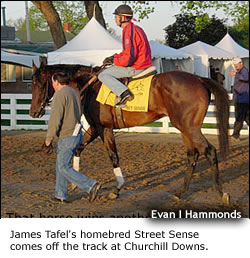 He's right. Street Sense won the championship based off his 10-length win in the Bessemer Trust Breeders' Cup Juvenile (gr. I) here at Churchill last November. This year, the son of Street Cry has been in a pair of scraps, beating Any Given Saturday a nose in the Tampa Bay Derby (gr. III) and dropping a tight decision to Dominican in the Toyota Blue Grass (gr. I).
The pair find their way to the track. Nafzger is leaning up against the fence and waits for Cutler and Street Sense to gallop around the track. Cutler is easy to spot in a bright red Boston Red Sox jacket.
As they gallop by, another exercise rider looks over at Nafzger and says "looks good to me."
"Thank you," the trainer says.
The colt gallops around again, his ears up. He looks good to us, too.
-E.H.
---