---
3:00 p.m.
Treat Her Right
Any media member worth his or her salt knows to take care of Bobbie Jo Porter.
Porter, a 16-year Churchill Downs employee tends the food service area in the media center and also services the Gold Room on the sixth floor. We're not sure how, but she does it with a smile…all the time.
She's in her seventh year dispensing drinks and smiles in the press box. Before that, she worked as a bartender at various locations around the Downs. A self-professed Navy brat who was born in San Diego, Porter has five children and lives in Alexandria, in northern Kentucky. That's an hour and 20 minute drive for her.
"I absolutely love it," she says of her job. It shows.
She's also an award winner.
"I got a Customer CAT award for customer service above and beyond, internal and external customers," she says, pointing to her plaque on the wall. "This April I got the customer service award of the year for 2006. I love this job."
"Anybody that wants to come in and complain about Derby week, don't work at Churchill Downs," she says. "This is what we sign up for."
She says she gets good tips from Gold Room members and media types. We're talking money, not pearls of wisdom on the track.
"When I took this, it was actually during a fall meet, and they asked me to do a favor. I was a bartender here. I said 'What do you need?' and they said 'Work the press box.' They said it was food and drinks and stuff. I said 'OK.' The only thing they said to me was 'the press was cheap, rude, and demanding.' And to this day, only three people have fit that bill, and very moderately at that."
I didn't know we were so well behaved.
"You're wrong," she says.
-E.H.
---
2:00 p.m.
It Just Might Be Yumfectious
In the "Derby Room" of the Jockey Club Suites, the announcement is made regarding the Yumfecta bonus scheme tied to a horse winning the Derby by more than 6 ½ lengths.
"What better way to honor Barbaro's victory than with this Yumfecta," says David Novak, CEO and chairman of Yum! Brands.
Hmmm.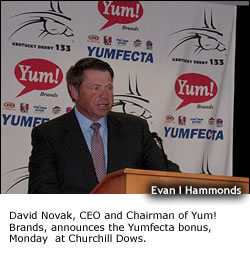 While you can't bet a Yumfecta—we wish we could if we could box it--it's a fairly safe bet they won't pay it out this year. Novak notes only five horses in 132 runnings have won by more than that margin.
The $1-million deal is split four ways: the connections of the winning horse—owner, trainer, jockey—each get $250,000. The Barbaro Memorial Fund also gets a cut, another $250,000.
Tag-teaming the press conference are Novak and Robert Evans, president of Churchill Downs Inc.
Morning Line has to agree with Evans when he said "We listened to their idea and it certainly was creative." We didn't see this one coming. We'd rather see a bonus tied to winning the Triple Crown.
Yum! Brands and Churchill Downs Inc. are in the second year of a three-year deal to be presenting sponsor of the greatest two minutes in all of sports. Those in the horse racing circle gave Churchill plenty of heat over the deal last year.
Novak was asked if they've gotten enough bang for their buck so far. From a promotional standpoint, we guessed he'd give it a thumbs up.
"We were elated," he said. "It was a significant investment on our part. What better way to promote the fact that we're global and a high-quality company than to be associated with the Derby.
"People don't really know what Yum! Brands is until you tell them that it's Pizza Hut, Taco Bell, KFC, Long John Silver's, and A&W, and then they say, 'Oh, wow.' We're trying to get our corporate name more linked to these great brands."
I suddenly have an urge for a Root Beer Float…
-E.H.
---
Noon
The Right Profile
There is no racing at Churchill Downs today. The paddock is empty…of horses. Toiling under the hot sun is Jody Patrovsky, a free-lance television producer. She's checking out the camera angles in the bright light.
She's here on this day working for HRTV, which is presenting a half-hour show each day called "Target Louisville 'Live'." The show started last Saturday, opening day of the meet, and runs through the day after the Derby.
Patrovsky, who grew up outside of Chicago and now lives in Rye, N.Y., has worked 25 consecutive Derbys for various networks. Her first working Derby was the one won by Sunny's Halo.
Her biggest "challenge"?
"The Smarty Jones' storm," she says promptly. "It knocked ESPN off the air. Oh my gosh, there were waterfalls coming down the stairs."
In 2004, about an hour before the Derby, there was a deluge at the Downs complete with lightning, thunder, and strong gusts of wind.
She knocks a wooden stall in the paddock when asked about snags so far this year.
She bets once in a while, noting she had the Smarty Jones/Lion Tamer exacta, but hasn't made up her mind yet on this year's Derby. She's waiting to check out the horses from California that have yet to arrive.
-E.H.
---
9 a.m.
Where the Action Is
Barn 41 is the place to be today. Four Derby hopefuls eventually exit the barn to go through their final paces for the Run for the Roses.
Facing Longfield Avenue, at the right end of the barn is the home of Hard Spun and trainer Larry Jones. Following his :57 3/5 workout after the break, the media swoops in. Cameras click as Jones gives Hard Spun a bath. Stablemate and workmate Wildcat Bettie B. gets her bath, too.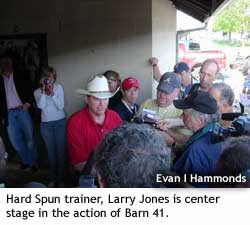 There is a buzz back at the barn. It was one fast workout. Someone mentions Seattle Slew worked in :57 before his Derby run in 1977. Above the din, a gray and white cat walks around on the roof.
"That wasn't what we were shooting for," Jones tells the crowd. "We weren't trying to see who was the fastest, but I told (jockey) Mario (Pino) I just hope we can throttle him down on Derby day. It may have put a little more zip in him that what we needed.
"But this horse does have a high cruising speed," Jones says.
Off that work, that's an understatement.
At the other end of the barn, the tone is a little more subdued. Derby runner Bwana Bull cools out after his morning workout. Around the back in the grassy area, trainer Bill Kaplan hangs out following the works of Storm in May and Imawildandcrazyguy. The latter is currently No. 22 on the list to get in the Derby based on graded earnings. If he doesn't get in, he'll run on Oaks Day in the Crown Royal American Turf.
Kaplan explains that Storm in May is blind in his right eye.
"He was operated on because of scratched cornea when he was three days old," Kaplan says. "The operation went awry and somehow the eyeball got punctured. He's been blind since he was three days old. So he has no idea he's blind in his right eye.
Being blind in one eye hasn't stopped Storm in May on the track. He's made 13 starts, and won the $250,000 Sunshine Millions Dash and was second last-time out in the $1-million Arkansas Derby (gr. I). He's earned $459,430. Not bad for a colt Kaplan picked up for $16,000 out of last year's OBS April sale of 2-year-olds in training.
"He breezed beautifully at the sale," Kaplan said. "He had wonderful action, he would have sold for a lot more if they had not announced he was blind in his right eye. A lot of people are afraid of taking a horse that is handicapped like that.
Kaplan stepped out. Now he's stepped into the Derby spotlight.
-E.H.
---
7:50 a.m.
Here's Larry
Jockey Larry Melancon leans up against a pole by the gap. The Churchill Downs mainstay says his best Derby memory was his first, when he rode Amano to a fourth-place finish behind Bold Forbes in 1976. He's ridden in three other Kentucky Derbys, but that was his best finish.
"I was third turning for home," he beams. "That was quite a thrill. That first one, that's the one that catches you."
This year, Melancon has a Derby connection in Hard Spun. Trainer Larry Jones put the veteran rider up for his workout last week.
"He worked pretty good," he says. "He's a big, good-looking horse. The horse ran easy, he wasn't blowing at all."
Hard Spun's last race was an easy win in the Lane's End Stakes (gr. II) at Turfway Park back in March.
"I watched the race and I said, 'Boy, I'd like to be on the 10 horse.' He won like he was supposed to. I watched him run in New Orleans and he won easy there, too."
-E.H.
---
7:40 a.m.
Flower Power
Cincy Dollase, wife of trainer Wally Dollase, is working over the flower bed outside Barn 33.
"Oh, we're just trying to make it look pretty," she says. "It's my beautification project."
Yesterday, things brightened around the barn when Crested won an allowance/optional claiming race. "That horse deserved to win," Cincy says. "He's been knocking around in so many tough races, and he always finds a way to find trouble. He overcomes it…he's always right there…we've been so frustrated. Wally said 'He deserves to win.'
"They (the horses) know," she says. "He's very cocky this morning."
The conversation turns to the Derby.
"I like Street Sense," she says. "We've just watched him train since we've been here and he's got a good trainer behind him. He knows how to get it done. I just think they have to beat him."
She grabs her stopwatch as one of the barn's horses heads toward the track. Coming the other way is Derby hopeful Great Hunter.
"There's Corey's horse!" she says. "The kids are rooting for that one."
Great Hunter will be ridden by Corey Nakatani, the Dollases' son-in-law.
-E.H.
---
6:50 a.m.
Gold Seeker
Trainer Ron Moquett leads a horse onto the track. The young conditioner sent out Seek Gold to pull off a monster upset in last year's Stephen Foster Handicap (gr. I). The horse returned to the track at Keeneland last week and is being geared up for another run at the Foster in June. But for now, Moquett is thinking Derby.
"Right now, there's Curlin, Street Sense , and Any Given Saturday," he says. "The most impressive race was the Arkansas Derby. Street Sense's race with Any Given Saturday at Tampa Bay was a class check and both horses passed that."
Moquett has 20 horses in training at Churchill, but will shy away from running many of them Derby week.
"The track, for whatever reason, tends to tighten up around the Derby," he says. "We have issues with Seek Gold in regards to soundness. I think a racetrack is just like a road. You should drive according to road and weather conditions. If the track is too hard for your liking, then slack up and do other things. Don't go out and do 90 miles an hour every day."
The Foster win last year hasn't brought Moquett any new owners, but it has gotten him plenty of respect. "It's put me out there, but all I want for people to understand is that I will get the most out of their horses that I can get."
-E.H.
---
6:35 a.m.
A Diamond for Barbaro
Woodford Reserve master distiller Chris Morris is hanging out around the media center on the backside. He's holding a wooden box. He pops it open and proudly displays a gold Julep Cup commemorating Barbaro's win in last year's Kentucky Derby. Underneath the etched image of the horse and a large horseshoe is a diamond.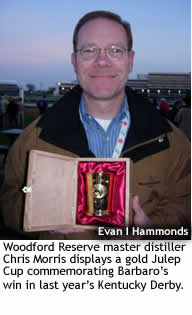 Last year, Woodford Reserve came up with the idea to sell specialty Mint Juleps for $1,000 to raise money for charity. They sold out before Derby day. This year, they are offering 132 Juleps, one for each of the past Derbys. While Barbaro gets a diamond, as does Aristides (the first Derby winner), the 11 Triple Crown winners have three rubies embedded into the gold.
Barbaro's cup, along with Aristides and the Triple Crown winners (13 in all), will sell for much more than a grand. It's being offered at auction online on the Woodford Reserve Web site. The auction runs through tomorrow. At this writing, the top bid stands at $6,500.
Morris won't be making any of the Juleps. State law prohibits distillers from making alcoholic drinks. He will, however, supervise the making of the 13 specialty drinks by a professional bartender.
The ingredients, besides the Woodford Reserve, have changed for this year. The mint comes from Ireland, the sugar from Australia, and the ice from the Bavarian Alps.
Morris, who lives in Louisville, is asked his favorite part of Derby. After a long pause, he says "I would have to say after the Derby. It's a great week, but boy, when it's over, it's like, 'Hallelujah.'"
-E.H.
---