---
9:45 a.m.
Buffer Zone
Barn 10A could be called the "Buffer" Zone. It's the home of trainer "Buff" Bradley. A large placard reads "The Home of BRASS HAT."
Bradley trains Brass Hat, the now 6-year-old homebred gelding who won the Donn Handicap (gr. I) last February. The son of Prized is back in training and galloping strong. Bradley is thinking about a comeback race toward the end of the Churchill Downs meet.
Today, his thoughts are on the Derby as he chats with some friends.
"It gets to be zoo back here, but I wouldn't have it any other way," he says of the backstretch scene Derby week.
"I gotta go with Street Sense and Dominican," he says of his Derby picks. "I'm a big fan of Calvin Borel and Dominican has looked pretty impressive to me. He's coming around, too.
"And I'm partial to geldings who have won the Rushaway Stakes."
Brass Hat broke his maiden in the Rushaway at Turfway Park back in March of 2004.
-E.H.
---
9:10 a.m.
Once the Man, Always the Man
Hall of Fame trainer D. Wayne Lukas holds court for an assembling of media in front of his spotless barn. He's the only trainer without a Derby horse who can still provoke a good half-hour worth of questioning. Maybe that's because, according to Lukas, "there's no how-to book in this industry."Lukas is well-known as a stickler for perfection. This morning, he embraces the image.
"The small stuff is important, and I insist on good handwriting," he says. "There's a legal pad in my office. Across the top it says 'The Kentucky Derby will be run on the first Saturday in May,' and I tell everyone who comes to work for me, 'You're going to write that 100 times, and by the way, if you show up to work wearing a checkered shirt and a paisley tie, you'll be in trouble.'"
Everyone laughs. Someone wants to know if Lukas had to teach former assistant Todd Pletcher how to dress.
"That was never an issue," he says. "I knew he had what it takes. But for the 11 or 12 assistants who have gone out on their own and done well, there's another 30 you've never heard of because they lasted a month and got kicked out the door. I never pick an employee based on a resume. I look them in the eye and say, 'This is what I'll demand of you; I don't think you can handle it, but I'll give you a chance."
And that's how a good trainer gets a start.
-C.N.
---
9 a.m.
Storm Arrival
At the other end of Barn 41 is the Currin Camp. That would be trainer Bill Currin, who co-bred and co-owns Stormello. They arrived yesterday from California with the Tiago team.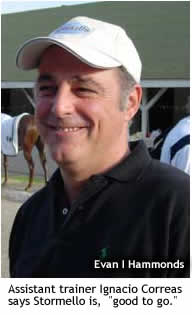 Making sure the colt settles in is assistant trainer Ignacio Correas. He was here with the filly Memorette for the Oaks two years ago and was here last fall when Stormello was on the grounds for the Breeders' Cup. Stormello was fifth in the Bessemer Trust Breeders' Cup Juvenile (gr. I), and then went on to win the Hollywood Futurity (gr. I).
Based in California, Stormello has made two cross-country trips this year to run at Gulfstream Park. On March 3, he was beaten just a nose by Scat Daddy in the Fountain of Youth (gr. II). Following a rough airplane trip later that month he returned to run fourth, beaten four lengths by Scat Daddy in the Florida Derby (gr. I).
"If Scat Daddy can win, I can win, too," Correas says. "He beat us only like this."
Correas puts his thumb and index finger nearly together.
"If he can, we can. That's the line. Scat Daddy has had the most impressionable preps for the Derby, to me. He come back third (in the Holy Bull), then won, won. He's one of the top ones. He's the one that has done it all perfect.
"I think that Scat Daddy has taken the right steps at the right moment. When we did the things good, we were right there.
Correas is asked about the difference in the colt from the last time he was here, for the Breeders' Cup.
"To tell you the truth, in November we spoiled him too much," he says. "When I look at the pictures of how he looked in November, I ask myself 'Who is that fat horse?' I can't believe he was that fat. You have to have him tight."
Is he tight now, we ask?
"Oh yeah. He's good to go."
-E.H.
---
8:55 a.m.
In Your Blood
Leonard Lusky, manager of secretariat.com, is standing at the rail with two guests.
"You wanna meet a celebrity?" he asks.
Jim Gaffney and his wife, Mary, are visiting from their home in New York, but Gaffney's best memories lie in Kentucky, where he galloped Secretariat beneath the Twin Spires in the spring of 1973.
"I got on him three months before his first race for the first time," he remembers. "I come back to the barn and I started telling everyone, Penny Chenery, Lucien Laurin: 'this horse can RUN!' I called my mom in Florida, I said, 'I'm sitting on the fastest horse anyone's ever ridden.'"
As Gaffney watches horses work over the track, he remembers the power of the Triple Crown winner.
"He was like a machine, a powerful running machine," he says. "I never asked him to run, I never used my stick on him, I never let him all the way out. Horses get in your blood, and with me and Secretariat, it was love at first sight."
As for this year's Derby contenders, none come close to looking like that, he says. But if he could pick one horse to get on this year?
"I'd have to take a (Todd) Pletcher horse, the best one he's ever run, I'd get on that," he says with a grin.
So would every other exercise rider on the grounds this morning.
-C.N.

---
8:15 a.m.
All in the Family
Trainer John Shirreffs is back in Louisville. The California horseman got into Louisville yesterday with his Derby hopeful, Tiago. Jerry and Ann Moss' homebred colt is Giacomo's little brother. After the colt's leg-stretching gallop over the Churchill surface, Shirreffs holds court outside Barn 41.
"There's always something unexpected that's going to happen," Shirreffs says. "That's horse racing."
He lived that lesson big-time two years ago when Giacomo won the Derby at 50-1.
"Giacomo went through all the steps," he says, comparing the Derby winner to the Derby hopeful. "He went through a lot of races; he ran as a 2-year-old and was second in the Hollywood Futurity. He was a well seasoned horse. Tiago has made giant leaps."
"Racehorses develop in a lot of ways; from yearlings to 3-year-olds, there are a lot of changes," he says. "Structurally, they have to develop. Their bones have to thicken, their muscles have to develop; the ligaments have to get stronger. A lot of horses do this at a different pace. If you hope to have something that is going to be good, then you have to wait for that horse to come around—you can't force it.
"As a 2-year-old, Tiago was a little immature. His body just wasn't ready for the rigors of racing," Shirreffs says.
After his win in the Santa Anita Derby (gr. I), it looks like he's matured. We'll find out Saturday for sure.
-E.H.
---
8:10 a.m.
Ladies' Day?
Jamie Sanders, trainer of Teuflesberg, stops on the backside to conduct an interview with John Ashton and Kathi Lincoln of Lite 106.9 FM. A former assistant to Hall of Fame trainer Nick Zito, Sanders has been at Churchill for several renewals of the Derby – but this is the first time she's campaigned a horse this far on her own.
Teuflesberg is 21st on the graded earnings list, and needs one horse not to enter before he can run. Sanders scratched him out of last Saturday's Derby Trial in the hopes of getting into the Derby. By tomorrow she'll know if she's going to be the 13th female trainer to start a horse in the Kentucky Derby.
Of course, everyone comments on the fact Sanders is a woman, and one of the rare few to train a potential Derby contender. While women may not have it easy in the racing industry, they've come a long way since pioneering owner Lillie Langtry was forced to run her horses at Newmarket under the name of "Mr. Jersey" back in the 1880's and 1890's .
Todd Sloane, the jockey who created the modern-day "monkey crouch" style of race riding, was Langtry's advisor. Sanders makes her own decisions.
"It's very gratifying to get this far, something you dream about," she says. "A lot of little girls have big dreams and I was one who never gave up."
She's still hoping her dream comes true.
- C.N.
---
8:10 a.m.
Kid Gloves
A portable bright green tent has been set up next to the media center. Underneath the large "Bionic" sign is Ann Koehler of Hillerich and Bradsby. You know, the Louisville Slugger people.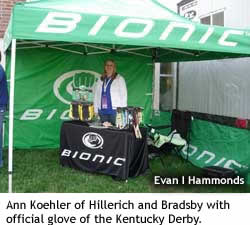 However, she's not hawking bats.
"We have golf gloves, gardening gloves, and we're the official glove of Churchill Downs and the Kentucky Derby," she says. "They're equestrian gloves."
Gripping.
Koehler has been with H&B for nine years. Today she arrived at 5:30 and will work the crowd until 10, maybe 10:30.
She's showing and selling. This week's special? The equestrian gloves, regularly $49.95 are a mere $40. She's sold a few pairs.
-E.H.
---
7:45 a.m.
I'll Take Mine with Salt and Tequila

Exercise rider Tony Romero stands outside of Barn 28, chatting with a security guard as trainer Doug O'Neill entertains the media. Romero wears a lime green safety vest and matching helmet cover, a slight switch from the schoolbus yellow he usually wears.
The green vest is so new it practically sparkles. Looks like he uses Windex to keep it clean. He bought it after Thor's Echo won the Breeders' Cup Sprint (gr. I).
Asked where the yellow vest went, Romero laughs.
"The yellow vest! I forgot about that one," he says. "I left it at home in California. We were in Dubai, and then we came right to Kentucky…I didn't have time to pack anything. It was just 'pick up and go.'"
Romero enjoyed working in Dubai, where O'Neill trainee Spring at Last won the Godolphin Mile (UAE-II) March 31.
"In Dubai, everyone speaks English, it's easy to get around," he says. "It's not that way in Japan. Nobody speaks English in Japan. You have to take a translator with you, you have to take them everywhere. I just make sure it's a pretty girl, then I don't mind."
The girls will definitely notice Romero this week; in his lime ensemble, he's impossible to miss.
-C.N.

---
6:45 a.m.
Here's the Beef
Two teenaged girls are walking around the media center on the backside carrying a platter of hamburgers. Not exactly what most folks have in mind for breakfast.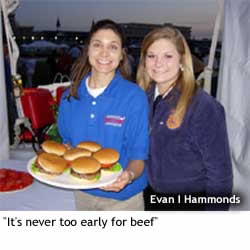 Alison Smith and Shelby Heiskell are the young ladies one would least expect to see on the backstretch. Smith's father is the owner of Green River Cattle Co.
Both are here to promote the Kentucky Cattlemen's Association. They will be in the infield today and the rest of the week selling burgers and rib eyes.
The platter of burgers, complete with Kentucky-grown hydroponic tomatoes and Kentucky-grown Bibb lettuce, are a promotional item as they work several radio and local television shows that have set up shop near the media center. The girls will be slinging out other burgers after 9 a.m.
"It's never too early for beef," Smith says.
We're not so sure.
-E.H.
---
Monday evening
A Good Cause
The Race Track Chaplaincy of America got Derby week off to a positive start Monday night with their Race for Grace Dinner, sponsored by Lubrisyn and WinStar Farm, in the Triple Crown Room at Churchill Downs. Overheard at the sold-out event, comments on racing, religion, and redemption before the Run for the Roses.
"I start getting nervous when they walk over from the backside." – WinStar Farm co-owner Bill Casner, who has part ownership in contenders Any Given Saturday and Cowtown Cat
"Believe it or not, there IS a different kind of racing that goes on every now and then." – auctioneer Tom Biederman whetting the crowd's appetite for Indy 500 tickets.
"He's quick, and so are his horses!" – Tom Biederman as Todd Pletcher outbid several guests on a shadowbox containing memorabilia from Scat Daddy's young career.
"There's one proverb I subscribe to; 'Blessed are the brief, for they shall be asked to speak again.'" – University of Louisville head football coach Steve Kragthorpe, who then received a standing ovation.

On One Condition, Please...
When Kragthorpe signed on with the school, his contract negotiations didn't take long.
"How long will my contract last?" Kragthorpe asked.
"Five years," he was told.
"Okay, that's good," he said. "And where are my Kentucky Derby tickets?"
"Right here," they told him.
It was a done deal.
-C.N.
---
Monday Evening
Dinner Plans
Monday night before the first Saturday in May is all about dinner and Derby talk at John E's restaurant. The Bardstown Road eatery is a horseman's hangout that can throw down a pretty mean medium rare rib eye with a Caesar Salad on the side.
This night is a standing-room-only Derby tradition that brings together trainers, owners, a two-hour live radio broadcast, and a charity event for the Klein Family Learning Center on the backstretch at Churchill Downs.
A bombshell hits just after the first hour of the program when trainer Doug O'Neill announces Cobalt Blue's status in the Run for the Roses is in jeopardy. He's not 100% satisfied with Merv Griffin's colt and says he'll send him out to the track tomorrow to make a final evaluation of him before Wednesday's entry day.
His quote of "there's a slight chance he might not enter" is good news for trainer Jamie Sanders and her Teuflesberg, who sit at No. 21 on the graded earnings list.
Sanders reports that, if her runner doesn't make it into the main body of the Derby field, she'll supplement the son of Johannesburg to either the Crown Royal American Turf Stakes on the turf Oaks day, or even the 1 ¼-mile Woodford Reserve Turf Classic (gr. IT) on Derby day against older horses.
O'Neill seems humbled by his first Derby experience. Regardless of Cobalt Blue's status, he still plans on sending out Great Hunter and Liquidity for owner J. Paul Reddam. Asked when he knew Great Hunter was a Derby horse, he quipped: "When Fifth Third Bank wanted him back." He regarded Liquidity as the "high school star athlete that doesn't apply himself every time."
Bringing down the house is trainer Carl Nafzger, who will send champion Street Sense to the Derby as one of the favorites. On his nose loss to Dominican in the Toyota Blue Grass (gr. I), Nafzger says "the jock blew the Blue Grass or we would have won that." Rider Calvin Borel stood to the trainer's right and shared in the joke.
"Down in Tampa (the Tampa Bay Derby) we got the picture and the money," he says of the nose victory over Any Given Saturday. "In the Blue Grass, we made a few mistakes, and Dominican got the picture and the money."
When it was time to ask a few questions of Borel, someone in the audience shouted out "Curlin!" Borel was asked if he should be worried about a horse like that. He responded with some smack talk of his own: "Those guys better worry about me, too!"
-E.H.