---
12:45 p.m.
Racing Fans Are Racing Fans
Walking over from the backside toward the front side, we're taken by all of the brown and yellow signage.
"Welcome Race Fans" they exclaim. They also have the UPS Racing logo. UPS stands for United Parcel Service, whose hub is in Louisville. It's a safe guess they are among Louisville's largest employers. The racing logo stands for their sponsorship of popular NASCAR driver Dale Jarrett.
Jarrett was on the backstretch this morning doing some promotional work. Churchill has a section of the grandstand roped off for UPS today. The first race is called the "Dale Jarrett Race to the Cup Delivered by UPS." It's a logical marketing marriage between the two companies.
In the stands, sporting a Dale Jarrett-autographed, UPS Racing baseball cap is Don Stinson of Pleasure Ridge Park, a suburb of Louisville. He's a racing fan, no doubt. He likes Thoroughbred racing first, then NASCAR. Jarrett is his favorite driver.
He's enjoying the day at the track with his father, Don. It runs in the family.
The younger Don says he bet on No. 6 in the first race. Crimson Allcat, the No. 6, is the 6-5 favorite. Driven by Corey Lanerie, Crimson Allcat gets the lead in deep stretch but is run down late by Countmeasafriend.
That's racing.
-E.H.
---
12:30 p.m.
Youbetcha
Trainers D. Wayne Lukas and Todd Pletcher are the guests of honor at a Youbet.com press luncheon in Churchill Downs' Marquee Village. Although Pletcher is the noticable trainer with five Kentucky Derby starters, he doesn't come close to surpassing 71-year-old Lukas' vibrant personality.

"This is probably the only way I'll get a press conference this week," jokes the Hall of Fame trainer.

And the Lukas show begins.

"When Woody Stephens won his Derby and Charlie Whittingham won his Derby, I said, 'Hell, I can explain this, we're not old enough to win it!'" he said.

"By the way, my Oaks filly (Grace Happens) is like 100-1, and if you'd like to take those odds I suggest you donate the winnings to your church."

The filly really goes off at 50-1. Better than 100-1, but still a long longshot.

"You know, it's great to be sitting here with Todd, but I'd rather be sitting here and saying, 'I'm going to beat your five on Saturday,'" Lukas went on. "When you get to the Derby, the whole world is watching and we've all learned that it's not getting in that counts--it's finishing well. If you wake up Wednesday and say 'they're all OK and I can pack them in styrofoam for two more days, that's a good feeling."

Lukas christened Steve Asmussen trainee Curlin the "Now Horse," saying, "no matter what program a horse is on, when he gets here to Churchill and things just start to fall into place for him, that's a dangerous horse."

Pletcher agreed, saying the son of Smart Strike is the one horse that worries him.

"Street Sense is obviously one of the horses to beat, but Curlin worries me a lot," Pletcher said. "The one thing he's done is, no one's gotten close to him. Yeah, he worries me."

When asked how he feels regarding his rider assignments for the race, Pletcher smiled.

"If you get to the biggest race in the nation with John Velazquez, Edgar Prado, and Garrett Gomez riding your top horses, then throw in the guy who just came off a win in the Dubai World Cup (UAE-I) (Fernando Jara) and add a leading jock from the East coast (Ramon Dominguez), you couldn't be in much better shape," he said.

Perhaps the press conference could be summed up best by an answer to one of the final questions of the afternoon.

"Do you have an opinion on the Yumfecta incentive?" a journalist asked.

"I have an opinion about everything," Lukas replied.
-C.N.
---
Noon
Message in a Bottle
The pill pull at the racing office for the Derby is one of the most dramatic moments of the week. While the selection process is played out on national television later this evening on ESPN, the order in which the owners and trainers will go is determined in the pill pull at the racing office.
The regularly quiet racing office is packed with trainers, owners, jocks' agents…and the media. Churchill Downs' racing secretary Ben Huffman runs the show. Twenty pills are placed in a bottle. Twenty entry slips are placed in a box.
A pill is pulled…and the number announced. A slip is drawn to attach a name to the number.
First pill is pulled…number 3. A great number to have. Pause.
Huffman then says, "Hard Spun."
A great exhale comes from breeder/owner Richard Porter and trainer Larry Jones.
"That's huge; that makes it good for us," Jones says.
Seated on a bench are Jack Wolf and James Scatuorchio. Wolf, along with partner Donald Lucarelli, owns Sam P., who got the No. 13 pill. Scatuorchio is one of the owners of Scat Daddy, who will pick eighth. Both colts are trained by Todd Pletcher.
Wolf is figuring out about where his horse will be. On a sheet of paper, he's sketched out the field. He guesses the first four slots will be open for him and then the spots further outside.
"We're probably between 16 and 4," he says.
"I was sitting with Jack before the draw and he said 'You want the 1 don't you?' And I said, 'Nah, I'll take No. 8.' I should have said I'll take No. 1."
With the eighth pick, we figure Scat Daddy won't be behind the eight ball when the gates open on Saturday.
-E.H.
---
9:30 a.m.
Hut One
The University of Louisville's new head football coach Steve Kragthorpe, is hanging out beside Todd Pletcher's barn. He's been on a tour of the grounds this morning courtesy of Pat Day, but the previewing of contenders hasn't served to solidify his betting strategy.
"I'm more confused now than I ever was," he tells Day as they leave the track.
One horse, however, did manage to catch Kragthorpe's eye.
"Street Sense has a great presence," he says. "He reminds me of a quarterback; the way he holds his head, the way he walks, he looks like a leader."
Hike!
– C.N.
---
9 a.m.
FBI Tales
Betty Currin stands inside of Barn 41 and holds a mint beneath Stormello's nose. The big chestnut takes it gently and crunches away, neck lowered, undisturbed by the crowds surrounding the shedrow.
"Is that your horse?" someone asks.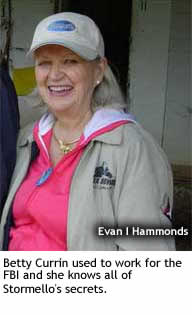 Betty smiles. Oh, definitely.
"I bred him," she says. "You make so many mistakes in life, when something finally works out it's quite gratifying. This is the most exciting position to be in on Derby week, so we're very happy about it."
Since she's known Stormello since his conception, Betty's description of the horse is spot-on.
"He's very serious, but he can be playful--not aggressive, just playful. He's very business-minded when he's racing, he thinks of it as a job, which it is. We don't worry about the odds or what the bettors put us at, we're just excited to get to the gate and wish for the best."
She remembers back in the day when her and her husband worked for the FBI.
"I was a very good secretary; I had very good secretarial skills, so they gave me a job working in the library working for the guy who wrote 'The FBI Story.' So I had a cushy job."
"Bill worked in the crime records section," she says. "In those days, and this was before computers, he tracked communists because they were a threat. He had a little index file and he had to check up on the activities of all these guys."
Betty worked at the FBI for about a year and half before they moved on from Washington, D.C. to New York.
They're still moving on…all the way to the Twin Spires.
-C.N., and E.H.
---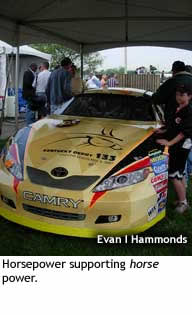 8:45 a.m.
All Revved Up
NASCAR driver Dale Jarrett stands behind the backside press center, signing autographs and conducting interviews as admiring fans take a look at the UPS Toyota racecar he drives. Jarrett will be driving the car Derby weekend, so he won't attend the races. But he plans to catch up on TV and root for his favorite horse--Great Hunter.
"I keep up with the big events in horse racing," Jarrett says. "It's a fascinating sport to me; the horses are tremendous athletes, and the jockeys have to be at the top of their game to handle their mounts. Just like NASCAR, it's all about being prepared and being ready."
Jarrett hasn't "met" Great Hunter yet, but his publicist says they're stopping by the barn to see the Doug O'Neill trainee later this morning.
Once again, horsepower meets horse power.
– C.N.
---
8:40 a.m.
Curlin Events
Trainer Steve Asmussen addresses some reporters about the unbeaten Curlin. Asmussen got the colt after he broke his maiden by 12 ¾ lengths at Gulfstream Feb. 3.
He was sold for a figure reported to be north of $3 million after that race. He's since won the Rebel Stakes (gr. III) and Arkansas Derby (gr. II) in pretty short order. He'll be one of the favorites, if not the favorite for the Derby.
The new majority owner is Jess Jackson, the man behind the Kendall-Jackson winery. Other owners include George Bolton and Satish Sanan.
Their common denominator is bloodstock agent John Moynihan. He watches as Asmussen answers questions.
How was Asmussen selected as his new trainer?
"Mr. Jackson horses with Steve, and my good friend George Bolton also has horses with Steve, and so does Mr. Sanan, so it was just a natural fit," Moynihan says.
"George will be here tomorrow. The Monday morning deal might have killed him," he jokes. "We got him up at 4 a.m. to watch the horse work. We told him yesterday the horse was just going to walk (the shedrow), and he said 'Could you guys film that and show it to me later?'"
"Seriously, they're all having fun," Moyihan says.
Four days before the Derby with an unbeaten horse in the barn? They should be.
-E.H.
---
8:05 a.m.
Enjoying Retirement
Retired Hall of Fame jockey Pat Day stands near the clockers' stand. He's attending his third Derby as a spectator, and he's enjoying the relaxation.
"I remember the first time I watched the Derby, it was out in Arizona and we watched it in the jocks' room on a little black and white TV with rabbit ears," he says with a smile. "Now it's great to be out here and enjoy the excitement of Derby week."
As most horsemen are saying, Day believes the Derby is wide open… but if he were wearing the white pants on Saturday, he knows who his horse would be.
"The most competitive horse? That would be Street Sense," he says. "If I could pick one, I'd get on him."

- C.N.
---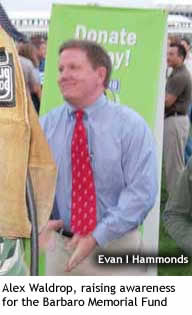 7:50 a.m.
Two Bucks for Barbaro
A green and blue placard and a picnic table have been set up on the grassy area of the media center. The color of Barbaro's silks. Raising awareness for the Barbaro Memorial Fund is Alex Waldrop, president and CEO of the National Thoroughbred Racing Association. He's here to chat with the local television and radio stations, and folks like us.
"What we're trying to do is drive people to the Web site, ridingwithbarbaro.org," he says. "There, people can learn more about what's being done to ensure the health and safety for Thoroughbreds and also to give them a place to give back."
Waldrop is wearing a blue Barbaro wristband. The NTRA is behind the drive to sell them for $2 apiece.
"The wristbands are the public portion of the campaign," he says. "We've got 100,000 wristbands. Some people sort of snickered. Well, I'm going to tell you, I hope we have enough by the end of this week and we've got a five-week campaign (through the Preakness and Belmont)."
Waldrop knows his way around these parts. He's the former president of Churchill Downs.
"It's a lot more fun to be here in this capacity," he says with a laugh. "I don't show up in Indian Charlie. You dodge a lot of bullets when you're not in the line of fire.
-E.H.
---
7:45 a.m.
Hillbilly Heaven
In the crowded area behind the press center, six individuals wearing overalls, checkered shirts, and old hats pose for a camera. They're with the Hillbilly Coalition, an organization that coordinates "Hillbilly Outfield," a Derby-weekend benefit for the Make-a-Wish foundation.
Jim Hafendorfer, host of the event, explains.
"In its' simplistic form, it's a huge backyard party, but deeper it's so much more than that," he says. "And it's so far from the infield… that's why we call it the outfield."
The event is held in Middletown, Ky, and last year attracted more than 500 people over the Friday and Saturday of Derby. There's overnight camping and large screen TVs that broadcast the Derby festivities, as well as live music from rock and roll and bluegrass bands.
The Web site is www.hillbillyoutfield.org. The cause is definitely a good one.
– C.N.

---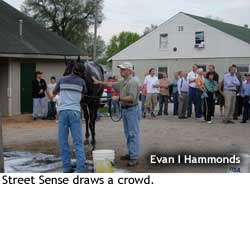 7:40 a.m.
Public Bath
A crowd gathers around to watch champion Street Sense get his morning bath. A three-deep arc of people are between Barns 26 and 27. Trainer Carl Nafzger chats with some folks, including retired Hall of Fame jockey Pat Day.
Another set of horses comes back to the barn from going through their morning paces.
"WATCH YOUR BACKS," the rider says twice. The seas part.
"It's Derby week," Nafzger announces.
-E.H.
---
7:30 a.m.
He Belongs
Jockey Mike Smith arrives on the Churchill Downs backside in the backseat of a black Lexus.
Wearing an Azeri jacket with the late Allen Paulsen's red, white, andblue colors across the back, he holds a pair of binoculars and heads to the clockers' stand to keep an eye on Tiago while his Derby mount goes for a jog.
"He's an awesome horse, just a big, strong mover," he says. "Of course I'm excited about riding him, since he's a half-brother to Giacomo and all that, but I can really feel the talent he has. He belongs in this race, no question about it. When he made his move in the Santa Anita Derby (gr. I), he proved he belonged right then and there. He's incredible."
We think he likes the horse.
- C.N.
---
7:05 a.m.
Paul Makes the Call
Paul Rogers of WHAS radio in Louisville is a mainstay on the backside at Churchill Downs Derby week. He knows his sports and knows his Thoroughbred racing.
He knows his sports because he's the play-by-play guy for the University of Louisville football and basketball teams. He calls races on WHAS as well and has called the Derby for the radio station every year since 1984.
Calling a large-field race can't be easy.
"I've had some that weren't that great," he says modestly. "It's a hard race to call. My most memorable was probably my first one, which was Swale in '84. When I hear them played back, my favorite was the Silver Charm-Captain Bodgit stretch run (in '97).
How about a call this year?
"I like Circular Quay," he says. "I liked him way back when last fall and he hasn't done anything to discourage me…other than I wish he had a mile and an eighth race in him."
---
6:55 a.m.
Fit for a Queen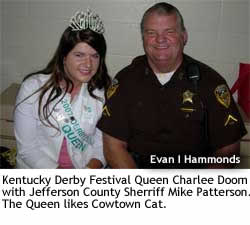 Charlee Doom is sitting on a bench in the media center. The University of Kentucky junior kind of stands out in the crowd. The tiara and sash gives her away.
Doom, an agricultural economics major, is in the media center and not out mixing it up with the horses because she says she's allergic.
Both Doom, a native of Elizabethtown, and Queen Elizabeth from England will both be at the Derby Saturday.
Doom, complete with her own security in the form of Mike Patterson from the Jefferson County Sherriff's dept., is this year's Kentucky Derby Festival Queen. She was selected as one of five Derby Festival princesses, then was chosen to be queen by the spin of the wheel.
Lucky gal. Who is fit for a queen?
"Cowtown Cat," Doom remarks.
-E.H.
---
Tuesday Evening
Dinner and a Date
One of the longstanding traditions of Derby week is the Trainer's Dinner at the Hyatt Hotel in downtown Louisville. Each trainer gets a few moments in the spotlight to talk up, or down, their horses' chances in the big $2-million dollar race on Saturday.
The crowd in past years had seemed a tad light on horse people and had more of a Louisville-chamber-of-commerce feel. This year, the cocktail hour was horse folk, wall to wall. Cautiously optimistic was Doug Cauthen, president of WinStar Farm that has two hopefuls in the Derby: Any Given Saturday and Cowtown Cat. He noted to some journalists that he might actually answer his cell phone should one the WinStar horses win the Derby.
The sale companies, Keeneland and Fasig-Tipton, were well represented as Geoffery Russell and Rogers Beasley worked the crowd for Keeneland and Walt Roberterson was representing Fasig-Tipton. Both are in the midst of closing out their major yearling sales nominations period.
Noted by co-announcer Paul Rogers is that only three of this year's trainers have won the Derby: Carl Nafzger (Unbridled, 1990), Barclay Tagg (Funny Cide, 2003), and John Shirreffs (Giacomo, 2005).
During the presentation portion of the evening after the dinner, a pair of faux pas bookended the program. Early on, Gov. Ernie Fletcher was introduced…and Kentucky's top pol was a no-show. That was quickly remedied by going to a segment to honor last year's Derby-winning trainer, Michael Matz, who received a standing ovation.
The last of the connections introduced were those of Bwana Bull. Co-anchor Tom Durkin announced that trainer Jerry Hollendorfer's assistant, Joe Hernandez, was to take the stage and answer a few questions.
"Are you any relation to the great track announcer?" Durkin asked, referring to the late Joe Hernandez of Southern California.
"Uh, my name is Galen May," the assistant said. It took awhile for both to recover.
Also brought up to the podium for a few words was trainer Pete Anderson, conditioner of Delightful Kiss, who won't make it into the Derby field due to his lack of graded earnings. Anderson, back in his riding days, rode the might Forego to a fourth-place finish in the Derby behind Secretariat.
Quotables of the night:
When asked about being in his first Derby, Hard Spun's trainer Larry Jones said: "I can't figure out why I'm here. He's good in spite of his training. Everyone has told me all week that I worked him too slow at Keeneland and too fast this week, so, no he's here in spite of his trainer."
Shirreffs said "I think winning the Derby was something that really satisfied me personally." On having been here before, he said: "It gives you that little bit of comfort. There won't be any surprises. You know exactly what is going to happen."
Doug O'Neill, trainer of Great Hunter and Liquidity: "Until we have a few more seasons running over the Polytrack, I think we're all a little bit confused on how to handicap and figure out these races. But definitely, it's a great addition to the game. It's a safer surface and we'll adjust to the style the horses need to run to."
-E.H.