Bill Kaplan, co-owner and trainer of Storm in May, will get to make the first post position selection later tonight after his colt drew the No. 1 pill during the Kentucky Derby pill pull at the racing office at Churchill Downs.
In all, 22 3-year-olds were entered for Saturday's $2-million Kentucky Derby Presented by Yum! Brands (gr. I). Reporting for Duty and Delightful Kiss failed to make the main body of the field that is based on graded stakes earnings. Twenty horses then passed the entry box.
Selection of post positions will be shown live on ESPN from 5-6 p.m. this evening. The event will take place at Fourth Street Live in downtown Louisville.
In order in which the owners and trainers will go was determined in an old-fashioned pill pull at the racing office. Racing secretary Ben Huffman presided over the process.
Below is the order of selection: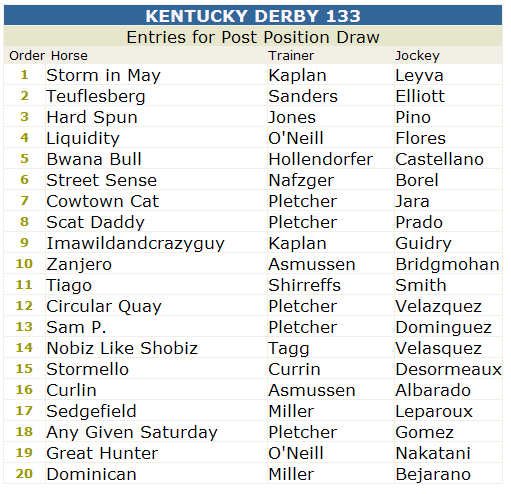 "Yes," exclaimed trainer Jamie Sanders when Teuflesberg drew the No. 2 pill. Earlier in the week, her colt had been No. 21 on the earnings list. The defection earlier in the week of Merv Griffin's Cobalt Blue got her into the body of the field. "That's awesome. We needed that. I'm not telling what we'll take because someone is picking before us."
Sanders was with co-owner Jeff Singer of New York.
Disappointed where Tommy and Bonnie Hamilton, whose two Silverton Hills entrants, Dominican and Sedgefield drew selections 20 and 17, respectively.
"We wanted to be outside, but not that far outside," Tommy Hamilton said.
Trainer Larry Jones was pleased with getting the third choice for Hard Spun. "That's huge; that makes it good for us," he said of Richard Porter's homebred.