---
11:40 a.m.
Rail Trip
The scene at the racing office is pretty quiet. Only jockey agents Steve Bass, Joe Ferrer, and Jerry Hissam are present, chewing the fat with retired rider Bobby Ussery.
Ussery won the Derby in 1967 aboard Proud Clarion. He talks strategy.
"It's an advantage to get a good post position, of course," he says. " You're in fourth or fifth, that's good; you gotta break. I,'ll tell you one thing, with this field so wide-open, I wouldn't know who to get on."
"Well, my horse ain't gonna give nobody a break," Hissam says.
"What's your horse's name?" Ussery asks in complete innocence.
"Street Sense," Hissam says with a laugh.
"Ahhhh," says Ussery. "Well, I'd get on him, I guess."
Trainer Larry Jones walks in.
"You're not gonna get over to the rail, because my jock is gonna be there holding a yellow flag and there isn't gonna be a hole," he jokes.
"That don't bother us," Hissam says. "I asked Calvin the other day, 'what if you can't get through on the fence?' He told me, 'They got two fences here, Jerry. If I can't get through on the inside one, I'll go past on the outside one.'"
Guess they don't call him Calvin Bo-rail for nothing.
– C.N.
---
11:30 a.m.
Horsing Around
Trainer Larry Jones is visiting the Equine Wellness Pavilion, where a complimentary lunch is being held for the Derby trainers. A few reporters have wandered over in the hopes of catching an interview. As always, Jones is happy to oblige.
"What do you think about the Queen of England being here?" someone asks.
"If she were around and Hard Spun won, I'd be more worried about the right way to act," he says with a laugh. "I'd probably grab her and give her a big ol' hug, I'd be hugging everybody at that point. That's all that would worry me, that I'd get grabbed and thrown on the ground by secret service agents if I forgot and gave her a hug."
Does Jones enjoy the media attention he's garnered from Hard Spun's road to the Derby?
"I'm just doing my job," he says. "Actually, though, I've never HAD a job; this is what I'd do if I had a hobby. I'm not doing it for the money – and for the first several years you could TELL that I wasn't doing it for the money. My mom used to say, 'When are you going to quit that and get a real job?' I've never felt like this is a real job. I've had cutting horses, reining horses, drill team horses, barrel horses, race horses... I don't do anything but horse around."
Maybe that's why he's so good at it.
– C.N.
---
11:25 a.m.
Come Together
Gate 10 is open and the early-bird fans are working their way through the turnstiles. On the overhead sound system, the Beatles' "Come Together" is playing.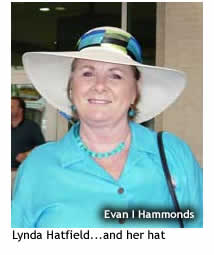 That seems apropos.
Louisville native Lynda Hatfield, who is wearing a kicky little hat, is on her way to the escalators. She's a branch manager for Manpower Services. Today's outing is a business thing.
"I have about six tables…36 people…on the fourth floor; Millionaire's Row," she says.
She says Oaks Day, tomorrow, is no longer "Louisville's Day at the Races."
"It used to be Friday," she says. "Now it's Thursday.
So, Thursday is the new Friday?
"Yes," she says.
---
11:15 a.m.
Haulin'
It's 11: 15. The morning works are over. Most of the crowd has gone. It's feeding time at most barns. On the backstretch, it's also haulin' time.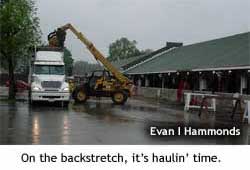 Charles Lanham sits behind the wheel of an 18-wheeler. The sign on the cab reads "Equine Organic." A front-loader is scooping up discarded straw and muck and dumping it into the back of Lanham's rig.
"I usually haul out four or five loads a day, and there are three other drivers," Lanham says of his other crewmates on the backside. "A load weighs from 26,000 to 35,000 pounds."
That's a lot of…stuff.
Before he worked with Equine Organic, he hauled hazardous material.
"This stuff seems like it when you smell it," Lanham says.
The 35-year-old Lanham has been doing this for two years. The pays' good. The hours are good. He starts about 10 o'clock.
Lanham's Derby pick is Imawildandcrazyguy.
-E.H.
---
11:10 a.m.
Feeding Frenzy
Joe and Jan Shulthise are parked outside of Barn 44, conducting business in their roomy SUV as the rain patters down the windows.
"(Jerry) Hollendorfer wants straw for two stalls for some horses that are shipping in tomorrow," Jan says. "I need to get 20 shavings to Richard Dutrow, I need a bran over to Barn 19…"
"We need to have the guys get that hay from the right section next time," Joe says. "It's a never-ending battle, they brought the wrong hay to the wrong guy again."
Louisville natives, the Shulthise's have been delivering feed to area trainers for more than 30 years. Joe, now 67, was born on Derby day in 1938–the year Eddie Arcaro won his first Run for the Roses aboard Lawrin. He started coming to the backside when he was 3, selling clover with his father and grandfather.
"We feed all the Derby horses, the Breeders' Cup horses, and the stakes horses for Churchill," Jan says. "We've made a lot of wonderful, nice friends, and it's hard to have a favorite in the race, they're all so nice."
The best part of working at Churchill on Derby week?
"The atmosphere," Jan says. "I never get tired of looking at the Twin Spires."
– C.N.
---
10:05 a.m.
Good Humor
Trainer Todd Pletcher has three straight Eclipse Awards on his mantle. Last year, he won 100 stakes and set the all-time earnings record. He has five horses in Saturday's Kentucky Derby.
Still, one of the best things about him might be his sense of humor.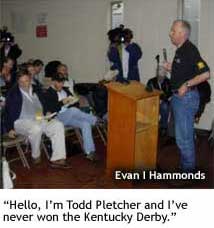 With five horses and a hungry media swarming around his barn, he's decided to hold daily press conferences in the media center on the backstretch. Good idea.
He starts off with a kicker:
"Hello, I'm Todd Pletcher and I've never won the Kentucky Derby."
He's asked how to keep five different connections happy.
"Uhh, usually winning helps," he says.
Things turn a little more serious.
"I've found that running multiple horses is easier in these big events because I don't think any of my owners expect me to do anything differently," he says. "The Kentuck Derby is a once-in-a-year, once-in-a-lifetime event for these horses. No one would expect me to hold one of their horses out because someone else has one in there, or no one would think that I'm not doing the very best job I can with each and every horse."
"I'd say the most challenging part is…everyone wants a paddock pass."
Ba-da-boom.
-E.H.
---
9:20 a.m.
Running Up a Tab

Niall O'Callaghan walks out of the press center munching on a biscuit. The trainer is stopped by a friend from out of town.
"I didn't know your family had a pub in town," the visitor remarks. That would be Molly Malone's.
"You've gotta own a pub if you're from Ireland," O'Callaghan says with a laugh. "It saves money. I can run up a tab and they still let me come back. It's a good thing!"
Who are you rooting for come Saturday?
"Street Sense," O'Callaghan says. "I want to root for Carl Nafzger. He's my buddy."
Looking at the wide-open field, at this point, it's as good a reason as any.
– C.N.
---
9:00 a.m.
Tight Security
Terry Meador steps out of trainer Todd Pletcher's barn and motions to a woman who is walking past the white line.
Step away from the horses, Ma'am.
Meador is with United Security, an independent contractor that comes in during Derby week to help keep the horses safe from the fans--and the fans safe from the horses.
"It's an alright job," he says. "It can be difficult because people who aren't familiar with horses can't understand how finicky these Thoroughbreds can be."
Yesterday, a horse from the neighboring Nick Zito barn escaped from his hotwalker and took off across the backside.
"He was raising hell," Meador said. "Going crazy. Stuff like that, it's dangerous. These horses are so high strung, and a lot of people are just excited about being here during Derby week and don't realize it can be dangerous."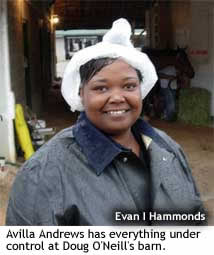 Meanwhile, over at Doug O'Neill's barn, Avilla Andrews has everything under control. The Louisville native is another of the about 100 United employees on the backstretch this week.
This is her first Derby and she's pulled the good shift, the 7-to-3 shift.
"This is good barn," she says. "Mr. Doug is awesome. He's godsend. They couldn't put me in a better barn. Mr. Doug and his crew is an awesome crew."
She says she's going to bet both of his horses, Great Hunter and Liquidity, in the Derby.
"Sixty dollars…across the board," she said. "I've been saving for this one."
-C.N., E.H.
---
8:50 a.m.
Getback Man
Trainer Todd Pletcher's barn has been barricaded against traffic. White sawhorses. Security guards. Public relations agents to keep the media at bay. Two horses returning to the barn must walk through a thick crowd of bystanders.
"Getbackgetbackgetback," yells an assistant trainer. "Sheesh, every horse on this racetrack needs a getback man this week!"
The exercise riders tighten up on the reins and the horses' eyes flicker at the big umbrellas and flapping rain slickers. To spook or not to spook? Actually not much of a question.
– C.N.
---
8:45 a.m.
Bob Who?
See the guy with the white hair who is climbing the stairs to the clockers' stand. Could that be Bob Baffert?
Bob Who?
According to Baffert, that's been the general reaction he's getting this weekend, with no Derby contender and 10-1 shot Tough Tiz's Sis in the Oaks.
"I remember one of my first TV interviews, it was a Japanese TV company because they were the only ones who wanted to interview me, just like now," Baffert cracks. He calls his exercise rider to give instructions, then continues the conversation.
"Let me tell you about this filly," he says. "She loves the mud. She loves the mud, you can put that down, and she handles it like a monster. Now if she runs up the track tomorrow, it'll be 'she hates the mud, she hates the mud, the jock had her too far back and when she got to the top of the lane the track was all chewed up and she couldn't handle it.' But right now, she's a big filly who can run all day…with the right kind of horses."
Tough Tiz's Sis gallops by. To use the racetrack cliché, she works "perfect."
"Look at her go, let's send her again," says Bill Baffert, Bob's brother. "Call the rider, have her go around again."
Bob rolls his eyes. "This training stuff is exhausting," he says. And he grins
– C.N.
---
8:35 a.m.
Now That's Reality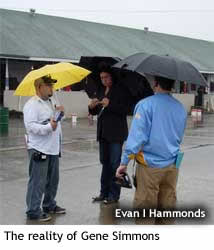 Rock legend Gene Simmons sits in a white SUV outside Barn 5 for about 25 minutes. He then wanders into trainer Dale Romans' barn, takes a sniff and says "Home Sweet Home."
Simmons was the key player in the glam-rock band Kiss. Now he's the star of "Family Jewels." It's a reality show based on his life. This week, he's at the Kentucky Derby. The segments should air sometime in July.
Upon entering the barn, he's miked and then goes over his lines a few times.
Lines? So much for reality.
The show has a crew of two cameras, two audio people, two executive producer, two producers, a production manager, a couple of production assistants according to Adam Reed, one of the executive producers.
Yesterday, they shot footage at the Kentucky Derby Museum. The rest of the week, they'll roam around Louisville, hit a few Derby parties, then the Derby.
"We played in a band together in the early 70s," Romans deadpans when asked why his barn was chosen. "We had a lot of make-up on then. I was the one that looked like the cat.
"Nah, they just called out of the blue," he says. "Someone called Frank Jones, one of my owners, and he called and asked if it was OK. When I was in fifth grade, I was a fan of Kiss, just like every fifth grader. I haven't watched the show."

-E.H.
---
8:10 a.m.
A Ray of Sunshine
Hall of Fame trainer Bill Mott rides his pony down the shedrow in Barn 19. He'll start High Again in the Kentucky Oaks tomorrow.
How are you, Bill.
"Never had a bad day," Mott replies with a smile through the drizzle. "I'm wonderful."
Maybe that's because he's had a lot of good horses.
– C.N.
---
7:55 a.m.
Here's Mud in Your Eye
Wayne Catalano
stands alone outside of Barn 43. The trainer's face is as gloomy as the weather.
"I really don't like the track right now," he says. "It's too muddy, it's horrible. I thought it would be muddy, but I didn't think it would be that bad."
Catalano saddles
Dreaming of Anna
in the Oaks tomorrow. The filly is good. He hopes the track is better.
"Everything's good with the filly, fine, couldn't be better," he says. "But the track? Now that's a different story."
- C.N.
---
7:40 a.m.
Man of Experience
Bloodstock agent Eugenio Columbo watches as the Derby's morning line favorite, Curlin, gets a bath outside trainer Steve Asmussen's barn. Columbo has been in the business since 1969.
"It's tragic; when I look at the sales catalogs and I remember the fourth dam," he jokes.
"He's a nice colt," he says of Curlin.
Columbo also likes Street Sense and Tiago.
"Street Sense is the most complete horse," he says with his thick South American accent. "He's coming to the Derby perfectly.
"John Shirreffs' horse (Tiago) looks good," he says. "He's a different type of horse than (his half-brother) Giacomo. Giacomo was more athletic.
"What pleases me is to see two old horsemen, Carl Nafzger and John Shirreffs bringing their horses to the Derby. They're not expecting miracles."
-E.H.
---

6:50 a.m.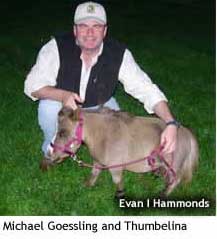 You don't have to be the "big horse" to be around Churchill Downs on Derby week.
Michael Goessling
of Goose Creek Farms is leading his horse through the crowded area behind the press center. A cameraman presses closer to get a shot. Goessling and the horse walk right into one of the media tents. No one bats an eye.
That's because Thumbelina is the world's smallest equine, according to the Guinness Book of World Records. A dwarf miniature, she's not 17 hands tall, but a mere 17 ½ inches high, and she's here as part of her Thumbelina Children's Tour, a trip across the nation that will raise $1-million for various charities.
Thumbelina who weighs 58 pounds turned six yesterday. She tours the nation in a 30-foot RV that has been remodeled to form a stable-on-wheels. At her kid-friendly Web site,
www.worldssmallesthorse.com
, viewers will find more information about her upcoming appearances.
"Children are Thumbelina's biggest fans," Goessling says. "The kids go wild. She draws a crowd wherever we go. She's a showstopper."
---
Hello Everybody, I'm Howard Cosell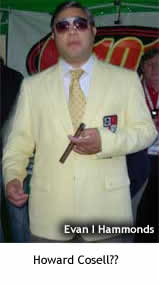 Upon arriving to the media center, we're taken by the man in the yellow sport jacket. While it's raining, he's wearing dark sunglasses and toting a large cigar.
Could it be? We think it is…Howard Cosell. He looks remarkably well considering he died in 1995.
However, the legendary broadcaster is still up on his sports.
"Al Davis would have been a great horseman," he says, in his famed cadence. "If he had a horse, it probably would be draped in the silver and black of the Oakland Raiders. The name would probably be named 'Just Win Baby.'"
He asks about the University of Kentucky's basketball program and their new coach. The man who made a living giving his opinion, is clueless about this year's Derby. He gives us a shout-out.
"Bloodhorse.com is one of my favorite Web sites," Cosell says. "When I need some inside information, I dial up bloodhorse.com."
The man behind Howard is Steve Bannatyne of Lucky Hat Entertainment. "We're shooting a TV pilot – the 'Untitled Mr. C Project'" he says underneath his lucky hat, one of the Detroit Tigers variety.
-E.H.

---

Wednesday Night
Fourth Street Comes Alive!
The draw for Saturday's Kentucky Derby, shown live on ESPN2 from 5-6 p.m., takes place for the second year in a row at Fourth Street Live. The venue has a great feel for the event. It's a couple of blocks that have been cordoned off in downtown Louisville (Fourth Street, obviously) that houses several bars and restaurants.
The Derby draw takes place in an open area in what was once the middle of Fourth Street. While it's the same format as in the past when it was held in the Derby Museum, the fact it is in a public place makes it a little less stuffy.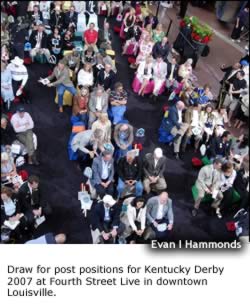 The connections for the race gather in Felt, a swanky pool hall/bar/restaurant in the middle of the venue. They go out, in the order that had been predetermined earlier in the day, and take their seats at about 4:50 so they're settled in and ready for primetime. The show seems to go live around 5:05 or so.
There are a couple of late arrivals. J. Paul Reddam and his wife, Zillah, hustle in around 5:20 or so, or after the post position had already been selected for the first of their two runners, Liquidity. Trainer Doug O'Neill verifies later that their chartered flight from Los Angeles was delayed two hours, and they didn't land in Louisville until just about 5 o'clock.
We understand Southwest has a pretty good on-time arrival rate.
Reddam's second entrant, and the more highly regarded Great Hunter had the 19th pick and Reddam goes wider still, nabbing post 20.
The other late arrival is trainer Barclay Tagg. He trains Nobiz Like Shobiz for breeder/owner Elizabeth Valando. They're the co-third choice with Circular Quay at 8-1.
After the draw, most of the participants head back into Felt for a drink and an appetizer. Most trainers are hustled to a back room for radio and TV interviews.
Hard Spun's trainer, Larry Jones, chats with O'Neill while they wait their turn at the dais.
"It looks to me from the draw that everybody wants to go out and watch everybody else," Jones says. The speedy Hard Spun will break from post 8.
When asked about Curlin being the morning line favorite at 7-2 after they selected the inside post 2, trainer Steve Asmussen has a snappy comeback: "The morning line is free and anything that is free at the racetrack isn't worth anything."
The Silverton Hill crew with Dominican and Sedgefield had had a rough afternoon with a pair of late draws in 20 and 17, respectively. Dominican will break from post 19 and Sedgefield the rail.
"We were assuming we might have an Alpha and Omega thing going on," said Janelle Miller, wife of trainer Darrin Miller.
A good pill pull and good post positions were there for trainer and co-owner Bill Kaplan, who had the first choice with Storm In May and took post 4 and his Imawildandcrazyguy wound up in post 5.
"Everything is just falling into place," Kaplan says. "The horses have traveled well, they both got into the race, everything fell into place for the pill pull…what's next? The building might fall in on me."
Breeder and owner Satish Sanan enjoys himself. He should. He's a part-owner of favorite Curlin and also a co-owner of Any Given Saturday, who is pegged at 12-1. He's wearing buttons sporting both horses' names.
"I think I'll bet on both of them," he says. "I'll bet them in exactas with some other horses. I think Street Sense will be one of the ones to beat and I think Circular Quay will be tough. He's a well-rested horse and (trainer) Todd (Pletcher) has him right.
"When I saw Any Given Saturday in the paddock before the Tampa Bay Derby (gr. III, on March 17), I thought he looked phenominal," Sanan said. "We should have won that race. I think he's better now. He's going to have to run a point better. He ran a 3 ½ on the sheets. He's going to have to run better than that."
Point well taken.
-E.H.