---
4:00
At Home Under the Twin Spires
In the auxiliary media center next to the paddock, there is a press conference going on with Roy and Gretchen Jackson, the breeders/owners of Barbaro. With them is Alex Waldrop, president and CEO of the National Thoroughbred Racing Association.
They're here to raise awareness for the NTRA Barbaro Memorial Fund.
"We have so many fond memories of having the whole family here and enjoying everything," Roy Jackson says. "It's a memory we will always cherish. It brings back some very happy memories."
An astute reporter asks the Jacksons about this year's Yumfecta, a promotional tie-in between Yum! Brands, presenting sponsor of the Kentucky Derby, and Churchill Downs that will pay $1-million to the connections to the Derby winner if he wins by more than 6 ½ lengths. That was Barbaro's winning margin last year. Of that million, $250,000 is earmarked for the Barbaro Memorial Fund.
"It's for a really good cause," Gretchen says after a long pause. "As I understand it, part of the money goes for laminitis research, so you know the answer to that. We're always in favor of that. I don't know if I'll be pleased or not, that's the part of it that is probably bad. I would love to see Barbaro's winning distance remain for a while longer."
"We would hope that we see the industry in general, particularly the people that own the farms, owners, and everything, get behind research for laminitis, because it is going to take quite a bit of money," Roy Jackson says. "We hope a lot of other people get behind the effort."
-E.H.

---
3:25 p.m.
Finding the Forrest
Trainer Forrest Kaelin is moving quickly through the second floor clubhouse section. The local legend has seen a lot in his years training at Churchill Downs. He doesn't have horse in the Derby—he has Suaveness running in the LaTroienne Stakes (gr. III) on the undercard—but like everyone else, he does have an opinion.
"I got three of them for the Derby," he says. "Curlin looks tough, but you don't know what he is. He might be that good. I like Street Sense. I think Circular Quay is going to come running. I saw him win the Louisiana race (Louisiana Derby). I saw him break his maiden here."
Kaelin, who has 30-something horses in training, spent the winter at Tampa Bay Downs.
"I stayed down there the last two years," he says. "I liked it so well down there, I bought a place down there. The horses do good when they come out of there."
-E.H.
---
1:30 p.m.
It's a Jockey's Race
Security around the jockeys' room prevents fans and casual passersby from crowding the riders as they make their way to and from the paddock. In the lounge, John Velazquez hangs out between races, taking time to talk about the race.
Last year, Velazquez sat out because of injuries while Ramon Dominguez rode Bluegrass Cat to a second-place finish in the Derby. This year, he had his pick of five Todd Pletcher-trained starters. Talk about a kid in a candy store.
"It's always hard to sit down at home and watch it, especially if you're injured," Velazquez says. "I'm just blessed to be here, it's everybody's dream to be here and win. We were lucky to have our pick of some very legitimate, very good horses coming into this race…"
He smiles.
"We just hope we didn't pick the wrong one."
Tomorrow he rides Circular Quay.
– C.N.
---
12:50 p.m.
Wanderin Boys
The area around the paddock is filling in pretty good. Despite the damp weather, the beer and Mint Julep vendors are doing a fairly good business.
"Better than yesterday," a woman selling Mint Juleps reports on her day's business. The Julep, an icy concoction of Kentucky bourbon, simple syrup (sugar water), and mint is the signature drink of the weekend. The winners of the previous 132 winners are printed on the glass. That's a lot of history for $8.
A gang of guys are sipping Bud Lights and pouring over their Daily Racing Forms. The crew is John Mahan and Paul Haskin from Lexington, Rick Joslin from Tampa, and Matt Ernst from Washington, D.C. They mix it up every Oaks day at the Downs and they've got some history, too.
Ernst says he's been losing on Oaks day for 20 straight years.
They watch the fourth race on the Jumbotron over the paddock. Arthur Hancock's Wanderin Boy goes right to the front in the slop and stays there all the way around the track. He pays $7.80 as the second choice.
None of these guys have him.
On to the fifth.
-E.H.
---
11:15 a.m.
Mr. 5,000
Aboard Chippewa Trail for trainer D. Wayne Lukas in the first race of the day, jockey Mark Guidry cruises home to earn his 5,000th career victory. Riders from the colony pour out of the jocks' room to get in the picture. They wear white hats with "Mr. 5,000" written in pink across the front. On the back, in simple script, is written "Guid."
The Guid is nearing retirement. He made that announcement last month, was going to hang it up after hitting the big milestone. Now he's going to hang on until Arlington, go out in style at the track that has meant so much to him. The idea of retirement sounds good. Slowly, he's resigning himself to the reality.
TV crews argue over who gets to interview him next. Reporters hang over his shoulders. "Way to go, Guid!" someone yells.
"Your adoring public," a police officer jokes.
Guidry smiles and waves. It feels good. Real good.
- C.N.
---
10:45 a.m.
Attention!
Near the winner's circle, a company of military police keep tabs on the crowd. Fierro, Dennis, Nasby, and four others (according to the names stitched on the backs of their caps), are part of the 223rd Military Police Company of the Army National Guard.
"Our job is to provide physical security in conjunction with the Louisville Metro Police," Fierro says.
Tomorrow he will attend his first Derby. He doesn't seem impressed.
"We're not here to watch the races," he says. "Of course it's cool because it's the Derby, but it's also just another assignment."
No one in the seven-member company has looked at Derby field. At all. They won't even bet, Fierro says.
Now that's dedication.
– C.N.
---
10:25 a.m.
Cash Machine
"The cash machine was blue and green;
for a bundle of twenties and a small service fee
I could spend three dollars and sixty-three cents
on Diet Coca-Cola and unlit cigarettes"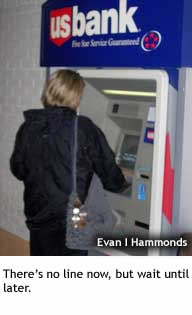 Those are the words of Jeff Tweedy and Wilco from the song "Ashes of American Flags."
Here at Churchill Downs, the US Bank cash machine is All-American red, white, and blue. Theresa Boone takes her turn at the ATM. She's a horse owner and is from Charlestown, Indiana, just across the Ohio River from Louisville.
There's no line now, but wait until later.
"I forgot to get cash before I got here. That probably won't be the last time I hit the machine today," she says with a laugh.
Hopefully she'll still have some cash later today to bet her pick, High Heels, in the Oaks.
How about tomorrow?
"I was on the backside Tuesday, and I saw three Derby horses: Dominican, Stormello, and Tiago. I'm going to put them in a tri."
– C.N.
---
9:30 a.m.
Artist's Touch
Thomas Allen Pauly, 2006's official artist for the Kentucky Derby, sits in the auxiliary press center. Last year he spent Oaks evening at the home of Peter Williams, who has also painted for the Derby, eating dinner with Pierre Bellocq, better known as "PEB." Naturally, when the three of them got together, the most popular subject was... art.
"I'd taken a photo of him painting in the paddock at Churchill, and in exchange he did a drawing of me with my camera," Pauly says. "He said to me, 'Your picture is the only thing in my office not by me. I look around and everything is PEB, PEB, PEB.'"
– C.N.
---
8:40 a.m.
Park It
Longfield Avenue, which runs along the backstretch of Churchill Downs and leads to one the track's parking lot become a main thoroughfare on Oaks and Derby day. Every yard has been turned into "enterprise" zone—either a parking lot, convenience store, or hot dog stand.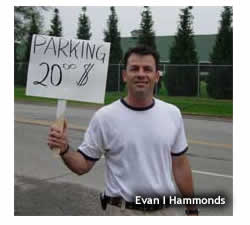 It's early yet…business is light for now, but it'll soon heat up.
At the corner of Longfield and Bellview—across from Barn 41 and a grazing Stormello--Dan Roach holds a homemade sign that reads "Parking $20." On the flip side, it reads "Parking $30." It's the basic economics of supply and demand. Now it's twenty. Later today? He'll see.
Rob Taylor owns the property and directs traffic. Taylor notes that Roach is shooting for a new record this year of 25 cars in the yard—and that's front yard, side yard and backyard. The record is 23 and there's no cheating. "We gotta stay out of the street—we've gotta abide by the law," Taylor says.
-E.H.
---
8:10 a.m.
Nice Horse
Hall of Fame trainer Nick Zito makes his first backside appearance of the week, conducting a brief interview with ESPN outside the shedrow.
"The Derby, when the gates open and if everything plays out equal, the favorite should be tough," he says. "But Nobiz Like Shobiz isn't really getting that much attention and this could be a bust-out race for him. I think Scat Daddy, of all the Pletcher horses, is the one to beat--I don't know why, that's just what I feel. But I trained Albert the Great, Nobiz's sire, so I have to have a little rooting interest."
Zito stops as if finished. Then he throws in another thought.
"If he wins the Derby, he'll be a great 3-year-old," he says. "If he doesn't, he'll just be a nice horse."
Tomorrow, around 6:30 p.m., 19 nice horses will be headed back to their stalls at Churchill Downs. Wonder who the great one will be.
– C.N.
---
7:50 a.m.
Picture Perfect?
Down near the mile chute, Angel Cordero Jr. is out for a jog on a young black horse that sports a Todd Pletcher saddlecloth. As they work their way along the outside rail, a photographer sticks his camera out over the edge. Cordero's mount freaks, spinning to the side as he eyeballs the massive lens with flaring nostrils.
The photographer steps back. Good idea.
Cordero is unseated, but keeps a hand on the reins and is almost pulled into the air as his horse backs up. An assistant on a pony rushes to his aid, and an outrider is on the scene to give Cordero a leg up and lead the snorting Thoroughbred away from the monster.
Once on board, Cordero gives the horse a dynamic kick with both legs.
He'll have to get used to a lot more than that if he's to get his photo taken in the afternoon.
– C.N.
---
7:45 a.m.
Sleepy
Outrider Greg Blasi leans back on his pony and talks about his job while keeping an eye on the stream of horses moving past.
"I've been lucky to buy good horses," he says. "Anybody who says you can't do this without a good horse is dead wrong. This guy would get up and go to the races without me in the afternoons. He's awesome."
Trainer Dallas Stewart rides by on Sleepy, the lead pony who belonged to the late Glenn Webster, Churchill's head outrider who died from a heart attack on the track in 2001. Sleepy has led many Kentucky Derby winners to the gate. Last year he ponied Kentucky Oaks winner Lemons Forever. Stewart trusts Sleepy without reserve--the chestnut gelding can often be seen standing loose near the trainer's shedrow.
"He won't go nowhere unless I want him to," Stewart says.
Now that's a good horse.
– C.N.
---
7:30 a.m.
Five Times
Ron Winchell is standing outside of Steve Asmussen's barn. He's carrying a clear bag full of Zanjero buttons and keeps an eye on his trainer. The buttons are black and red. The trainer, according to Winchell, is pure gold.
"I've known him since he went out on his own," Winchell says of Asmussen. "I'll tell you one thing about him – he never sees a race he doesn't want to win at least five times."
Yesterday, Steve sent out Rated Fiesty to the Kentucky Breeders' Cup Stakes (gr. III). It was the trainer's fifth straight win in race for 2-year-olds.
Tomorrow, Asmussen has two entries in a America's greatest race. Looks like he's just getting started.
– C.N.
---
After a soggy day at track, we stomp the mud off our boots and head downtown. Not to the press party, but to the home of my brother-in-law, Bruce McCann, and his wife, Kay Chambers. Their annual Derby party is held indoors this year due to the inclement weather.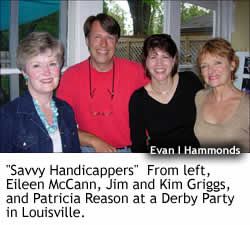 The food, however, is still outdoors—buffet style--placed on tables under a makeshift tent. There are just a few sprinkles of rain. It's no big deal, but all the tables and chairs have been set up inside their home.
A typical array of homemade salads, cold vegetables, lasagna, and chicken tetrazzini make up the bulk of the offerings. It's a solid feed.
Just inside the backdoor, Eileen McCann of Lexington, Jim and Kim Griggs of Athens, Ky., and Patricia Reason of Tornoto, are socializing. Derby picks? Eileen, my mother-in-law, says the best bet is the horse with the highest odds. The Griggs both are backing Dominican, and "the voice of" Reason will be betting on Scat Daddy on Saturday.
Wading deeper into the party we find ace handicapper Rich Tejada, who has made his annual trek from Toronto to the Twin Spires. He's a lucky man. Last year he had Barbaro in the future pool and on Derby day, and on this night, he introduces his new girlfriend, the lovely Sharon Stavroff.
In this year's future pool, he's already secured good prices on his picks, three "S" horses: Stormello, Scat Daddy, and Street Sense.