---
2:10 p.m.
Gold Standard
Standing outside the Gold Room on the sixth floor of the clubhouse of Churchill Downs is Lisa Underwood. Underwood is the executive director of the Kentucky Horse Racing Authority.
On Wednesday, Underwood ordered all 20 entrants for the Kentucky Derby were tested for the performance-enhancing drug erythropoietin (EPO). She's pleased to report all 20 tests came back negative.
Fantastic.
"We'll be doing it again throughout the year," she says.
Obviously she's not telling where or when.
-E.H.

---
12:04 p.m.
In the Zone
Stewart Elliott is back. The jockey flew into Louisville two days ago, and hasn't ridden at Churchill Downs since 2004. May 1st, 2004, to be exact. That was the day he rode Smarty Jones to victory in the Derby.
How's it feel to be back? Little sense of déjà vu?
"It feels good to be back," he says. "I've been wintering at Oaklawn and riding on the East Coast since my last Derby, just back to the normal daily stuff."
It is a rider's dream to win this, the biggest race at Churchill Downs. Elliott looks to do it again later this afternoon aboard Teuflesberg.
"When you ride across that finish line in front, it's like a high you wouldn't believe," he says. "You're just in your own zone, and there's nothing else in your mind. It's something I'll never forget, that feeling."
– C.N.
---
11:15 a.m.
Derby Baby
California Horse Racing Board chairman Richard Shapiro is attending the races with wife, Colleen, and son, Riley. This is Riley's birthday. He was a Derby baby.
"He was born at post time in 2001," Colleen says. "We missed the race. We said the next time we went to the Derby, he would go with us. So here we are."
Today, Riley wants "number 20" to win because, he says, "Corey" (that would be Nakatani) is riding him. The horse, of course, is Great Hunter, trained by Californian Doug O'Neill.
"He's just fascinated by the fact that there IS a number 20," Shapiro says. "He even asked me what color saddle cloth number 20 has. He loves horses racing, he loves the jockeys."
We don't know what kind of tip this might be, but superstitious racing fans take note; no one–maybe not even the racing god –would willingly deny a 6-year-old of his birthday wish.
– C.N.

---
11:02 a.m.
Strong Punch
Ginger Punch easily wins the first race. The 4-year-old should have, she was 1-5.
Frank Stronach's homebred came into the non-winners of two "other than" off a second-place finish to Mary Delaney in the Vinery Madison Stakes (gr. II) at Keeneland last time. She held a strong class edge against this field, that's for sure.
With Rafael Bejarano aboard, she sat about three or four lengths off the pace while well off the rail early on in the one-mile race. The track, which was a sea of slop yesterday, was sealed overnight and the track crew has been busy harrowing. It's listed as "good" and the fractions confirm it: :22.66, :45.62, 1:10.44, 1:22.83, and 1:35.89.
If there is no more rain, the track for the Derby might actually be "fast."
---
10:03 a.m.
Dog Day Morning
In the concourse area outside Section 224, down past the eighth pole at Churchill Downs, Regina Benkert walks past with her friend, Julie Pinel.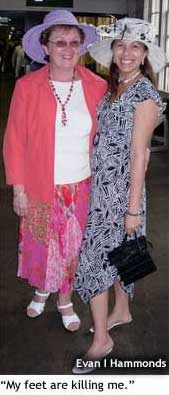 "My feet are killing me," Benkert exclaims.
Excuse me? Already? It's only 10:03 a.m. Post time for the Derby is eight hours from now.
It's a Dog Day Morning, that's for sure.
We're surprised about the remark considering Benkert says she's a Derby veteran. Later today, Regina and her husband, Joe, will bet on Curlin.
"I know know my feet hurt, but I know his feet must be better than mine," she says.

---
10:00 a.m.
Fit to a Lil E. Tee
Outside the auxiliary media center, three gentlemen in fine examples of homemade haberdashery are garnering quite a bit of attention from several photographers. Leading the group is Ernie Trent, whose hat incorporates the twin spires and "Kentucky Derby 133" into its design.
Fittingly, this is Ernie's 33rd Kentucky Derby. The best one he's attended, he says, was Lil E. Tee's win in 1992, because "that was the last time I won."
Ernie likes Scat Daddy, and is going to play the Todd Pletcher-trianee in a trifecta with Tiago and Dominican
– C.N.
---
9:30 a.m.
Tradition and Pageantry
At the rail, a yellow-slicker-coated cameraman zooms in on the Derby winner's circle across the track. He's shooting filler feed for WTVQ (Channel 36) out of Lexington. He isn't very loquacious.
"Talk to the reporter," he says.
That would be Michelle Rauch, who is attending her ninth Derby this year.
"I got into journalism in middle school, writing for the school paper through high school and college," she says.
Switched to TV because she liked the rapid pace of breaking news. Moved from Texas to Kentucky. Landed this gig. Loves it.
"The tradition and the pageantry just get me every year," she says. "When the horses come out onto the track, the tears just start to flow.
It keeps her coming back for more.
– C.N.

---
8:40 a.m.
Fashion Police
Tammy Shoulders watches Rodney Murphy as he flips hamburgers on a large grill behind the paddock area. Yesterday they went through about 1,500 of the delicacies. They need to get an early start because they're hoping to go through twice that many today.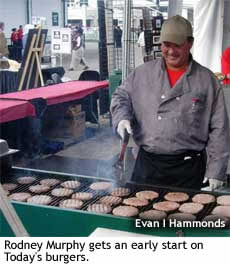 Both are toiling for Gernstein Catering and Concession. Bruce Gernstein has four stands at the Downs.
Shoulders, the stand's supervisor, has been with the company for 15 years, but this is only her second Derby weekend gig. Murphy says he's a rookie, but we can tell by the flip of his wrist he has mad spatula skills.
Shoulders, a Louisville native, has been to the Derby as a fan only once and that was…ah…some years ago. We don't press for a year.
"I was in the infield, and it was my first experience, and the only thing I got was a Mint Julep and a sunburn."
Yesterday was an eye-opener for Shoulders.
"Some of the sights were interesting," she says. "I can't believe some of the people wear some of the things they're wearing. The 'fashion police' will be out today, and that's me. I'm sure I'm going to see some fashion emergencies."
-E.H.
---
8:25 a.m.
Paddock Judge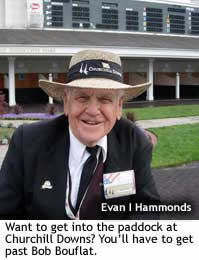 Want to get into the paddock at Churchill Downs? You'll have to get past Bob Bouflat.
He's the guy at the gate checking credentials, passes, stickers, bracelets and badges to make sure you're legit. Today, he's on duty from 6:30 to 6:30. He does get a break every now and then.
Bouflat, 83, doesn't work for Churchill, he works for Brantley Services, a local security company.
His Derby selection is "Mr. Asmussen's horse…number two." That would be Curlin.
With the crush of the crowd on Oaks and Derby day, he's got plenty of support. State police, local police, and plainclothes constables have his back. There was only one incident yesterday with a patron who was adamant about gaining access.
When pressed, Bouflat says the toughest part of his job is telling folks "no smoking, no food, and no drink. They want this place to be as neat as a pin."
He points behind him.
"That's sacred ground."
-E.H.
---
Friday Night
Jubilee!
At the Mint Jubilee Gala, surrounded by celebrities and millionaires, jockey Edgar Prado is the final guest to appear on the red carpet. He cuts a sharp, if slightly diminutive form with daughter, Patricia, on his arm. At each television camera, he stops to speaks a little about Barbaro–and about moving on.
"Winning with Barbaro was something that brought joy to my life, but tomorrow I will focus on bringing Scat Daddy home and hopefully he can follow in some big footsteps," he says."
As has been much-publicized, Prado has donated his personal saddle (used to ride Barbaro to victory) to the Permanently Disabled Jockeys' Fund to be auctioned off at this evening's event. By the end of the night, it will have brought in $220,000.
"To me, the saddle has very big sentimental value, but it was time for me to step up to the plate and hopefully everybody here will follow my example," the jockey says. "These disabled riders were big contributors to racing but seem to be forgotten."
Thanks to his humble attitude and generous nature, being forgotten is one thing Prado will never have to worry about.
– C.N.