Sheikh Mohammed's Darley has bought the breeding rights to Street Sense and Hard Spun, the first two finishers in this year's Kentucky Derby Presented by Yum! Brands (gr. I). Under terms of the contracts, the colts will be retired to Darley near Lexington at the conclusion of their racing careers. Street Sense will join his sire, Street Cry, at Darley.
Said Dan Pride, chief operating officer of Darley: "Street Sense and Hard Spun are the two most thrilling horses of their generation, each blessed with remarkable, exceptional gifts. They've achieved so much, and impressed so much, both in victory and also in defeat. It will be an enormous privilege to take charge of their stud careers. They are both so deeply talented that it's easy to see how they could each leave a lasting impression on the breed."
Street Sense, last year's champion 2-year-old male, achieved a measure of fame by becoming the first winner of the Bessemer Trust Breeders' Cup Juvenile (gr. I) to win the Run for the Roses. Street Sense then finished a gut-wrenching second to Curlin in the Preakness Stakes (gr. I) at Pimlico Race Course.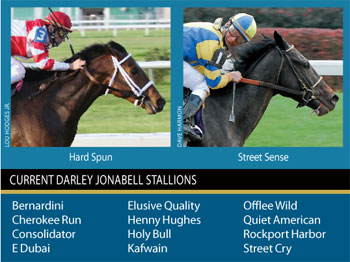 After the Preakness, James Tafel, breeder and owner of Street Sense, decided Street Sense would bypass the June 9 Belmont Stakes (gr. I). Instead, Street Sense's major goals are the Travers Stakes (gr. I) at Saratoga and the Oct. 27 Breeders' Cup Classic - Powered by Dodge (gr. I) at Monmouth Park. In the Classic, Street Sense may face last year's winner and Horse of the Year Invasor, who is owned by Sheikh Mohammed's brother, Shiekh Hamdan.
"We are managing Street Sense's racing career through the Breeders' Cup," Tafel said. "Then it depends on Darley. I would think at that time they would retire him to stud. Darley will be consulted on what we're doing. They know what we're doing and what our plans are. Our plan (to skip the Belmont) changed after the Preakness. That was our plan."
Like most contracts inked at this stage of the game, it is believed there are incentives that could raise the purchase prices based on future races won and end-of-the-year championships.
"We're got a confidentiality clause that rules me out of commenting on anything about the contract, price, any conditions, etc.," Tafel said. "I'm honor bound not to."
Street Sense, who will continue to be trained by Carl Nafzger, may have lost a wee bit of sheen with his head loss in the Preakness, but that can be earned back.
"He still has the opportunity to win the championship, and whatever luster he may have lost by losing the Preakness can be regained," Overbrook Farm adviser Ric Waldman said. "It is difficult to guess what a buyer with great desire will pay or how much it will take a reluctant owner to part with his horse. In many cases it defies logical mathematical multiple of a reasonable stud fee."
Tafel chose Darley from a number of farms. "Darley is first class," he said. "The stallion complex they built in Lexington is typical of what they have at Kildangan in Ireland and Dalham Hall at Newmarket (England). The care they'll give this horse is as good as any major stallion complex."
Hard Spun, who won the Lane's End (gr. II) and Lecomte (gr. III) Stakes leading up to the Derby, ran third in the Preakness. Owned by Richard Porter's Fox Hill Farms and trained by Larry Jones, the son of Danzig was expected to run in the Belmont Stakes against Curlin.
"I had quite a few offers and narrowed it down to three," said Porter, who wouldn't confirm reports that placed the purchase price at $16 million to $20 million. Part of Hard Spun's appeal as a stallion prospect is that the colt is from Danzig's penultimate crop.
Porter stands Rockport Harbor at Darley. "I have become friends with Dan Pride and Jimmy Bell at Darley," Porter said. "I was certainly happy he will be standing at a place where I have a relationship, and the fact is they wanted him the most."
Porter, who will retain an interest in Hard Spun at stud, said part of the negotiations with all interested parties involved the fact the horse has tremendous appeal to Southern Hemisphere breeders. Darley owns a farm in Australia and among its stallions heading south this summer from the Lexington farm are last year's champion 3-year-old male Bernardini.
Hard Spun's reported purchase price has been a starting point for some trying to guess Street Sense's cost. More than one bloodstock agent has surmised Street Sense's cost may be twice that of Hard Spun's. Another guessed as high as $50 million, which is considerably higher than the $39 million total value of Smarty Jones when he was bought in 2004 by Three Chimneys Farm.
Street Sense has won or placed in all nine of his races and has earned $3,158,200. Darley also owns Street Sense's dam, Bedazzle, having privately bought the daughter of Dixieland Band from Nafzger and partners last November. At the time, Bedazzle was in foal to Speightstown . She produced a filly this year.
Hard Spun, who was bred in Pennsylvania by Michael Moran and Brushwood Stable, has won five wins and two seconds in eight races and has earned $983,470. He is out of the Turkoman mare Turkish Tryst.