Lessons Learned
11:45 a.m.
The paddock opens at 11:30 for schooling. One of the first to arrive is Belmont (gr. I) entrant Tiago. Trainer John Shirreffs, his stepson David Ingordo, and Frankie Herrarte, a member of his crew, follows the Pleasant Tap colt, who is led by Frank Leal.
Tiago take a couple of laps around the walking ring, then is led into stall 7 where he stands for awhile. A television crew gets up close and personal with the horse.
Tiago seems to be taking to his new surroundings on Long Island pretty well. His home is a little more urban, Hollywood Park in Los Angeles.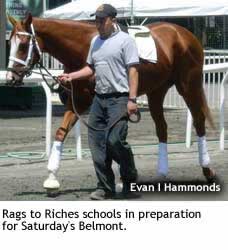 "Here you have a really rustic ambiance," Shirreffs says of the lush confines of Belmont Park. "Hollywood Park is concrete barns and they don't have a lot of grazing areas. Though it's not like Belmont, Hollywood Park has very nice stabling. The barns are big with a lot of ventilation. They're cool in the summer. There are a lot of pluses…but it's hard to compare anyplace to Belmont Park."
A few minutes later, trainer Todd Pletcher arrives ahead of a string of horses that are getting schooled in the paddock. The star of show is Rags to Riches, the filly who will take on the boys Saturday, but other notables in the group is last year's 3-year-old champion filly Wait a While, and graded winner A.P. Arrow. Wait a While is entered Saturday in the Just a Game Stakes (gr. IIT) and A.P. Arrow is running in the Birdstone Stakes off a late March score in the Skip Away Handicap (gr. III) at Gulfstream. –E.H.
A Day in the Life
11:00 a.m.
Friday night in the city is the "Belmont Bash," hosted by NYRA and The Jockey Club. The event is a fundraiser to benefit the Grayson-Jockey Club Research Foundation. Held at the Hudson Theatre at the Millennium Broadway Hotel in midtown, the event is highlighted, for the second year in a row, by a concert by the Beatles tribute band The Fab Faux.
For more on the Fab Faux, you can check them out at http://www.thefabfaux.com.
To say the least, it's a popular event for a good cause. The Belmont Bash, which includes cocktails and dinner at $350 a pop, is sold out. However, there are some reserved seats remaining for the concert only at $50. For tickets, contact Nancy Kelly at (212) 521-5305 or nkelly@jockeyclub.com, or Jenifer Van Deinse at (212) 521-5327 or jvandeinse@jockeyclub.com.
Alan Marzelli loves the event because he's a big, big fan of the Beatles. The president and Chief Operating Officer of The Jockey Club, who could also be considered as the "Fifth Beatle," was asked to name his top five Beatle songs.
"You can ask me today and I'll give you five, and you may ask again tomorrow and get a different five," he said.
Here's "today's" five:
Yes It is (from Beatles VI)
Everybody's Got Something to Hide Except for Me and My Monkey
Martha My Dear
We Can Work It Out
Side 2 of Abbey Road
Marzelli wimped out here, but we can't blame him; we'd have to include the whole Abbey Road album.
The Fab Faux has drawn such a following because "when you see it live, as opposed to hearing it on vinyl, you're seeing and hearing all the nuances of their music," Marzelli said. "When true Beatles fans see the Fab Faux for the first time, there is some degree of jaw dropping. And then the next day, their jaws and faces hurt from smiling too much."
And we thought the Walrus was Paul… -E.H.
Could Have Used a Little Luck
9:10 a.m.
Jorge Velasquez knows a thing or two about the Belmont Stakes (gr. I) and the Triple Crown. The retired jockey was on the wrong end of a pair of Triple Crown bids. In 1978, he was on Alydar, who lost by a nose to Affirmed in perhaps the most thrilling Belmont of all time. Three years later, he went for the Triple Crown on Derby/Preakness winner Pleasant Colony, but finished third behind Summing and Highland Blade.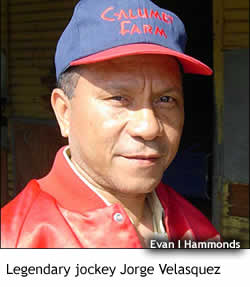 "I don't remember how many Belmonts I ran in, but I think I finished in every position…except first," the legend says outside Barn 60. Actually, he ran in 13 runnings of the Belmont. His last was a fourth-place finish aboard Personal Flag in 1986. "I didn't get to win it. I wasn't lucky enough.
"I got beat a nose on Alydar when Affirmed won the Triple Crown. It was heartbreaking, but it was good for racing. There hasn't been a winner since then. There have been several who have tried. I won the first two with Pleasant Colony.
"It was disappointing because I thought I was a cinch before the race," he remembers. "Going that far? My horse was strictly a come-from-behind horse. I thought it was going to be easy. But what happened was, there was no pace. They went in :26, :51…and that kills me right there. He needed a fast pace for them to come back to him. They didn't come back to him at all."
These days, Velasquez is jock's agent for Jesus Ponce, an up-and-coming rider from Panama who just lost his bug. "We had a good winter; he did very well," Velasquez says. "He was the best bug boy in New York."
In this year's Belmont, Velasquez likes Rags to Riches.
"Don't underestimate the filly; she's a damn good filly," he says. "I also like Imawildandcrazyguy. He ran a good race in the Derby. He was way, way back and had a lot of traffic. He came charging. Don't underestimate him, either. It's going to be a small field, but they're quality horses." –E.H.
No Upset Here
8:50 a.m.
On Memorial Day, trainer Jimmy Jerkens pulled off a sizable upset with Centennial Farms' Corinthian in the Met Mile (gr. I). For Saturday's Belmont Stakes (gr. I), Jerkens will stick with the morning line favorite Curlin.
"I think that horse of (trainer Steve) Asmussen's might just be too good for them," he says of the Preakness (gr. I) winner. "He always goes with that little, cocked-head way of going like he's trying to drift out. When you can make a move like he did in the Preakness, wide like that, and still finish, that's just amazing. You never see horses do what he did. The other horse (Street Sense) cut the corner on him. He made a big enough move that might have taxed him a little bit too because he was saving ground, but Curlin was way out there…he takes the jockeys out there. For him to still kick in like that in the end was just amazing."
How about the filly, Rags to Riches?
"Her race in the Oaks was certainly strong," he says. "She's good. I just don't know if she's quite as good as everyone thinks she is. I don't know…she's certainly the best of the fillies, there's no question about that."
But Jerkens will stick with Curlin.
"He's already done what he's done so far," Jerkens says. "Sometimes you can't tell until they go over there and run, but it doesn't look like he's going backwards." –E.H.
Traffic Cop
8:00 a.m.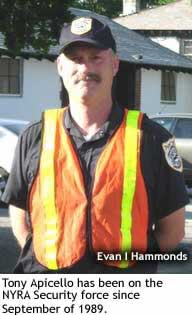 Tony Apicello has been on the NYRA Security force since September of 1989. For the last three years, his main beat at Belmont Park is directing traffic between Barns 4 and 5 just in front of the tunnel that leads from the backstretch to the paddock.
His main job is making sure everyone yields to the horses.
The patrolman, who lives in nearby Franklin Square, works from 5 a.m. to 1 p.m. He's at this high-traffic spot from 5 until 10:45.
"You get to see a lot of people; a lot of famous people," he says of his job. "I get to see all the big trainers and the big horses. They all come by here."
"Mostly everybody is nice," he says. "You get very few of them that have a bad attitude. Sometimes it gets a little hairy when horses and people have to go from Barn 1 to make it down to the monitoring barn.
"Pretty much we say it's normal around here," he says. "We don't say quiet. If you say quiet, then the roof might come down."
Apicello is rooting for Hard Spun in this year's Belmont.
"I met Larry Jones earlier in the year and he said 'I've got a good horse coming up.' He wears the white hat. He's the good guy. That's who I'm placing my wager on." -E.H.

Water Boy
7:40 a.m.
Jerry and Ann Moss' Tiago has had his morning gallop, been cleaned up, has had a little grazing time, and now is being led into his stall. Stall 39 to be exact. He's housed in the barn that is directly behind the Phipps' family barn on the backstretch of Belmont Park. Trainer John Shirreffs looks on.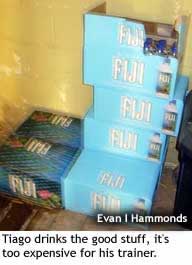 Tiago enjoys his morning meal, a combination of Race Ready and Jockey Club Oats. Shirreff's team of Frankie Herrante and Frank Leal tidy up around the barn. Up against the wall are a couple of cases of Fiji water, a high-end bottled water Shirreffs has at the ready for his Santa Anita Derby winner.
Shirreffs loves the water at his home base of Hollywood Park, but brings out the bottled stuff when he takes a horse on the road.
"It's only because at Hollywood, we have a filtration system, so he's used to having good water," the trainer says. "The water he has at home is so much different that the water we find on the road. The water there is like 99% pure. They have a very sophisticated filtration system. The water in the stores is probably not as pure as that water is.
"We bring it in by the box and he drinks it by the box," Shirreffs says. "He drinks a lot of it. About three boxes a day."
Each bottle is about a pint. That's a lot of opening and pouring to do in a day.
Fiji water is available at most upscale grocery stores. Shirreffs doesn't drink it—it's too expensive he says—but it's good for his horse. –E.H.
Back Home
Wednesday morning
"This is probably more exciting than the Derby because this is home," trainer Bill Kaplan says about running Imawildandcrazyguy in Saturday's Belmont Stakes (gr. I).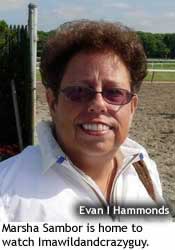 Out on the track is Storm in May, who will run in Friday's Hill Prince Stakes (gr. IIIT). Imawildandcrazyguy ran fourth in the Kentucky Derby Presented by Yum! Brands (gr. I). Storm in May ran 16th. Watching the gray/roan Storm in May gallop 1 ¾ miles from the viewing stand from the gap with Kaplan is Marsha Sambor.
Sambor is Kaplan's cousin. He's staying at her house in Merrick.
"We grew up together; went to the same public school together," Kaplan says.
Sambor comes to Belmont a couple of times a year. This year, however, she's an insider.
"Her father is the reason I'm in this business," Kaplan said. "He used to drag me to the racetrack when I was 14 years old. His name was 'Uncle Hi.' We called him 'Unk.' That's how I got started with horses and then later he talked me in to buying one."
"I used to watch horses like Carry Back, Forego; jocks like Manny Ycaza, Braulio Baeza, Johnny Sellers," Kaplan said.
Sambor is retired high school teacher, but now teaches at SUNY Westbury. Will she be here Friday to watch Storm in May?
"Yeah."
How about Saturday for the Belmont?
"Yeah, yeah. Double yeah," she says. "I went to the Kentucky Derby. I was in Florida in the winter, watching all the races. I've been along for the whole ride. It's been a trip."
And now they're back home. –E.H.
Spinning 'Round
Wednesday morning
After jogging Hard Spun once around the Belmont oval, trainer Larry Jones was guiding the son of Danzig back to the barn. Trainer John Shirreffs, who trains Tiago, shouted out.
"Hey are you the ex-ercise rider?" Shirreffs asked.
"I'm the extra-size rider," Jones said.
Jones and Shirreffs became friends two years ago at Churchill Downs, when Shirreffs won the Kentucky Derby (gr. I) with Giacomo and Jones finished second in the Kentucky Oaks (gr. I) with Island Sand. The two were stabled in the same barn. Their good-natured joking on the backside in the mornings reflects that friendship.
At this year's Derby, Jones told trainer Barclay Tagg he would see him in New York. Tagg conditions Nobiz Like Shobiz. When Jones has shipped to New York in the past, he has always stabled in Tagg's Barn 5 on the Belmont Park backside. But Hard Spun is in Carl Domino's Barn 18.
"You wait until I see Barclay. I'm going to give him a hard time; that sore loser," Jones joked Wednesday morning.
Hard Spun finished second in the Derby while Nobiz Like Shobiz ran 10th.
"I've had good luck in that barn, but Barclay did not have a stall," Jones said. "This is a good barn. We're happy here."
"Anything you need, you just let me know," Domino said while Jones hot-walked Hard Spun. "I know how hard it is to get to this spot and we're honored to have you here." – Dan Liebman
Color My Belmont
Wednesday morning

Just prior to the draw late Wednesday morning on the fourth floor of the clubhouse, artist Charles Fazzino is front and center with a large black "Sharpie" pen. He's signing posters of his official "Belmont" artwork. For the third year in a row, Fazzino has provided some very colorful art that graces the cover of the program.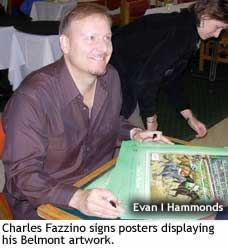 Fazzino hooked up with the New York Racing Association a few years ago through "my public relations company; Michael Weitz. He knew somebody and they had seen a lot of my work that I've done for the Super Bowl and some of the other events."
Fazzino's studio is in New Rochelle, N.Y. "You can't really tell on the poster, but most of my artwork is three-dimensional. They're silkscreened prints that are then cut out with an Exacto knife and then built up to dimension with different types of silicone in my studio."
This year's artwork features horses running around the first turn in the foreground with a packed Belmont Park grandstand in the background. The Belmont is a big event, and Fazzino is all about portraying marquee events.
"This year, I'm doing the artwork for the Country Music Awards, the Daytime Emmy Awards, and for the Super Bowl, and the All-Star baseball game," he said as he fires off another signature on a poster.
That's major league. –E.H.