Put Some Mustard on That!
2:00 p.m.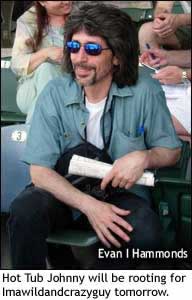 On the third row of Section G on the third floor of the clubhouse sit two yellow plastic bags. Labeled Adelman's Deli, the bags are stuffed with pastrami sandwiches, knishes, latkes, and pickles.
The spread, which has been toted in on the Long Island Rail Road from Brooklyn, is compliments of "Hot Tub" Johnny West.
It's an annual affair. While the deli choice has changed from time to time, HTJ always delivers, bringing the food for some of his buddies. It's an afternoon of a lot of eating, a lot of (rarely successful) betting, a few beers, and a lot of laughs.
There's a heated debate over what is better, round or square knishes.
The handicapping conversation can run deep. HTJ's friend Chico likes "Curlin...or that other guy" in tomorrow's Belmont.
Adding some extra mustard to this year's gathering is an appearance by Bill Kaplan, trainer of Imawildandcrazyguy, who will run in tomorrow's Belmont. He also has Storm in May into today's Hill Prince Stakes (gr. IIIT). Kaplan wolfs down a half of a pastrami on rye and then is on his way.
HTJ will be rooting for Imawildandcrazyguy tomorrow. He thinks the favorite, Curlin, is beatable.
HTJ's a sharp handicapper, but he's never met a favorite he didn't want to bet against.
Precious Real Estate
12:20 p.m.
It's 40 minutes to first post at Belmont Park. The day is heating up and by the time it's over, it's supposed to be in the high 80s. There are only a few fans around the paddock area and fewer still out on the apron. However, it's rocking back at the Marquee area behind the paddock.
A live band is blaring away under the tent which is bedecked with blue ballons. Several portable putt-putt holes have been set up in a grassy area. A steady stream of people, expected to be around 300, are going through the turnstiles and into the fray.
It doesn't look like a racing crowd. It's corporate.
It's the annual summer picnic for the SL Green Realty Corp., a commercial real estate company based in New York City.
It's a nice day for a picnic…and the ponies.
A Real Platinum Couple
9:50 a.m.
Trainer Gary Sciacca wheels his white Chrysler 300 into the parking area adjacent to Barn 29. The red and white sign outside the barn declares it the home of trainer Joseph Lostritto.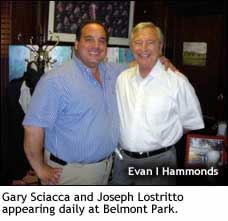 Sciacca, carrying a box of coffees and other assorted goodies, goes into the office and sits behind Lostritto's desk. He stirs up some oatmeal and passes out cups of coffee.
"I think it's going to be a real good race," the 47-year-old Sciacca says of tomorrow's Belmont. "There's not many horses, but if Curlin comes back to what he did in the Preakness, I think it's going to be over. He'll run right over them. He ran a big number in the Preakness. He ran huge. The filly's got an outside chance if everything falls apart."
He then turns to introduce us to Lostritto. "This is my friend, the gyp from Finger Lakes," he cracks.
Lostritto responds, but before it sinks in, he's hit with a haymaker.
"I've won grade I stakes. Have you ever won one?" Sciacca says. Sciacca has saddled the likes of champion Saratoga Dew and Subordination. He has Lostritto here and the "Wise Guy" bantering game is on.
"Well, last year I ran in the Belmont and the Preakness," Lostritto says as a come-backer. He did send Platinum Couple to run sixth in the Preakness and seventh in the Belmont. "You? You haven't run in it in 99 years. I taught you how to read and write.
"This a true story," the elder Lostritto says. "I saw this kid on the racetrack with a whip and he said 'I want to be a jockey.' When I told him he couldn't, he started to cry. So I put my arm around him. Right? We took a walk and I convinced him that he could work for me as a hotwalker."
"Ah, I bring him his oatmeal every day," Sciacca kids. "He's allowed to come out here in the morning and I have to bring him back to the home before 12 o'clock."
I have a feeling this goes on all day.
Hats Off
9:30 a.m.
"Is there more pressure on you now that the Statue of Liberty is wearing a cowboy hat?" trainer Larry Jones is asked.

The crowd around the conditioner of Hard Spun chuckled as Jones was looking at the cover of Saturday's Daily Racing Form. The drawing by artist PEB (Pierre Bellocq) shows every trainer with a horse in the June 9 Belmont (gr. I) wearing a cowboy hat.

Jones, a native of Hopkinsville, Ky., has always worn a cowboy hat but this year, since he has had Hard Spun on the Triple Crown trail, everyone associates him with wearing one.
At the draw for the race Wednesday, all of the trainers were wearing Belmont baseball caps. When he was called up to the podium, announcer Tom Durkin even asked Jones to switch and put his white cowboy hat on.

In the Form's sketch, Jones is trying to lasso trainer Steve Asmussen, who trains Preakness winner and morning line favorite Curlin. The other trainers are also wearing cowboy hats, though Jones is the only one sporting a black hat. Todd Pletcher, who trains the filly Rags to Riches, is wearing a hat with bullet holes in it. – Dan Liebman
Trainerspeak
8:25 a.m.
Outside Barn 58, trainer Steve Asmussen addresses the media. He's the trainer of Curlin, the Preakness (gr. I) winner and morning line favorite for tomorrow's Belmont Stakes (gr. I).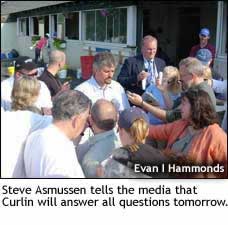 He discusses a myriad of topics while staring at a bouquet of microphones in front of him. It's the typical trainerspeak.
It doesn't take long before a favorite chestnut comes right out: "None of these questions will be answered until tomorrow afternoon."
Yes, jockey Robby Albarado is confident.
Yes, Robby knows the horse and the track.
No, the distance shouldn't be a problem.
He then answers some questions about Curlin, a horse that didn't enter his barn until after he broke his maiden in early February at Gulfstream Park.
"What has impressed me about him is how fast he is," the trainer says. "Everybody knew how brilliant he was, but what I found out after (running third) in the Kentucky Derby is what a fighter he is. Without that experience underneath him, we learned he's a competitor."
He'll need to be a fighter tomorrow. We think he'll come out swinging.
Tough as Nails
8:05 a.m.
Blacksmith Bruce McCuan finishes up his work at Danny Peitz' barn. The West Texas native has been shoeing horses for 40-some-odd years. One of the 160-170 horses he's in charge of is Belmont favorite Curlin, who is trained by Steve Asmussen.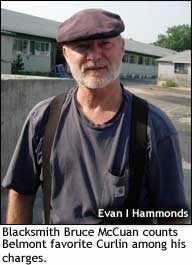 "I shoe for Asmussen, Phil Serpe, Billy Turner, Peitz, Christophe Clement," McCuan says.
The former trainer says he was born and raised "about 40 miles from Carl Nafzger. When he stopped riding bulls, they stabled him right beside me in El Paso, Texas at Sunland Park."
Times, and venues, have changed since then. He's now at Belmont Park and his two sons are also blacksmiths: one is at Monmouth Park and the other is at Delaware Park.
"When I started shoeing, I got $8.50 a horse…the same job we're doing right now today."
Today, McCuan gets a little more for the effort. He says he starts at $150, but usually it's $160.
His secret for shoeing a big horse?
"Don't cripple him," he says matter-of-factly. "When you shoe the best horses, you shoe the most winners. If you shoe $5,000 horses, you're not gonna shoe many money winners."

A Slice of Peitz
7:50 a.m.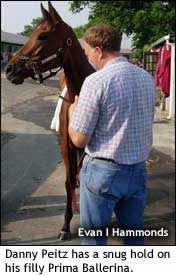 Trainer Danny Peitz has a snug hold on his filly Prima Ballerina as she gets a new pair of shoes.
Women have a thing for new shoes. She's getting a fresh set for a fresh start. She's running later today on the turf in the eighth race.
"She's getting a pair of Air Jordans," the trainer says. "We're going to try her on the grass. I don't know if that what she wants to do or not."
Last year, Peitz ran Steppenwolfer in the Belmont and he finished third. Tomorrow, Steppenwolfer is stepping up run in the Manhattan Stakes (gr. IT) on the grass.
"We're getting into the deep end of the pool, that's for sure," he says. "He ran against those type of horses last year and didn't embarrass himself. He should have won last time. He definitely had a troubled trip. They came home fast and he was flying. He got steadied up pretty good at the eighth pole. He shows a little more turn of foot on the grass…and he's going to have to."
Last year's run through the Triple Crown was interesting for Peitz. "During the whole experience, people kept asking me if I was having fun. I kept saying, 'I'm not here to have fun. I'm here to do a job. If he runs good, ask me after the race—if he runs good, I'll say 'yes.'"
This year Peitz thinks Curlin is the horse to beat, but "the filly's (Rags to Riches) got a little shot. Just off her pedigree and the fact she's going to be fresher than the other colts."
Turner's Turn
7:20 a.m.
Trainer Billy Turner watches on as Belmont (gr. I) hopeful Rags to Riches gallops past. A trio of horses trained by Nick Zito with their "NPZ" saddle towels go past in the haze of a warmer-than-usual morning. Then one of Turner's horses goes by. "Beautiful," he says.
Turner had a beautiful run in 1977 with Seattle Slew, who not only won the Belmont, but the Triple Crown.
Turner is asked to take his turn at handicapping this year's running.
"I thought Curlin put on a surprisingly good performance in the Preakness," he says. "If he can bounce back in three weeks off that, he's looks to me like a very tough horse because he's strong and things don't seem to bother him. I expect him to run a very big race tomorrow.
"But Hard Spun…you can't fault him," Turner says. "You have him to beat every time you go out there."
Go Big Blue
Friday morning
Last year, Belmont patrons help sign the world's largest get-well card for Barbaro. At this year's "Test of the Champion," volunteers will be working the grounds to raise money for the NTRA Charities – Barbaro Memorial Fund. They will be on the grounds hawking blue wristbands that carry the slogan "Riding With Barbaro" for $2. The blue represents the main color of Roy and Gretchen Jackson's silks.
NTRA Charities started the Triple Crown season with 100,000 wristbands. According to the NTRA, there are fewer than 10,000 left to sell Belmont day. If you can't get to the track, you can buy 'em online at www.ridingwithbarbaro.org.
Money raised by the fund helps support equine research projects, including those that focus on laminitis, the hoof disease that plagued Barbaro for much of his recuperative period following his injury in last year's Preakness Stakes (gr. I).