Quite a Picture
10:50 a.m.
In the winner's circle, the photo meeting is going on. All of the photographers for the various media outlets have set their remotes and are now meeting with NYRA officials and the stewards to go over the day's protocol. Things can get a little hectic as the day goes on between the horses, photographers, and security.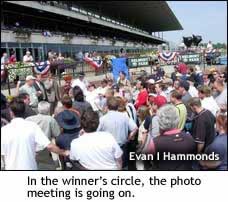 As is the case in any big race, the main concern is the remote cameras. Set up with care this morning under the inner rail, it's important they are placed properly under, or even inside, the fence to not bother the horses. Often the jockeys will voice a complaint that their placement bothers the horses as they thunder down the stretch.
There's an additional snag this morning when it is announced that a film crew will be riding in a car on the turf course while filming a race on the main track.
Steward Braulio Baeza Jr. announces that the car will not stop, so watch out. "They will run you over," he warns.
The plan is for the crew to film the running of the Belmont Stakes. They'll do a test of the third race and then confer with the jockeys to see if there are any problems.
They'll be no lights…but plenty of cameras…and action.

A Little Blue Grass for the Belmont
10:30 a.m.
Fans are trickling into Belmont Park through the main grandstand entrance. Out back by the picnic area, there are a few spots still available, but there won't be for long. Up on the colonnade, the Daily Racing Form crew is doing a handicapping seminar. By the entrance, a trio of musicians are gearing up for a big day. It's Buddy Merriam and Backroads, a Blue Grass group.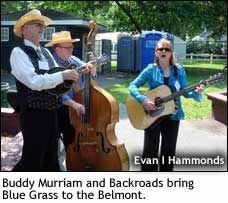 Buddy is on mandolin. Ernie Sykes is on bass and Kathy DeVine is on guitar. They'll play…and then stroll…and then play…and then stroll throughout the day.
The fans "love the hard-core Blue Grass," Buddy says. "We're going to play a lot of songs today. We do some originals and classic Blue Grass and country stuff. I think it adds something to the atmosphere."
It's their eighth year of supplying the Belmont patrons with the toe-tapping sounds of Blue Grass. It's a long day. The Belmont Stakes goes off at about 6:20 p.m. and the band is hired by NYRA for a six-hour gig, from 10-4.
Since they'll be wrapped up before the big race, they'll get a chance to bet on their selection, the filly Rags to Riches.
Then, ironically, they break into "Blue Kentucky Girl."
Tighten Up
8:50 a.m
Horses are being led into Barn 26 on the backstretch at Belmont Park. Barn 26, and Barn 8, are walled off by a high chain-link fence. They are the monitoring barns here at Belmont. Horses running on today's program will have to be here six hours prior to post time for security reasons.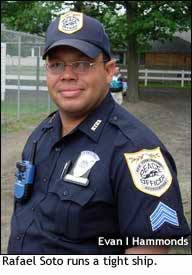 Sergeant Rafael Soto is running the detail for the NYRA security department. He says on this classic day, there will be about 100 horses checking in. On an average race day there are between 80-90.
Soto works at different posts for NYRA, but has been on detail at the monitoring barn for three years. He runs a tight ship.
"Everybody that comes through here has to have the proper credential and be licensed by the New York State Racing and Wagering Board, and a NYRA ID badge," he says. "When they come in, they have to register the horses and their names and they go into the stalls."
State vets—there are six on hand today—then indentify the horses by their lip tattoos.
Someone asks Soto where his gun is.
He points to the NYRA Security emblem on his sleeve. "I don't carry a gun," he says. "It says here 'Peace Officer.' I am a peace officer."
Kitty Kitty
8:45 a.m.

Trainer Larry Jones' son, Michael, and Hard Spun's groom, Corey York, took the train into the city Thursday afternoon, the first trip for both to Manhattan. They squeezed a lot into six hours, checking out the sights at the Empire State Building, Madison Square Garden, Times Square, and Ground Zero.

York was moved by the enormity of Ground Zero.
"We looked at all the names. There were three with the last name York and six named Jones. The subway at 4:30 was packed like sardines."

Michael Jones couldn't speak of his experience because he was busy doing what he does best…sleeping.

Hard Spun, the Kentucky Derby runner-up and Belmont Stakes contender, is stabled in Carl Domino's barn and Jones and his staff has fallen in love with the filly in the adjacent stall, Silvercup Baby, and Domino's cat, simply named Kitty Kitty. On Thursday morning, the cat got 30 minutes of rubbing from The Blood-Horse's Steve Haskin and another half-hour treatment from photographer Barbara Livingston.

"He is a great cat," Domino said. "He spends the winters in the tack room but loves to be outside this time of year. He is a great hunter, too. If I call his name, he could be 1,000 yards away and would come running."

Silvercup Baby just won the Touch of Love Stakes for Domino June 1. In five starts, the 3-year-old daughter of American Chance has two wins and three seconds. - Dan Liebman

Fighting Shape
8:40 a.m.
Trainer Nick Zito is holding court outside Barn 12 in a fine drizzle. The conditioner of Belmont Stakes (gr. I) contender C P West thinks back to the great filly Ruffian, the subject of an ABC TV movie airing Saturday night after the Belmont. Zito is reminiscing about Ruffian's trainer, Frank Whiteley Jr., who he calls one of the greatest of all time.
"Fortunately, he liked me," Zito says. "I remember I'd have to pass his barn on my way to the racetrack. You always knew when you were near his barn because you'd have to walk through these huge puddles of water. He was always out there with a hose running water over his horse's legs. I remember one reporter who he didn't know came over to talk to him, and Frank kept running the hose over the guy's shoes. Finally Frank said, 'Look at this guy, he doesn't have the sense to come in out of the rain.'
"He was a real trainer, smart like a fox. He'd walk over with all his horses. I was fortunate to be able to talk with him and learn. Guys like him and Allen Jerkens and Hirsch Jacobs—those guys were real trainers. I mentioned them in my speech when I went into the Hall of Fame."
As for his prospects with C P West, Zito was optimistic. "Listen, we trainers do what we can, but it all depends on what's inside the horse. If he's got it in here," Zito says, pointing to his heart, "we'll be in good shape." –Lenny Shulman
Let's Play
8:30 a.m.
Nestled between Barn 19 and Hempstead Turnpike you'll find one of the most inspirational areas of the backstretch of Belmont Park. It's Anna House, the daycare center for the children of backstretch workers run by the Belmont Child Care Association.
Attendance is a tad light today, but it's a Saturday, when several kids can stay with other siblings or parents have the day off.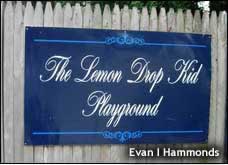 Running the show at Anna House is Donna Bell Chenkin, the executive director and chief fundraiser.
The facility, which has an enrollment of 50 children and a deep waiting list, is open from 5 a.m. to 1 p.m., seven days a week, 365 days a year. A staff of 40 run the show.
Chenkin says Anna House costs about $800,000 a year to operate, including insurance, upkeep, etc.
Later this morning, they'll be plenty of activity at the Lemon Drop Kid Playground. Lemon Drop Kid won the Belmont in 1999. His owner, the late Jeanne Vance, made a healthy donation to help get the project under way.
Like many women, later today Chenkin will be rooting for Rags to Riches to win this year's Belmont Stakes.
Breaking Curlin
Friday evening
Dominic Brennan has worked at Johanne Everard's Another Episode Farm since 1984. Breaking about 100 horses a year at the Ocala, Fla. Farm means he's seen a lot. Last year, a young colt named Curlin was part of the crop.
"He was a good colt from day one," the 43-year-old Brennan said over the phone from Ocala, Fla. "He showed a lot of class. He was very professional. Everything came easy to him, you know?"
Curlin, who arrived at the farm in October of his yearling year, was shipped off to trainer Helen Pitts last July as a 2-year-old. Pitts, a former assistant to Ken McPeek, has found success on her own of late, winning her first grade I race with Einstein. After breaking his maiden in February, a majority interest in him was sold by Midnight Cry Stable and he was switched to trainer Steve Asmussen.
Other horses of note that have received their early lessons at Another Episode Farm include McPeek-trained stars Take Charge Lady, Repent, and Tejano Run, who ran second in the 1995 Kentucky Derby (gr. I).
"I didn't go to the Preakness, but I did go to the Derby," Brennan said. "It was my first time there and it was an experience. There were a lot of people and a lot of action. He ran a good race.
I think the distance won't be a problem," he said when talking about Curlin's chances in the Belmont. "At the Preakness, it looked like those tighter turns gave him a little problem. I think the big turns are going to help him; he should love the racetrack."
Stakes Bonanza
Belmont Park offers a $1-million guaranteed Pick 6 with their major stakes races today, highlighted by the $1-million Belmont Stakes (gr. I). The third leg of the Triple Crown has a post time of around 6:20 p.m., but there is plenty of action to lead up to the "Test of the Champion" including two other grade I races, the Acorn and Manhattan.
The Pick 6 starts with the True North Handicap (gr. II) for older sprinters with the Todd Pletcher-trained Keyed Entry and California shipper Bordonaro appearing the strongest of the lot.
In the Just a Game (gr. IIT) for fillies and mares going a mile on the turf, Wait a While, last year's champion 3-year-old filly seeks to rebound off an uncharacteristic fifth-place finish in the Jenny Wiley (gr. II) at Keeneland. In a mild upset, we'll take Mauralankana, who blew away an allowance field on the grass at Churchill Downs May 23.
The Woody Stephens, a grade II affair at seven furlongs for 3-year-olds, brings us a pair of runners out of the Kentucky Derby Presented by Yum! Brands (gr. I) in Stormello and Teuflesburg, but going one turn, our money will go on Sports Town, who won a minor stakes off the layoff under Go-Go Garrett Gomez over the Belmont strip May 16.
The Acorn could be a coronation for the Richard Violette-trained Dream Rush, who blew away her foes by nearly 10 lengths last time out in the Nassau County Breeders' Cup. Any one of the other five in the field could fill out the exacta…maybe even Christmas Kid or Boca Grande.
Back on the turf, the Manhattan is the welcome home party for English Channel off a poor effort in Dubai, and a New York debut for Sky Conqueror, winner of the Woodford Reserve (gr. I) at Churchill Downs on the Derby undercard. Two who shouldn't be dismissed lightly here are Better Talk Now, who finished fifth in the Woodford Reserve in his first start since last year's John Deere Breeders' Cup Turf (gr. IT) and Cosmonaut, who ran second in the Dixie (gr. IIT) at Pimlico after jumping over the fallen Einstein.
The final leg of the Pick Six is the Belmont. The class really boils down to three in our humble opinion: Curlin, Hard Spun, and the filly, Rags to Riches. If pressed for a single, we'd take the classic-winning Curlin to add a second jewel to his glittering resume.