The second season for 3-year-olds began on July 4, with the emphatic victory
by Any Given Saturday in the
Dwyer Stakes
(gr. II), and judging from the works turned in by Curlin and Hard Spun on Monday, as well as Street Sense's work on Sunday, the heavy hitters from the Triple Crown are all primed and ready for their respective returns.
At Churchill Downs Monday, Preakness (gr. I) winner Curlin and stablemate Tiz Wonderful breezed six furlongs in company in 1:12 4/5. With jockey Robby Albarado aboard Curlin and exercise rider Carmen Rosas on Tiz Wonderful, the pair broke off about two lengths apart, with Tiz Wonderful setting the early pace. They raced together down the stretch, with Curlin, going the easier of the two, finishing about a neck in front.
"I felt a lot more comfortable doing something serious here than when we first get to Saratoga," trainer Steve Asmussen said. "Scott (assistant trainer Scott Blasi) said it was time for Tiz Wonderful to step out of the kiddie pool. He stayed on (with Curlin) and galloped out good. Of course he had to work harder, but that's where he's at. But it's time. He's got one more serious move between now and his race. They'll both fly to Saratoga on Thursday and train there, and then we'll decide when to ship Curlin to New Jersey. It will depend a lot on the weather the week before the Haskell (gr. I)."
Curlin will face Hard Spun in the $1-million Haskell on Aug. 5, while Tiz Wonderful, who has been out with an injury suffered this winter, will make his return in the $500,000 Jim Dandy Stakes (gr. II) July 29. The son of Tiznow has not run since his victory over Any Given Saturday in the Kentucky Jockey Club Stakes (gr. II).
It has not yet been decided in which of the two races Street Sense, winner of the Kentucky Derby Presented by Yum! Brands (gr. I) and Any Given Saturday will run.
Hard Spun, second in the Kentucky Derby, third in the Preakness, and fourth in the Belmont Stakes (gr. I) is being pointed toward the Haskell, according to trainer Larry Jones.
The son of Danzig breezed five furlongs in 1:00 1/5 at Delaware Park Monday. "I used a filly as a pace car for him," Jones said. "I've come to the conclusion that we don't know how fast he's working, so I use something I know can't go real fast, but is fast enough to get him to work how I want him to. We used her as a target and gave her a four-length head start and he beat her a couple of lengths. Just something to gauge him by. He was blowing a little, which is what we needed him to do, so everything is good.
"Nothing is set in stone, but Rick (owner Porter) told me he wants me to point him for the Haskell, so that's what we're doing. The way the track at Monmouth plays, he thinks that would be a good spot, so we're trying to get our timing right for that race. We've been known to change our plans; you have to be a little flexible. But if all goes well and we have a perfect world we're on target for the Haskell."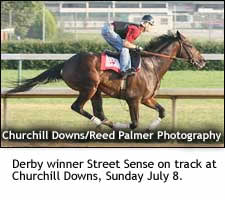 Street Sense worked five furlongs in 1:00 2/5 at Churchill Downs Sunday under jockey Calvin Borel, and as usual came flying home with a final quarter in :22 3/5 before galloping out six furlongs in 1:12 3/5.
"He's right on schedule," said trainer Carl Nafzger. "We just let him be himself and let him do what he does. Every time I watch him, he surprises me. I keep thinking I'm dreaming in between, then I watch him work and he does it again."
Nafzger said Street Sense will leave for Saratoga around July 21 and will have two more works at Churchill Downs before departing.
One horse steadily climbing the ladder in the 3-year-old division is Delightful Kiss, winner of the Ohio Derby (gr. II) and Iowa Derby. Trainer Pete Anderson could try the big boys in the Haskell or go for the $750,000 West Virginia Derby (gr. III) the day before.
Among those pointing for the West Virginia Derby is the Michael Matz-trained Chelokee, winner of the Northern Dancer Breeders' Cup Stakes (gr. III) and Barbaro Stakes.
A local horse to keep an eye on for the Haskell is Coronado's Quest Stakes winner Cable Boy, who is undefeated in three career starts, and who broke Monmouth's track record for a mile and 70 yards in his second start.