By Ron Mitchell and Deirdre Biles
Topped by a Malibu Moon colt, the Fasig-Tipton Kentucky July yearling sale concluded Tuesday, with a somewhat predictable decrease in average and median prices as the number of horses offered, number sold, and gross receipts all increased.
FTK reported 354 horses sold for a gross of $36,441,000, compared with the $35,598,000 for 307 yearlings a year ago. The average price of $102,941 represented an 11.2% average decline from last year's $115,941 figure. This year's median price of $80,000 was down from the 2006 median of $90,000 and the 167 horses not sold this year reflected an RNA rate of 32%, compared with 24.5% one year ago.
FTK officials said the numbers do not reflect a softness in the overall yearling market. Instead, the average and median declines could be attributed to a number of factors, including an increase in the number of horses offered and sold during the "New Sire Showcase," featuring yearlings by first-crop sires or those whose oldest offspring are 2-year-olds. FTK president Walt Robertson said the number of new sire yearlings offered this year represented 55%-60% of the total, compared with 45% one year ago.
"For the last few years, the established sires have obviously sold better than new sires," Robertson said. "This year we had more new sires. That was not by design; it was just the way they fell."
Other factors included an overall increase in the number of total yearlings through the ring and sold and the lack of big-ticket horses such as a Forestry colt sold for $1.2 million and a Pulpit colt that brought $760,000, both last year. When taken out of last year's average, those two horses alone accounted for about 5% of the average decline, according to Robertson.
"Those two horses last year were an aberration," said FTK executive vice president and chief operating officer Boyd Browning. "You can't expect that (a seven-figure yearling) every year and the Pulpit would have topped the sale each of the past seven years. I think the market was amazingly similar in 2007 to what it was in 2006. I wouldn't have expected a dramatic decline. We were cautiously optimistic."
FTK reported 197 horses sold during the New Sire Showcase that comprised all of Monday's session and the first hour of Tuesday. The resulting 45% increase over the 135 sold last year produced a 25% increase in gross, to $17,590,000, compared with $14,022,000 in 2006. The New Sire Showcase average declined 14%, from $105,867 to $89,289. The median was unchanged at $75,000. The 102 horses not sold this year represented an RNA rate of 34%, compared with a rate of 27.8% in 2006 when 52 went unsold.
Lion Heart was the top-grossing sire for the New Sire Showcase, with a total of $2,220,000 and average of $148,667. He was followed by Chapel Royal, with yearlings selling for $1,180,000 and an average price of $69,412.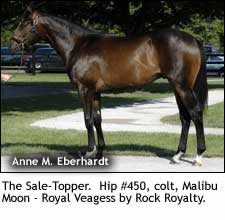 The Siegel family's Jam Em Ess Stable paid $450,000 for the sale-topping Malibu Moon colt, who was consigned by his breeder, Clarkland Farm.
The colt was produced from the hard-knocking Rock Royalty mare Royal Veagess, a multiple stakes winner who had 12 wins and earnings of $281,022 during a career that spanned ages 2 to 6. The colt is a half-brother to grade II winner Skipping Around, the dam of grade I winner Sugar Shake.
"He looks like a racehorse," said Samantha Siegel, who was accompanied at the sale by consultant Ric Waldman. "When you are walking the barn area, he catches your eye. I wish I did not have to pay so much for him, but that's the way it goes. I know he was raised right."
The Siegels raced grade I winner Declan's Moon, the best offspring of Malibu Moon to date. Siegel said that previous experience did not play too much of a role in the purchase. "You can't do that. You obviously think you know what a nice Malibu Moon looks like; when you have a sire that you have had success from you like to go back and see some of his type of qualities."
Siegel said the colt will be sent to Bryan Rice in Florida along with the other purchases by Jay Em Ess. She said a decision would be made later on who will train the colt.
"I can't talk now," was the immediate reaction of Fred Mitchell, who owns Clarkland with his wife, Nancy. "When you're a small breeding operation and you raise a nice individual that sells like that, words can't express what it means. I really didn't know what to expect. We had a lot of people looking at the colt. We thought we had a really nice individual, but you don't know until the hammer falls."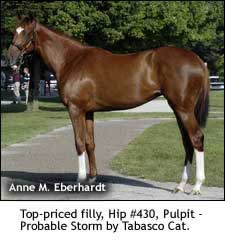 The session and sale second-highest price of $385,000 was paid by Florida pinhooker Murray Smith for a Pulpit filly consigned by Nursery Place Farm. The filly was produced from the Tabasco Cat mare Probable Storm, a half sister to grade I-winning millionaire Summer Colony. The filly was bred in Kentucky by Robert Hagopian.
"She was just breath-taking," Smith said. "She's gorgeous and she exuded class. I bet I looked at her every day since Thursday and every day I looked at her I loved her. She's never taken a bad step and she vets perfect."
"For a big filly, she is really smooth and hits the ground lightly; maybe she doesn't even hit the ground," said the Nursery Place's John Mayer. "A great horse lady bought her and I hope she does really well. Some people have questioned how she will do at 2 since she is 16 hands now. But one of the best 2-year-old horse people in the business bought her, so how are you going to argue with that. She was vetted about 20 times. She is a really nice filly."
SLIDE SHOW: Fasig-Tipton July Yearling Sale