Mahubah's Corner
By Avalyn Hunter
Sixty-one mares have earned the title of Kentucky Broodmare of the Year ever since the state's owners and breeders association began awarding the title in 1946. Among them was Best in Show, who was honored in 1982 after her daughter Blush With Pride became her fourth group/graded stakes winner.
Since then, Best in Show's daughters Sex Appeal, Minnie Hauk, and Monroe have all become highly successful broodmares. But, appropriately, it is Blush With Pride who stands at the head of the hottest current branch of Best In Show's family. A fine producer in her own right, Blush With Pride has within the last 15 months become the granddam of three Classic winners, a record few mares can match.
The phrase "bred to be a good one" certainly applies to Blush With Pride, whose sire is Blushing Groom. The champion French juvenile of 1976 and the top European miler of 1977, Blushing Groom proved an excellent all-around sire, getting 92 stakes winners from 512 foals and leaving behind three good sire sons in Mt. Livermore, Rainbow Quest, and Rahy. He also has proven to be a fine broodmare sire, which can be validated by the pedigrees of champions Macho Uno, Lammtarra, and Queena.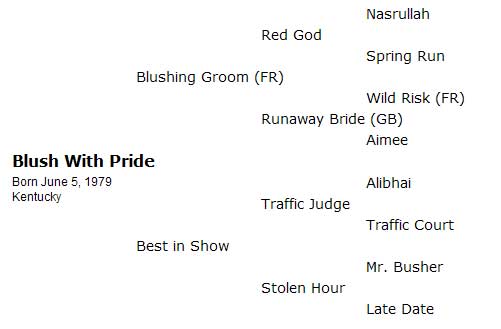 Blush With Pride was among Blushing Groom's best racing daughters, her four graded stakes victories at three including the Santa Susana Stakes (gr. I) and the Kentucky Oaks (gr. I). Blush With Pride wound up being rated third on Daily Racing Form's Free Handicap for three-year-old fillies with a weighting of 120 pounds and retired having won six of 16 starts.
The family of Best In Show has been extremely effective when crossed with the Northern Dancer male line, its produce from this cross including champions Try My Best, El Gran Senor, and Redoute's Choice and group/grade I winners Yagli, Platinum Scissors, Aviance, and Chief Contender. Since Blushing Groom also crossed well with the Northern Dancer line, it should hardly be surprising that Blush With Pride's best progeny were all sired by Northern Dancer-line stallions.
Unfortunately, five of her first six matings were with stallions from other sire lines, and she did not get her first stakes winner until her seventh foal. This was the Danzig filly Smolensk, who captured the Prix d'Astarte (Fr-II) and Prix de Sandringham (Fr-III) as a 3-year-old of 1995, but who has so far been a disappointing broodmare despite excellent opportunities. To date, Smolensk has produced two winners from seven foals of racing age.
Better Than Honour, a 1996 daughter of Deputy Minister, was roughly equal to Smolensk as a race mare but has been a vast improvement as a producer. Winner of the 1998 Debutante Stakes (gr. II), Better Than Honour became the first broodmare to produce two winners of the Belmont Stakes (gr. I) – and, for that matter, the first mare to produce back-to-back winners of any one American Triple Crown race – when Rags to Riches scored her historic victory over Curlin in June. The A.P. Indy filly was following in the hoof prints of her half-brother, Jazil (by Seeking the Gold), who captured the 2006 Belmont. (For the record, Prudery is the only other mare to have produced back-to-back Triple Crown race winners but did so in two different races, gaining victories with Whiskery in the 1927 Kentucky Derby and Victorian in the 1928 Preakness.)
Better Than Honour is a full sister to Turnberry Isle, who won the Juddmonte Beresford Stakes (Ire-III) as a juvenile of 2000. She is also closely related to Maryinsky, Blush With Pride's 1999 daughter by Sadler's Wells. Talented enough to run second in the Fillies' Mile (Eng-I) as a juvenile, Maryinsky became a Classic producer this year when her first foal, Peeping Fawn (by Danehill), scored a decisive victory over Oaks Stakes (Eng-I) victress Light Shift in the Darley Irish Oaks (Ire-I).
Whether the family of Blush With Pride will continue to add to its honors is a question for the future, but the prospects look good. Better Than Honour has a 2-year-old by Mineshaft waiting in the wings; named Casino Drive, the colt is genetically a three-quarter brother to Rags to Riches. Further down the line, Better Than Honour has produced 2006 and 2007 colts by Giant's Causeway and is back in foal to A.P. Indy for 2008.
Maryinsky also has some beautifully-bred prospects lined up in her two-year-old colt by Kingmambo and yearling colt by Fusaichi Pegasus . Both of these colts are bred similarly to 1997 European champion juvenile Xaar (out of Monroe), whose sire Zafonic (by Gone West) is out of a mare by The Minstrel and is, thus, bred on the Mr. Prospector/Northern Dancer cross that also produced Kingmambo and Fusaichi Pegasus.
As if this were not enough, Maryinsky's year-younger full sister Butterfly Blue is also a young broodmare and is represented by Lacadena, a 2-year-old daughter of Fasliyev, and a yearling colt by Fusaichi Pegasus. But even if none of these young horses prove to be top racers, the family of Blush With Pride will doubtless have a chance to pass its legacy of class to another generation through Rags to Riches and Peeping Fawn – and that, surely, is nothing to blush at.