It was exactly noon when the Brook Ledge van came to a stop at the loading ramp on the Oklahoma training track, a short distance away from Todd Pletcher's barn. Arriving from Belmont Park following the four-hour ride was the queen of American racing, Rags to Riches. This was a scene many thought would never be played out.
When Rags to Riches came down with a fever, which caused her to miss the Coaching Club American Oaks (gr. I), there was slight concern. But when she was pulled up at the start of a work and then sent to New Bolton Medical Center for a complete physical, the consensus was that the Belmont Stakes (gr. I) winner was either through for the year or more likely for good. Then came the announcement that she would resume training and be sent to Saratoga.
Rags to Riches was led off the van by assistant trainer Seth Benzel, who had been eagerly awaiting the filly's arrival at the Spa. "This is fun; this is what it's all about," he had said a short while earlier.
Rags, who didn't have a bead of sweat on her despite the heat and long van ride, was led around the walking ring outside the barn for about 10 minutes, stopping only for a couple of sips of water. Benzel then led her into her new home in stall 15. As he removed her halter, Rags' hotwalker Isabel Escobar, who had been as close to the filly as anyone, grazing her twice each day, came in the stall, wrapped her arms tightly around Rags' neck and gave her a kiss before hurrying off to return to Belmont. All she said as she left was, "I'm going to miss her."
"That's the nature of big stables," Benzel said. "They have to move around a little bit… and then they come back."
Rags to Riches had her temperature taken and then went right to her feed tub. But next door, Magna Graduate, a horse obviously with good taste in the opposite sex, began sniffing the cracks in the wall separating them and proceeded to rear up several times. It was apparent he was getting too excited for his own good, and when Benzel was told of his actions, he grabbed a halter, went in the colt's stall and moved him four stalls away.
So, racing's super filly was back and ready to carry on a legacy that already has her ranked right up there by many with the greatest fillies of all time. If she can add longevity to what she has already accomplished on the racetrack, who knows what heights she can attain.
Winning stakes races in the gluttonous manner Pletcher does only brings about a feeling stoicism among racing fans, who now find it difficult to distinguish one Pletcher victory from another. Even the trainer admitted that, normally, they're the ones everybody's rooting against.
But Rags to Riches has broken out of the Pletcher mold and the factory-like assembly line from which she came to capture the hearts and the imagination of the entire racing world. She has transcended her human connections to the point where no one looks at her as a member of the Pletcher pack. No one cares that her affluent owners Michael Tabor and Derrick Smith are cradled in the lap of luxury in Barbados and Monaco, respectively, and are seldom seen in this country.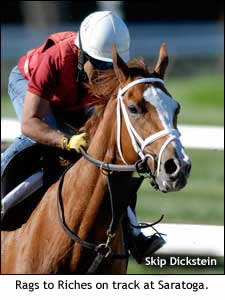 All people see is Rags to Riches: classic winner, conqueror of the boys, and racing's ruling monarch. Outside, she is stunning and glamorous, with her golden coat and dazzling white face. But inside, she is domineering and headstrong. In battle, she is a fierce warrior, treating males and females with equal contempt. In short, she can be both beauty and the beast, and that is what endears her to her rapidly growing legion of admirers, who flock to her blog on the National Thoroughbred Racing Association website to devour every bit of information on her they can get.
Assigned to relay all the news concerning Rags to Riches has been assistant trainer Anna Seitz, who is based at Belmont Park and had been accompanying her to the track on the stable pony Bandit every day for three months before the filly's departure for Saratoga.
"I feel so fortunate to have been allowed to pony such a spectacular racehorse," Seitz said. "Every morning when we'd hit the track, I'd think how lucky I am to be next to her. She has such an amazing presence, and what she has already done in her racing career has been an inspiration to us all. We are all a part of history being made and hopefully she will be able to continue her success on the track.
"Athough she can be difficult to handle in the barn, her fiery attitude is the part of her that makes her a champion and a standout from other horses. She is competitive on and off the track. Our diva has a huge heart and a drive that won't let her give up....even when Curlin challenged her in the Belmont. She makes us all want to work hard, and the euphoria Rags to Riches has brought to her thousands of fans has been incredible. We get letters, cards, pictures, candy, carrots, baskets and e-mails on a daily basis. People love to have a hero and its been wonderful that a four-legged creature has been a hero to so many. Todd said he has never seen the public latch on to horse that way they have to her. Strangers beg to have a chance just to see her and touch her because of how special she has become to them."
Like all prima donnas, as Seitz calls her, Rags to Riches has a mind of her own and is used to having things done her way.
"She likes to be left alone and often pins her ears or tries to bite or kick anyone who comes near her in the stall," Seitz said. "A lot of days, we leave her halter on because she's difficult to catch in the stall. But she is very intelligent and has learned to trust Isabel and her groom, Martin. They get along with her better than anyone and have developed a good routine together. Patience has been clutch with Rags to Riches because she is far from saintly.
"However, she is an absolute delight on the track, like a completely different horse. I've gotten to know her quirks. She loves the pony, but she always likes to try and take charge. Bandit did a good job keeping her in line but she often tries to nip at him and have her way. She has quite an attitude and doesn't want to be told what to do, but will listen when you give her a command.
"Every day we would jog her back to the seven-eighths pole and make her stand there for a minute before Lauren (Lauren Robson, who galloped her at Belmont and Keeneland) let her begin her gallop. She would take a regal look around the entire Belmont track before getting antsy. She is very observant and notices and watches everything. Lauren says she's perfect to jog and almost always behaves, but she definitely changes gears when she knows she's about to gallop. You can see it in her eyes. I couldn't help but smile every day watching her gallop away from me. Most of the other riders from the different barns recognized her and would always watch for her in the mornings Even after three months, I still got chills watching her train."
Rags to Riches has left a lasting impact on all those who have been around her. Her blacksmith Ray Amato says she is "a complete angel to shoe. She stands perfectly still and I really enjoy shoeing her every month."
Veterinarian Steve Allday compares her to her sire, A.P. Indy. "She's a lot like him; tough, no nonsense," he said. "He was a real gorilla; there were a lot of things he just wouldn't tolerate. She likes her space, but I've never had a problem with her. Once you catch her, she's very professional."
Catching her was a bit of a problem for assistant Ginny DePasquale when she was trying to prepare her for her trip to the Spa. "She swung both me and Isabel all around the stall when we were trying to get her ready for Saratoga," she said.
Although some may believe Pletcher's unprecedented success has made his help impervious to outbursts of emotion, that couldn't be farther from the truth. The horse still takes precedence over monetary rewards, as witnessed by the unbridled elation that overwhelmed everyone following Rags' courageous victory in the Belmont Stakes.
"I still tear up every time I watch the replay of the Belmont," Seitz said. "When she won, all of us went crazy. Everyone was screaming, drinks went flying, and we were all crying. Our legs were like rubber and I almost hyperventilated. We all were so ecstatic to be there. And being in the winner's circle for such an incredible race was indescribable."
No one knows yet what path Rags to Riches will take to the Breeders' Cup World Championships, or how she will return from her untimely leave of absence. But one thing that is certain, it will be a path lined with banner-waving, picture-taking, cheering fans who will come out in full force to salute racing's newest hero.