By Erin Ryder
News Editor
The Horse
If you've visited the Kentucky Horse Park sometime in the past few months, you might have noticed a small, dark brown gelding, utterly unremarkable apart from his obvious age, walking with purpose with bright eyes and pricked ears among the sleek and shiny show horses. Step a little closer and read the engraved plate on his halter: you're looking at John Henry.
John Henry was twice Thoroughbred Horse of the Year (1981 and 1984), won $6.5 million, and is still the richest gelding in Thoroughbred racing history. He's also known as a difficult character around the barn.
What's different about John Henry now from a few months ago, when the world wondered if he would actually make his 32nd birthday?
He has been going for morning walks around the park (see video). Given his head, he drops his nose like a bird dog, picks his course, and is off. His "mystery excursions" might take him to the lake, for a tour of the cross country course, through the hustle and bustle of whatever show is running that day, or sometimes right through the middle of the Parade of Breeds to revel in the applause he clearly feels is still his due.
Make no mistake, he has earned his notoriously nasty reputation. Cathy Roby, who manages the park's Hall of Champions, John's home for the past 22 years, said she bears 16 years worth of scars that prove he's a tough charge to handle. However, she reported John has mellowed--a little--with age, and that his improved attitude since his daily excursions began has changed the whole dynamic of the barn.
"Because he is so smart, he gets bored easily," Roby said. "It takes more to keep him happy. He looks forward to it, he knows he gets to go, and his whole attitude has changed.
"It really has made everything much easier," Roby added.
Before the walks began, administering John's daily medication often required more than an hour of effort involving elaborate schemes to catch him unawares in his 18-by-18 stall. On at least one occasion, catching him in the stall required a lasso.
"There were some days we never did catch him," Roby said. "Rather than running him around the stall until he had a heart attack, we sometimes had to decide he just wasn't getting his medicine and we'd try again tomorrow. But we don't have that problem anymore. It makes things a lot more peaceful and less stressful."
John remains remarkably healthy despite his age. He had colic surgery in 2002 and is treated for Cushing's and hyperparathyroidism, according to Nathan Slovis, DVM, MS, Dipl. ACVIM, of Hagyard Equine Medical Institute in Lexington, Ky., who leads the team that cares for John.
Slovis said a gentle exercise program is good for older horses.
"Exercise is good for the overall body," Slovis said. "For him, just walking is considered exercise. It's like your 95-year-old grandmother going for a walk--she's not going to go for a run, but she'll feel better. It's good metabolically to get out and move around."
Roby reported that John is moving better, has improved muscle tone, and has gained weight.
"Since he's been doing his walks, you can tell just by looking at him that he's toning up his muscles; he's put weight on," Roby said. "His general attitude has changed. He just seems like he enjoys life so much more."
Roby said the walks started early this spring. The staff at the Hall of Champions thought John was bored last winter and they wanted to encourage exercise to keep the old man moving. At first they led him around in his paddock. Then they took him up and down the driveway leading to the Hall of Champions. Then he started visiting the mare and foal across the road. And one day his handler gave him his head and let him decide.
"Maybe he just wants to see where he's been living for the past 22 years," said Barbara Ratterree, one of his frequent escorts.
Visitors to the park often approach the old horse to pet him or have a photograph taken. While on his walks, the notoriously nasty John becomes amazingly tolerant.
"He gets a really easy, soft eye," Ratterree said. "He's sweet--believe it or not. I've seen an angry eye, but I've never seen a mean eye. He does get that 'look of eagles'--sort of that expression of disdain. And his eyes belie his age. John's eyes do not look 32. They're clear, they're bright, they're attentive."
During one walk he was mobbed by schoolchildren, who swarmed around him without warning from all directions. Ratterree, who has seen the horse at his worst in his stall, said she was worried. But John accepted the attention like a gentleman.
Roby said she did have concerns about John interacting with public at first, but he has maintained his walking privileges through good behavior.
"He's not trying to be obnoxious or anything," Roby said. "Ten years ago there's no way we could have done it--he would have been on his hind legs and running circles the whole time."
Ratterree said about half the people who approach him have no idea who he is. The other half are in awe.
Ratterree lets John pick his own route and pace. She keeps a firm grip on the end of his shank, but it's John who's leading. As long as he's not putting himself in danger or getting in the way of vehicles or other horses, he has run of the place. Some days he decides he fancies a stiff, but determined, trot, and Ratterree will jog alongside, pleading with him to keep it short.
While John picks a new route every day, some areas are clearly preferred. He walks a portion of the cross country course whenever it's available (if it's in use his handler has the unenviable task of convincing him to skip that portion of the tour). He frequents the barn stabling horses featured in the Parade of Breeds, a twice-daily program highlighting some of the more than 40 breeds of horses residing at the park. He visits the Miniature Horses and the park's foals. And he likes to stand in an area of the Big Barn staged to look like a winner's circle.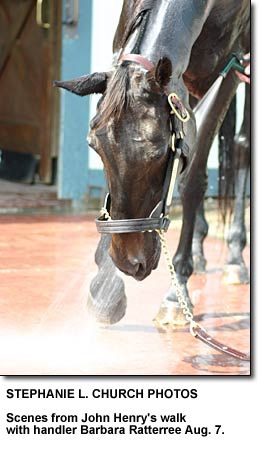 On the morning we walked with John, after an hour of steady walking, John was headed with Ratterree's gentle suggestion, back in the general direction of his barn when the music for the Parade of Breeds came through the park's speakers. John altered course and headed to the in-gate, and lined up with the regularly-scheduled performers. A quick note to the announcer, and John's name was called.
"I cry every time I do this," Ratterree said, pulling her sunglasses down from atop her head.
John walks straight through the Parade of Breeds arena and receives his applause with his head up and bit of bounce in his step.
Then it's back to his barn, which John approaches in slow motion. Kathy Hopkins, the park's equine director, lends a hand on the final approach, taking the lead while Ratteree encourages from behind.
"Barbara, you're going to get kicked," Roby calls from the barn.
"No--I've got a tiger by the tail," Ratterree replies.
John's return to the barn signals time for his daily medication. As he's already haltered, the procedure's former drama is gone.
Then it's back in his private paddock to wait for tomorrow's adventure.
If you visit the park, around 10:30 a.m. John will start banging on his stall door to signal that it's time to go, and the staff at the Hall of Champions will decide who among the staff and seasonal workers gets the privilege of escorting the living legend on his daily stroll.
Maybe John has mellowed, or maybe he has just finally gotten his point across that life needs a bit more spice and adventure--or at least exercise!
(Originally published at theHorse.com.)