The Jockey Club reported that 3,881 stallions covered 63,629 mares in North America during 2006. These matings resulted in 36,317 live foals for 2007 being reported to The Jockey Club on Live Foal Reports as of this Sept. 6.
As in past years, The Jockey Club estimates the reporting of live foals is presently 90 percent complete. The reporting of 2007 live foals is slightly behind last year's pace, when The Jockey Club had received reports for 36,630 live foals of 2006 for the same week in September.
"Although live foal reporting is a little behind last year at this time, we will receive additional reports in the coming months and we expect our previously announced projection of 37,500 registered foals for North America in 2007 to be on target," said Matt Iuliano, The Jockey Club's vice president of registration services.
"Breeders who have yet to report their 2007 live foals should do so immediately to complete the registration of their foals within the one-year deadline and avoid late registration fees," he added.
Giant's Causeway, who ranked second last year by number of live foals with 178, moved to the top spot on this year's list. His total, 168 live foals, was the highest for any stallion. Last year's leader, Lion Heart, who was represented by 187 live foals in 2006, is represented by only 109 this year. Both stallions stand at John Magnier and partners' Ashford Stud near Versailles, Ky.
Ranking second and third on this year's list are Roman Ruler, with 155 live foals, and his half-brother El Corredor, with 153. The two stallions stand at John Sikura's Hill 'n' Dale Farms near Lexington, Ky.
In addition to the 36,317 live foals of 2007 reported through Sept. 6, The Jockey Club had also received 7,425 No Foal Reports for the 2007 foaling season.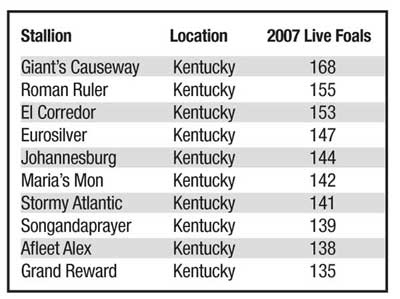 The number of stallions declined 2.8 percent from the 3,992 reported for 2005 at this time last year, while the number of mares bred decreased 0.8 percent from the 64,123 reported for 2005.
The 2006 breeding statistics are available alphabetically by stallion name through the Publications & Resources link on The Jockey Club homepage at http://www.jockeyclub.com.
Iuliano emphasized the breeding statistics are not a measurement of the live foals born in each state or province, but rather a count of state/province-sired live foals, regardless of where the foals were born. He also stressed that the statistics should not be taken to represent the fertility record of any stallion.
Kentucky annually leads all states and provinces in terms of Thoroughbred breeding activity. Kentucky-based stallions accounted for 33.7 percent of the mares reported bred in North America in 2006 and 40.8 percent of the live foals reported for 2007.
The 21,455 mares reported bred to 372 Kentucky stallions in 2006 have produced 14,801 live foals, a 0.4% increase from the 14,748 Kentucky-sired live foals of 2006 reported at this time last year. The number of mares reported bred to Kentucky stallions in 2006 increased 0.7 percent against the 21,310 reported for 2005 at this time last year.
Among the 14 states and provinces where stallions covered at least 1,000 mares in 2006, four produced more state/province-sired live foals in 2007 than in 2006 as reported at this time last year, and 10 produced fewer.
The statistics include 472 progeny of stallions standing in North America but foaled abroad, as reported by foreign stud book authorities at the time of publication. In this category, 128 live foals by North American stallions were reported from Korea (75 reported in 2006). Second was Ireland, which reported 75 live foals (64 reported in 2006).
Remaining countries on the list, with 2006 returns in parentheses, are Japan, 59 (63); Great Britain, 44 (38); Mexico, 36 (26); Venezuela, 27 (no report in 2006); Saudi Arabia, 20 (25); Thailand, 17 (31); Philippines, 13 (7); Jamaica, 12 (15); Peru, 8 (1); Chile, 7 (4); Brazil, 6 (3); India, 5 (29); Panama, 5 (no report in 2006); Russia, 4 (no report in 2006); Australia, 2 (7); France, 2 (20); Italy, 1 (no report in 2006); and Sweden, 1 (no report in 2006).
The report also includes 27 mares bred to 19 stallions in North America on Southern Hemisphere time. The majority of these mares have not foaled.