Undefeated in three starts, including a solid win in the Lane's End Breeders' Futurity (gr. I), Wicked Style has now achieved prominence as one of the favorites for the upcoming Bessemer Trust Breeders' Cup Juvenile (gr. I) and the title of champion juvenile male. But his greater significance may lie in his importance to the stud career of his sire, Macho Uno. Now third on the freshman sire list, Macho Uno stands as the heir apparent not only to his own sire, Holy Bull, but to an old American line which has managed to stay alive against all odds for over a century.
Himyar holds a rare place in American racing history, for he sired two sons that founded sire lines still extant today. One, Domino, is the direct ancestor of Include, whose daughter Panty Raid captured the Juddmonte Spinster Stakes (gr. I) October 7. The other, Plaudit, won the 1898 Kentucky Derby and sired King James, the champion American older male of 1909.
King James was no more than a useful sire, and his best son, the 1916 Travers Stakes winner Spur, was no improvement. Sting, the next link in the chain, won the 1925 Suburban Handicap and other good races but fared still worse as a stallion, getting only two stakes winners.
Fortunately for the continuation of Plaudit's line, one of those two stakes winners was Questionnaire. One of the best colts of the 1927 crop, Questionnaire won eight stakes as a sophomore and ran champion Gallant Fox to a desperate head in the Lawrence Realization Stakes.
---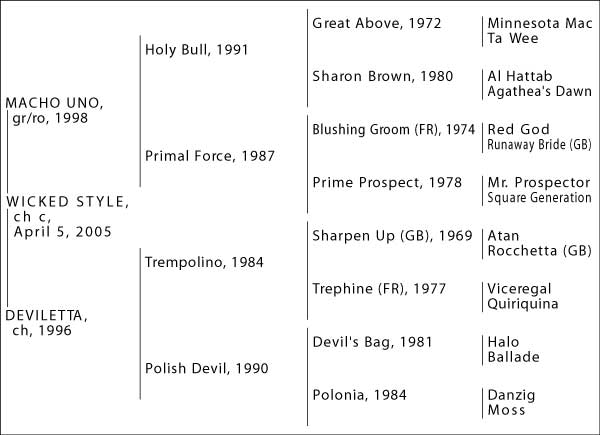 ---
While Questionnaire never sired anything quite the equal of Gallant Fox's best – 1935 Triple Crown winner Omaha and 1936 Horse of the Year Granville – he did become a good sire, getting 24 stakes winners. Among them was Free For All, an undefeated juvenile who ranked second to Pavot among the 2-year-olds of 1944 after winning all five of his races. But the colt went wrong as a 3-year-old,winning only one more race, and begot only nine stakes winners as a sire, putting the line in peril again.
One of those stakes winners was the 1951 Santa Anita Derby winner, Rough'n Tumble, who became the first notable sire of the nascent Florida breeding industry while standing at Ocala Stud. By far the best of Rough'n Tumble's progeny was Dr. Fager, the winner of five American racing championships including the Horse of the Year title of 1968. Rough'n Tumble also sired 1959 champion 2-year-old filly My Dear Girl, whose son In Reality is a key link in the line from Man o' War to modern times.
Although Dr. Fager was a good sire, he died young and left no obvious successors. The son of Rough'n Tumble who carried on was the lesser stakes winner Minnesota Mac, who passed the torch to his son Great Above.
Great Above was closely related to Dr. Fager on both sides of his pedigree as his dam, two-time champion sprinter Ta Wee, was a half sister to "The Doctor." He showed enough talent to win the 1978 Paumonok Handicap (gr. III) before settling into a solid career as a regional sire in Florida. He was 19 when his one great contribution to the national scene arrived: Holy Bull, who reigned as U.S. Horse of the Year as a 3-year-old in 1994.
Holy Bull has not been a great sire but has certainly had his moments. Arguably the biggest was Macho Uno's narrow win over Point Given in the 2000 Breeders' Cup Juvenile (gr. I), which landed Macho Uno the title as U.S. champion juvenile male. The colt was also a graded stakes winner at 3 and 4 before retiring to stud at Adena Springs South near Ocala, Florida.
Like his sire, Macho Uno is a complete outcross to the popular Northern Dancer line. (He is also an outcross to the Seattle Slew line, while Holy Bull is not only an outcross to the Seattle Slew line but to the Mr. Prospector line as well.) Deviletta, the dam of Wicked Style, is another kettle of fish, for she is inbred 4x4 to Northern Dancer and carries a strain of Halo (like Northern Dancer, a grandson of the mare Almahmoud) as well. She is by 1987 Trusthouse Forte Prix de l' Arc de Triomphe winner Trempolino, a son of the first-rate sire Sharpen Up (GB), and is out of Polish Devil, whose great-granddam Delta was Broodmare of the Year in 1968. This family scored a grade I double Oct. 6, for not only did Wicked Style score in the Breeders' Futurity, but War Pass – a tail-female descendant of Delta's three-parts sister Bayou – came home first in the Champagne Stakes (gr. I).
Because Wicked Style's crosses of Northern Dancer are both back at the fifth generation, he seems to have a pedigree with the potential for crossing successfully with a wide variety of mares; daughters of Machiavellian and Street Cry might be particularly interesting as this would pick up not only on Wicked Style's fourth-generation cross to Mr. Prospector but on his dam's line breeding to Almahmoud (the tail-female ancestress of Machiavellian, Northern Dancer, and Halo) as well. First, however, he has more racing to do. He has already proven that the 1 1/16 mile of the Breeders' Cup Juvenile is within his scope, and his breeding suggests the potential for getting classic distances. If he can deliver on that potential next year, the Plaudit male line may not have far to look for its next standard-bearer.