Color Guard
11:45 a.m.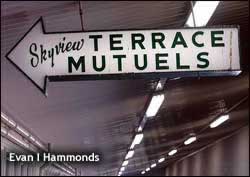 Walking in through the main gates at Monmouth Park, it's amazing the transformation that has taken place here. We take in a deep breath. What's that familiar aroma? No, it's not New Jersey…its fresh paint.
There is plenty of work going on here out around the paddock behind the grandstand: painting, hammering, unwrapping. The crew has today and tomorrow to finish things up before live racing returns to the Jersey Shore Wednesday afternoon.
Monmouth Park's signature green and white is being supplemented with a liberal dose of Breeders' Cup purple and gold.
Most everything that isn't nailed down has been given a coat of paint and many parts of the plant have received a fabulous makeover in advance of the Breeders' Cup, but there are enough reminders of the "old" Monmouth Park to keep its charm. The fourth floor Skyview Terrace brings back some memories.
We're awaiting plenty more to come in the days ahead. –E.H.

10 a.m.
Garden State Produce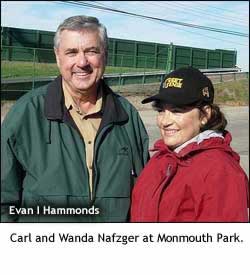 Carl Nafzger, trainer of Street Sense, discusses the Breeders' Cup and racing strategy with a circle of reporters outside his barn. Twenty yards away, his adorable wife, Wanda, chats with a friend on her cell phone.
They've had a whirlwind year with Street Sense, winner of the Kentucky Derby Presented by Yum! Brands (gr. I) and Travers Stakes (gr. I).
The year has been fantastic," Wanda says after putting her cell phone away. "It's been a blur, but you want to savor every day. Everybody has just been fantastic...it's hard to put into words."
The Nafzgers, who have been married 39 years, were stabled at Monmouth Park back in the summer of 1977.
"It was a wonderful summer," she says. "You know, you're here by the ocean…it was the first time we've ever been by the ocean. Monmouth Park is so pretty. I loved eating the blueberries in the Turf Club at Monmouth Park." –E.H.
9:15 a.m.
The Track Buzz
Buzz Chace is hanging around outside his car near the track kitchen. The venerable bloodstock agent is a "Jersey Guy" and a Monmouth Park guy. He lives just "right out of the back gate" in Little Silver.
"This is a very colorful track," Chace says. He should know he's been coming here, and working here, since 1962.
"The first horse I led over to the track as a groom was Batter Up," he says. "She was champion 3-year-old filly. She won the Miss Woodford Stakes. I was working for (trainer) Joe O'Shea at the time."
He's seen a lot of good races here since then.
"One memorable race was In Reality breaking his maiden here. He paid $58 and he won by eight lengths…and I bet on him. That was a memorable race."
Chace is looking to create some new memories this weekend. Six horses that he has picked out for clients are pre-entered.
"I bought the five horses for West Point Thoroughbreds," he says of the partnership group that is loaded for this year's Breeders' Cup World Championships. "Lear's Princess has just been marvelous so far. She's more comfortable on the turf but she runs on the dirt, so I'm looking forward to that."
Lear's Princess is entered to go in the $2-million Emirates Airline Breeders' Cup Distaff (gr. I).
Chace also takes care of the horses for Hesses, who will send out Park Avenue Ball in the inaugural Dirt Mile.
"We'll be busy," he says. –E.H.

9:10 a.m.
Wanted: Heavenly Guidance
At Barn 25, self-proclaimed "star Breeders' Cup breeze jockey" Melvin Perez gets a leg up onto Ronny Werner trainee and Juvenile Turf hopeful Preachin Man. The 2-year-old son of Songandaprayer is ponied by Moose, a mustang-like horse who pins his ears disconcertingly when approached from the rear.
The two reach the track but there's a slight delay, because it doesn't seem quite apparent as to exactly what is allowed when it comes to Breeders' Cup horses on the turf. They walk onto the dirt track and stand, waiting, as the horse's connections try to figure it out. In the meantime, Preachin Man is peering around the edges of his black cup blinkers, taking it all in, ears pricked.
"Are ponies allowed on the turf?" asks Moose's rider.
The answer from the outrider is indiscernible, which makes sense since he's far up the track. When he rides closer, it's not what Preachin Man's connections want to hear.
"No ponies on the turf."
"Ok, then we're going to back up to the finish line and warm up there, and then go onto the turf," the rider says.
This statement is met by the outrider's dubious acquiescence.
"Don't see why it would be a problem," he says, and as Preachin Man jogs away, he mumbles under his breath, "but then again, it might be."
He thinks it's difficult to figure out now? Just wait until tomorrow's European onslaught. Looks like someone could use a little heavenly guidance.
Preachin Man offers no guarantees. –C.N.
Oh, Baby
8:30 a.m.


A paint pony stands outside of Barn 4 . This is "Junior," and he is waiting to escort Grey Goose Breeders' Cup Juvenile Fillies (gr. I) contender Clearly Foxy to the track. Distracted by this passing reporter, Junior takes a tentative step forward and noses around.
Sorry, buddy, no peppermints this morning.
Over the loudspeaker, the announcer's voice blares the signal – "Attention, horsemen, the track is now open."
It's about time. Clearly Foxy has been walking the shedrow under tack for a good while, patiently, her 2-year-old manners nearly impeccable. Now, Junior's rider takes the shank. They head for the track.
There, heading the wrong way for a warm-up, Clearly Foxy trots along beside her equine security blanket. She peeks over his neck with one eye, seems clingy, likes the protection out there on that big old racetrack with all the other horses flying by.
Once released for her morning gallop, however, the daughter of 2002 Breeders' Cup Classic upset winner Volponi does her daddy proud. She tucks her head down and goes about her business, pulling just enough, feeling good, taking care of her job.
You'll have to forgive her if there are a few extra snorts thrown in for good measure.
After all, she's just a baby. – C.N.
8:05 a.m.
Swept Up in Monmouth Park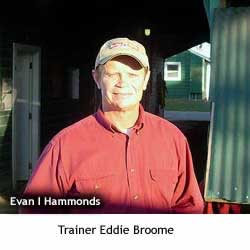 Trainer Eddie Broome has been a New Jersey mainstay for 25-plus years. A self-professed "Jersey-bred," Broome was based at Philadelphia Park for 15 years and has now been stabled at Monmouth Park since 1995.
"I love Monmouth Park," he says with a huge smile. "To revitalize this place has been a thrill for me. I'm hoping the Breeders' Cup comes off well enough so that maybe five years from now, they'll come back and do it again…just to keep this place alive."
Broome has 33 horses in training at Monmouth.
His summer?
"The worst one I've ever had," he says, still smiling. "We'll be back. This has been the worst crop of horses I've had. Things just didn't work out. I was late bringing in a lot of the horses here from Florida and we just got a late start."
This week's special program might help him turn things around. He has two horses entered for Wednesday and nine he'll enter for Thursday.
Good luck, Eddie. –E.H.
Serenity…Now
7:50 a.m.
All members of the media, after driving through the stable gate, seem to have one mission in mind – find Street Sense's barn. Unlike Saratoga, where he was stabled far back in the quiet privacy of Clare Court, the winner of this year's Kentucky Derby Presented by Yum! Brands (gr. I) is conveniently located right off the main drag, directly across from the gap.
Barn 8, stall 52, to be exact.
As tractors renovate the surface, people congeal around trainer Carl Nafzger like flies swarm to honey. Photographers swoop in, videographers adjust their equipment, reporters ready their recorders. We'd love to stay and listen, but the week is young, and Nafzger will be here, steady as they come, every morning until the big day.
One barn over, between the unit reserved for trainer Todd Pletcher and the shedrow belonging to Overbrook Farm, a lone groom grazes a chestnut filly in a patch of grass. The sun, shafting down through oak and maple leaves, gives the scene a pastoral air. It is silent, unaffected by the hustle of Breeders' Cup madness.
For now.
When Pletcher's big horses ship in, the tempo will pick up.
The aura between the two barns is one of restful tranquility.
And that may be the last time you hear those words this week. –C.N.

A Buck's Worth of Info
7:25 a.m.
Looking on at the horses galloping over the track is trainer Cam Gambolati. He's a man who knows a thing or two about Monmouth Park and good 3-year-olds. He trained a colt named Spend a Buck, who won the Kentucky Derby (gr. I) in 1985 for owner Dennis Diaz.
Diaz opted to not go in the Preakness and a bid for the Triple Crown to run in the Jersey Derby (gr. III) at Garden State Park to earn a seven-figure bonus. It was a key moment in racing history as it led to a bonus being tied to the Triple Crown of the Derby, Preakness, and Belmont.
Later that summer, Spend a Buck finished second to Skip Trial in Monmouth's signature race, the Haskell Invitational (gr. I ). In what would be has last start, Spend a Buck defeated Carr de Naskra in the Monmouth Handicap (gr. I). He was later named Horse of the Year.
Gambolati is in his second year of being at Monmouth full time training. He currently has 13 horses.
How are this year's 3-year-olds, Gambolati is asked.
"I don't think there is much difference between the 3-year-olds and older horses," he says. "Usually, I'd give the preference to older horses, but Curlin, Street Sense, Hard Spun…they're very good horses. They can compete with anybody. I don't think the age difference is going to make any difference.
"It's going to be a trip race," he says of Saturday's $5-million Breeders' Cup Classic – Powered by Dodge (gr. I). "This is a real speed-type of racetrack. You get fanned a little bit wide over here and lose a little ground….if they cut the corner, that could be the race. It's a matter of where you're going to be because you can't separate them that much.
"If somebody is loose on the lead, like Hard Spun, he's going to be tough to catch." –E.H.

Gameday
7:20 a.m.
In Barn 4, Pohla Smith is interviewing Chuck Peery, trainer of Shore Do. The colt is entered in both the Bessemer Trust Breeders' Cup Juvenile (gr. I) and the Juvenile Turf. Tomorrow, when they draw, we'll know which one he's going to tackle.
Smith, formerly a racing writer for United Press International, has been working on the Breeders' Cup notes team for "a long, long time." She started freelancing in the 1980s and hasn't missed a beat since then.
What's the best part about covering the Breeders' Cup, Pohla?
"I guess it's just the international flavor," she says. "And seeing old friends. I don't get to cover live races that much, so it's a real treat. It's wonderful – like seven Super Bowls rolled into one."
Gameday coverage coming right up. – C.N.
You From Jersey? What Exit?
Sunday evening
Flying into Newark Liberty International Airport, we don't see the Statue of Liberty, but we do get a glorious view of the Manhattan skyline in the days last light. Hey, what's that right below us? It's the Meadowlands racetrack.
Effortlessly, the rental car eases on to the New Jersey Turnpike. Heading south, we come to the crossroads of the great state of New Jersey, where the Turnpike intersects with the Garden State Parkway.
We roll off Exit 11 of the Turnpike--the EZ Pass electronic monitor attached to the rear view mirror has replaced the old ticket, toll booth, and fumbling for change routine. Once on the GSP, it's a quick 25 miles or so south to Exit 105.
If you are familiar with Monmouth Park's stakes schedule, you know you're heading in the right direction. The towns featured on the sign before 105 are Red Bank and Lincroft. Exit 105 signals Eatontown and Long Branch. All are featured races during the summer season at Monmouth.
We're ready to go. –E.H.