Movin' On
12:45 p.m.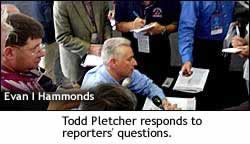 After the post position draw, which clocked in right at one hour to introduce all the dignitaries and draw 11 races, trainer Todd Pletcher takes a seat at table. He's quickly surrounded by a circle of cameras, tape recorders, and notebooks.
He runs through his runners and assesses his chances.
It doesn't take long for the obligatory question about last year's Breeders' Cup surfaces. Last year at Churchill Downs, Pletcher came with an armada of runners. He didn't find the winner's circle. He answers the question with aplomb.
"I like to win every time I run, obviously," he says. "I think we had some horses run really well last year. We had three seconds on the day…it's hard to say we had a horrible day when there were eight races and we had three seconds that were right there. All that being said, sure I was disappointed. Whether it's a Wednesday at Aqueduct or Breeders' Cup day, I want to win every single time. I'm disappointed anytime I don't win. But you've got to move on." –E.H.

9:30 a.m.
Firehouse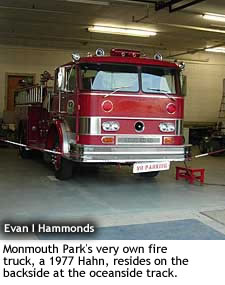 One of the many great things about Monmouth Park is that they actually have their own Firehouse on the backside. Sitting idle in the driveway is a rarely used 1977 Hahn fire truck. She's a beaut.
Not so idle is Oceanport Fire Dept. employee Richard Lawson. He's part of a three-man shift on duty this morning. The firehouse is manned 24/7.
"We have good fire prevention here," Lawson reports. "We don't have fires here."
Their last call to duty was last November for a barn fire.
"It was knocked down pretty fast," Lawson says.
There haven't been many emergencies, either. "No cats are allowed on the backside, so we don't have any of those 'cat-in-the-tree' calls and we don't do loose horses," Lawson says. "We like to keep things quiet around here."
So far, so good. –E.H.
Hi-Ho Silver
9:05 a.m.
Coming off the track is Joffe's Run, a European contender for the Grey Goose Breeder's Cup Juvenile Fillies (gr. I).
She is flanked by two stalwart ponies, but walks without a shank attached.
She is washed out. And fretting. Tossing her head.
Before she reaches the chute, the filly has had enough. She rears, striking the air.
Rider? What rider? Oh, wait, he's still on.
Sigh of relief.
"That was a complete 'Hi-Ho Silver,'" says ESPN horse identifier Chris DeMaio. "I don't know how he stayed up."
As Angel Cordero Jr. would say, "Bad, bad baby." – C.N.

Sausages, anyone?
9:00 a.m.
ESPN cameraman Tom Stone and horse identifier Chris DeMaio are standing by the gap, eyes peeled for purple Breeders' Cup saddle towels. DeMaio holds a walkie-talkie, communicating with other members of the network's crew scattered about the grounds.
The walkie-talkie crackles.
"You've got one coming up the O'Neill gap…"
This would be the gap in front of Barn 12, thus named because trainer Doug O'Neill's horses are stabled in the nearby vicinity.
"I'm not sure who it is," the walkie-talkie voice continues. "Rider has on red shirt, black sleeves, red vest, black helmet… should be easy to see."
"Now that's horse id!" Stone says approvingly. "That's what I'm talkin' about."
"There he is, coming out now," DeMaio points out. "Oh, look, he's got a white sausage on."
Say what?
"Martingales," Stone explains. "We call them sausages because they're linked. They look like links."
Oh, right.
DeMaio defends the lingo.
"Hey, 20 years ago when we first started this, we had no clue what was going on. We were non-horse people thrown into a job that took a lot of horse sense. We made due, we got along."
DeMaio and Stone claim to be the only people on the backside required to get two clips of footage of every single Breeders' Cup horse.
"The list started out with 141, but it's whittled down to about 120 with defections," DeMaio says. "That's our mission."
Sounds like the two deserve a hearty breakfast when they're done.
Sausages, anyone? – C.N.

8:35 a.m.
Two-Year-Old Form
Wandering over to John Forbes' barn is the great trainer Danny Perlsweig. He's donning a Lord Avie cap from Lane's End Farm. He should. He trained Lord Avie to the 2-year-old championship in 1980 off wins in the Champagne Stakes (gr. I), Young America (gr. I, at Meadowlands), and the Cowdin Stakes (gr. II).
"Everytime I'd go visit him, they'd give me another hat," Perlsweig says about his brim.
The trainer is asked about this year's Bessemer Trust Breeders' Cup Juvenile (gr. I).
"I like the horse (trainer Nick) Zito won the Champagne with," he says, in reference to War Pass. "He was very impressive."
He then changes gears to the Classic.
"I like Carl Nafzger's horse (Street Sense) for two reasons," he says. "One, the horse is so impressive. He won the Derby so good. He's run some challenging races and even if he finished second, it was a challenging race.
"Second, I'm rooting for Carl. I've know Carl since he started at Santa Fe Downs."
Perlsweig, a former rider, is a generous sort.
"When Danny had Lord Avie and won the Eclipse Award, he took every single person that he ever knew to dinner," Forbes said with a laugh. "He had to lost money on that deal. He made sure every person got a little taste of the championship. That had to have broken him." –E.H.

8:20 a.m.
The Great Race Place
Trainer John Forbes always has an opinion. A perennial leading trainer at Monmouth Park, Forbes has seen a lot in his years of training in New Jersey.
This year, his Cable Boy ran fifth in the Haskell Invitational behind Any Given Saturday, Hard Spun, and Curlin…all 3-year-old entrants in the Breeders' Cup Classic – Powered by Dodge (gr. I).
Hey John, who do you like?
"I think this is going to be a good one," he says. "Street Sense, Curlin, Hard Spun, and Any Given Saturday are real horses. When I say real horses, we all know what that means…and that's not to discount anybody else.
"I was impressed with Hard Spun's last race. It seems to me he's getting better. I love his pedigree. But Any Given Saturday's race here (the Haskell) was phenomenal. Curlin's last race (Jockey Club Gold Cup) was explosive. If any one of the four ran away with the race, I don't think anybody would be surprised. It should be a great race." –E.H.

Euro Gazing
8:14 a.m.
A chain link fencing divides the quarantine area from the rest of the world. The European shippers are stabled there for a certain period, then released to try out the track a few days later.
This morning, the first contingent tasted freedom, beginning what Turf writers love to term the "European invasion." Trainer Aidan O'Brien's star turf horse Dylan Thomas is expected to arrive around 8 o'clock this evening and will reportedly come outside Thursday.
In spite of the chain link and "keep out" signs, the quarantine area is well-kept and pleasant. In the shade of a few big oak trees, a "lad" walks a dappled grey. On closer inspection, it appears to be… well, we're not sure.
"I don't know who it is. You can come in, though. Just go around the back," says a security-badge wearing individual.
This erroneous information is quelled by the matter-of-fact statement of our European correspondent Mark Popham, who is doing what most European correspondents are doing – loitering outside the back gate.
"Of course you can't go in," he says. "It's quarantined."
Apparently, there are no European trainers to talk to this morning – they will arrive tomorrow, but that offers no guarantees to the waiting press.
"Sometimes, if they don't want to talk to you, they'll hide out in their barns and have someone watch until we all give up and leave, and then they'll sneak out the back gate and get into their cars and drive away," Popham says.
Sounds like someone needs a periscope. – C.N.
This Week
8:00 a.m.

Trainer Richard Mandella will saddle just one Breeders' Cup starter this year – Bessemer Trust Juvenile (gr. I) contender Dixie Chatter. Standing outside of Barn 16, he reflects upon the 2-year-old crop this year. With six Breeders' Cup victors to his name, he ought to know what he's talking about.
"Two-year-old racing in this day and age tends to come along farther at the end of the year, so right now there's a lot of hope and questions out there," he says. "At the end of the year, we'll probably look back and say, 'Oh, this was a pretty good crop.'"
He smiles and points to Dixie Chatter as the colt rounds the shedrow.
"Hopefully this one will show us that this week." – C.N.

Jersey Joe
7:45 a.m.
Natural occupation for a small kid born two miles away from Monmouth Park?
Yeah, we think Joe Bravo was destined to be a jockey.
Of course, it helps that his father was a jockey (grandfather, too, if you look back that far), but Bravo has carved out a niche of his own in the racing world – he's the king of Monmouth Park, owning a record 13 riding titles here, not to mention nine at the Meadowlands.
Bravo hasn't always been the luckiest guy; he's had a few spills, spent some time on the sidelines. But every time he comes back, he comes back strong, because the horsemen respect and admire him.
Standing outside of Kelly Breen's barn, looking forward to riding in the Breeders' Cup this weekend, Bravo is grateful for his quick comeback from his latest injury, a broken collarbone suffered in a Belmont riding accident this September.
"I haven't always had the best luck, but I've come back strong and I'm excited," he says. "It's good to be here."
And we're glad he's here. Jersey wouldn't be the same without him. – C.N.
Whoa, Baby
7:00 a.m.

"You wanna hear a hilarious story?" Norman Casse asks. Of course we do.
"My dad (trainer Mark Casse) called me like three times yesterday and I was like, 'Oh, man, something's gotta be wrong.' So I called him back and he says, 'You didn't breeze that horse yesterday, did you?'"
That horse is 2-year-old filly Clearly Foxy, whose morning gallop we referred to in yesterday's Morning Line.
"I said, 'Of course I didn't,'" the younger Casse continues. "And he was like, 'The clockers have her on record breezing. I even saw quotes from you saying she went well and you were happy with it!'"
Casse laughs.
"The funny thing about it is, she galloped about as slow as you can gallop."
The "official" workout time for the breeze that didn't take place?
One minute. Flat. – C.N.

Ship Shape
6:50 a.m.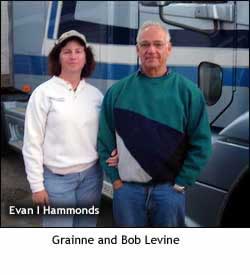 You have to get up mighty early to beat the husband and wife team of Grainne and Bob Levine. Both work for Brook Ledge, the equine shipping company. Grainne is the Brook Ledge agent for Monmouth Park and Bob has worked for Brook Ledge off-and-on since 1991.
They're moving equipment and directing traffic around Barn 9 as the Todd Pletcher-trained horses have just shipped in from New York. That's precious cargo.
It took two vans to tote Pletcher's brigade of horses from Belmont Park to Monmouth. They left at 4:30 a.m. "It's the best time to leave New York," Bob says. The trip takes an hour and a half to two hours.
Bob is getting ready to leave to leave around 7:30 to head to the Atlantic City airport to pick up a planeload of horses that are flying in from Kentucky. Bob will drive one of the two trucks back to Monmouth.
He wants to get there by 9 a.m. and the plane is scheduled to arrive around 9:45 a.m. Like commercial flights, "they're rarely early" Bob says.
Don't worry. He'll be there early. –E.H.
Getting a Handle on Jughandles
Monday Evening

Want to turn left in New Jersey? Get in the right-hand lane.
Newcomers to the Garden State aren't often in the garden spot behind the wheel thanks to "New Jersey lefts."
No, it's not a political action committee, it's the "jughandle" turn—a New Jersey exclusive.
At major intersections in New Jersey, the jughandle turn means that if one wants to make a left-hand turn, one must bear to the right—before coming to the intersection—off the main road down an off ramp, then turn left, while yielding to traffic, onto the road where one wants to go. One can then proceed through the intersection.
Got it? Believe me, it is a state of mind.
A routine trip for supplies or venturing to the track is a mini-adventure as you drive past the "jughandle" you need to take muttering to yourself, "I think that is where I wanted to turn…."
We'll figure it out by Saturday. –E.H.