Now That's Big
10 a.m
It's 10 a.m. Time for the first group meeting of the "Big Event Team" put together by the Thoroughbred Racing Protective Bureau. In all 22 agents are prowling the backstretch of Monmouth Park 24/7 looking for evil doers. Billy Fryer is one of those guys, but he's not a local. He's a ship in from Versailles, Ky.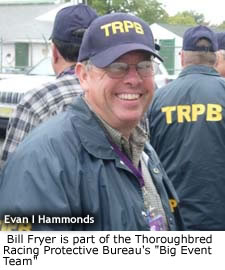 Fryer has worked security since 1984, but for the "Big Event Team" he defers comment to Pete Lang, field supervisor for the TRPB who is running the BET through its third Breeders' Cup event.
"The purpose of this is to keep a level playing field for everybody," Lang says. "We're here to help the trainers and help the horsemen do that. Whatever we can do for them, we're here."
In the first two years, Lang has run into very few situations. "We've had some problems with unlicensed people around the horses. Sometimes a vet has been let in that's not licensed in the state, that kind of stuff."
Lang and his crew have 12 golf carts to cruise around the backstretch, checking in on the 151 Breeders' Cup horses. At the moment, they're waiting for the doors of the Rec Hall to be unlocked so they can meet.
"It's the first time we're all together," Lang says. "We want to go over what we're looking for…any potential problems we may think we're going to have."
Lang knows his way around, he grew up near Monmouth Park. "I used to sneak all the time when I was a teenager. Now today, my job is to throw the teenagers out…and I know where all the holes are in the fences." –E.H.

Tommy One-Note
9:20 a.m.
A trainer should be proud to win a Breeders' Cup race, and Tom Proctor is. But he will not forget a certain publication included him in a story about "one hit wonders."
"You guys act like I never won another stakes," Proctor says while both laughing and grumbling.
Proctor won the 1994 Breeders' Cup Distaff (gr. I) with One Dreamer. This year, he'll seek to add to his resume with Purim in Saturday's NetJets Breeders' Cup Mile (gr. IT).
A second Breeders' Cup win would erase the one-hit wonder status from Proctor's name. But he'll never let the editors forget it was written. –D.L.

Road Warrior
9:10 a.m.
Trainer Larry Jones notices his truck needs an oil change. Thing is, it was just changed 10 days ago.
That's 3,000 miles in 10 days time.
"Since then I've been to Belmont twice and Monmouth as well," Jones says. He is stabled at Delaware Park.
Trainers like being at an East coast track, where they can ship to many locations to run. From one spot, you can run in Delaware, Maryland, Pennsylvania, New Jersey, and New York.
But, it puts miles on the truck getting from track to track.
Jones has Hard Spun in the Breeders' Cup Classic - Powered by Dodge (gr. I) and Proud Spell in the Grey Goose Breeders' Cup Juvenile Fillies (gr. I).
He hopes they both have enough gas in the tank to get the job done Saturday. – D.L.

Pick 'Em
9:05 a.m.
Trainer Todd Pletcher needs a scorecard just to keep track of his horses in the Emirates Airline Breeders' Cup Distaff (gr. I). He will send out a trio of top-flight contenders in the event, and would have made it a quartet if not for the late defection of Juddmonte Spinster (gr. I) winner Panty Raid.
Of the trio that will go, Pletcher was high on all of them. He noted that Team Valor's Unbridled Belle, winner of the Sept. 30 Beldame (gr. I), is doing as well as a horse can be doing coming up to the Distaff.
"She's trained as well since the Beldame as a horse can train," says Pletcher.
Although Indian Vale has come away from her last three tries winless, Pletcher says her second, by a head, in the Beldame, was the best race she's run in a while, and thinks she could be sitting on a big effort for owner Eugene Melnyk. Pletcher said she'll relish the nine-furlong distance of the Distaff.
Finally, about Octave, Pletcher said she is as consistent as they come. "She shows up and runs hard every time," says the trainer.
Asked if he had to pick one of his trio to win the race, Pletcher took the diplomatic way out. "I don't have to," he laughs. –L.S.
Halter Brigade
8:55 a.m.
Ed Donnally of the Race Track Chaplaincy of America is making his annual rounds before tomorrow's Taylor Made White Horse Awards luncheon. Every year, the RTCA auctions off halters worn by the Breeders' Cup Classic – Powered by Dodge! (gr. I) contenders at the event, so Donnally spends the previous morning walking the barns, handing out halters to horsemen and picking them up a few hours later.
Today, Donnally is followed by Nick Caras of the New York Race Track Chaplaincy and another volunteer. They swing by Barn 12 to pick up the halter Hard Spun is wearing, then trek down to Barn 8 to drop off another for Curlin.
"It's the halter bridage," Donnally says. "All the Europeans know me now. If there's a Classic horse from Europe, I stop by the barn and they're like, 'Ah, you're the halter man!'"
Donnally used to ride races, and was also a sportswriter before becoming the RTCA's development director.
"I was well-known as a jockey and a writer," he says. "Now I'm known as the halter man."
In five years of soliciting halters from the Breeders' Cup horsemen, he's never been turned down. Not once. – C.N.
Scott Blasi for President
8:40 a.m.
Steve Asmussen is not in town. The trainer of Breeders' Cup Classic – Powered by Dodge (gr. I) contender Curlin and Bessemer Trust Breeders' Cup Juvenile (gr. I) starters Kodiak Kowboy and Pyro has left things in the hands of venerable assistant Scot Blasi, who deals with the media with a touch of Asmussen-instilled diplomacy.
The questions can be as tough as a debate on government policy. Blasi's answers would make any political candidate proud.
Reporter: "Since Curlin beat Lawyer Ron in the Jockey Club Gold Cup (gr. I), why was Lawyer Ron the morning line favorite for the Classic?"
Blasi: "I'm a horseman, not a handicapper."
Reporter: "Which horse do you like for the Juvenile, Kodiak Kowboy or Pyro?"
Blasi: "They're both nice horses. We expect them both to do well."
Reporter: "Isn't there some kind of controversy with Curlin's owners?"
Blasi: "All I can tell you is he's a great horse, and it's an honor for us to train him."
Reporter: "Will he run again after this race?"
Blasi: "We're just focusing on the Classic right now. There's no crystal ball for us to look into and find out what will happen – we're just going to have to wait and see."
The reporter walks away. Blasi turns to the one remaining writer and smiles, charmingly.
"Do you need me for anything? Be glad to help you."
If you ask, he might kiss your baby, too. – C.N
Bob is Back
8:00 a.m.
At this year's Kentucky Derby, the "Morning Line" ran an item on trainer Bob Baffert. Titled "Bob Who?" at his own suggestion, because he had no Derby starter and went relatively unnoticed during his visit to Churchill Downs.
But all it took was one fabulous meet in Saratoga, and the trainer – a perennial media favorite – had four Breeders' Cup probables headed for Monmouth Park. He'll saddle two horses in the Grey Goose Breeders' Cup Juvenile Fillies (gr. I) – Indian Blessing and Cry and Catch Me. Midnight Lute will go to the TVG Breeders' Cup Sprint (gr. I), while Tough Tiz's Sis tackles the Emirates Airline Breeders' Cup Distaff (gr. I).
This morning, Baffert is chilling with ESPN's Jerry Bailey as he waits for Midnight Lute to head to the track.
He considers Midnight Lute to be one of the best horses he's ever trained.
Bailey is on the clock, has things to do. "I'll see you around," he says.
"No, no, Jerry, wait," Baffert says. "You got time? You gotta see this horse. Take a look at this horse."
Word of Midnight Lute's pending walk to the track spreads. Like magic, a cluster of cameras appears outside barn 10.
Bingo.
Bob is back. – C.N.

The Big O
7.55 a.m.
Leading a horse off the track and back to barn is trainer Joe Orseno. He's another Jersey Guy. And while he doesn't have a starter in this year's Breeder's Cup, he's a Breeders' Cup Guy, too. He won back to back BC races in 2000 at Churchill Downs with Perfect Sting in the Filly & Mare Turf (gr. IT) and Macho Uno in the Juvenile (gr. I).
"I'm so impressed with what Monmouth has done," he says of the Breeders' Cup experience. "It's really great for Jersey racing and I'm proud to say I'm from Jersey, but I was a little skeptical. I really thought we'd be freezing right now because I've been here in October and being a mile from the ocean, I thought 'Wow, somebody wasn't thinking.' But it's just been beautiful.
"Also, what they've done to pretty-up the racetrack….not that it was bad, it just needed a facelift," he says. "It feels good to be at Monmouth."
He reflects back on his magical moment back in 2000.
"The year before with Perfect Sting, we ran sixth, beaten just two lengths after a horrendous trip," Orseno says. "She was just 3…I thought to myself, 'We'll come back and win this next year.' And we did. I made a year prediction. And then Macho Uno won. He was a great horse…that was the toughest field of 2-year-olds: Street Cry, Point Given, Dollar Bill…look at that crop. It was phenomenal. That was quite a thrill winning two of the eight that they offer.
"I'll get back there," he says of the Breeders' Cup. "It's just like a football team, if you don't have the players, you can't win. We're trying. It's a difficult game." –E.H.

Photo Op
7:40 a.m.
Along the rail, between the first turn and the six-furlong chute, a line of photographers click away as Breeders' Cup horses gallop past. Right in the mix is Monmouth Park track photographer Bill Denver. His company is called Equi-Photo.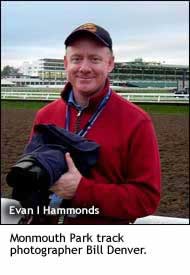 Denver says he's been the track photographer here for 20 years, but doesn't look old enough to have that many years behind him. Hey, the camera doesn't lie.
"I started out working for Jim Raftery…24 years ago here and at Atlantic City Racecourse," he says.
In all those years, Denver is asked what has been his favorite moment. He pauses.
"I was working for Jim Raftery…the Haskell of '87. Bet Twice, Alysheba, and Lost Code all together at the wire. That was pretty exciting. That was a thrilling finish."
He's right; that was a thriller.
Having the Breeders' Cup at his home track has "been fantastic. It's been exactly what I thought it would be…unbelievable. We've been gearing up for it for years, but even the last two months, I've been out here every day getting ready."
Denver will a crew of nine people to shoot the action this weekend. "We'll cover it from every angle," he tells us. In all, there will be about 150 photographers for the Breeders' Cup.
Denver is keeping a photo diary on his Web site so people can see the beauty of Monmouth Park. Take a look at equiphoto.com. -E.H.
Bullish on Bear Now
7:20 a.m.
At the end of Barn 5, Emirates Airline Breeders' Cup Distaff (gr. I) contender Bear Now is resting in Stall 17. The low overhang of the shedrow blocks her view of the outer world, but her ears are locked in to every sound of the action she cannot see.
As horses are unloaded from a van nearby, she leans against her stall guard and drops her neck low, as if attempting to peer beneath the overhang. Curious? Very.
Trainer Reade Baker and his wife, Janis Maine, are strolling back toward the barn.
Tell us about your filly, Mr. Baker.
"She's a relaxed horse, she's shipped before and handles it well so that gives us an advantage," he says. "It's nice to come in at a track where they don't have a race meet on – there's not eight zillion horses training for other races."
The plan for the Tiznow filly leading up to the race is simple. Like most contenders at this point, she'll gallop every day and go to the paddock two times each day, in the morning or in the afternoon.
Janis talks about the excitement of being here.
"Just to have a horse that's good enough in the race, I think that's a real honor," she says. "And we were very happy with the morning line odds (15-1). I think the handicapper who set them was respecting her, and that's nice to see."
Bear Now shipped from Canada. In the 23-year history of the Distaff, only one winner (Dance Smartly, '91) was based in Canada. Doesn't mean it couldn't happen again.
"She could be a real contender," Janis says.
We'll just have to wait and see. – C.N.

Crack That Whip
7:00 a.m.
Unlocking the door and flipping on the lights at Whips International this morning is Louise Ermides. The store, which is located just to the right of the track kitchen, is owned by James Walford.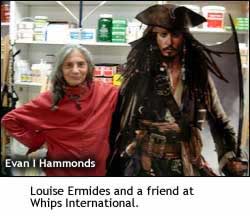 "I'm just the Indian, I'm not the chief," she says trying to skirt the interview. We're not letting her off the hook.
"We have two stores. One is down in Cherry Hill…that one is open all year round," Louise tells us. "Most of our business is done over the phone. We ship to 28 countries."
The store at Monmouth Park is only open during the season…and now Breeders' Cup weekend.
"We're famous for our whips. Business is very good…we can't keep up with it," Louise says. "James is originally from Canada and he was a jockey—a real good turf rider and he had a really bad fall. That stopped him and then he started making whips. Then, in New Jersey, when we started to have to wear safety vests, he got the contract to sell them. And that's how he started."
The small shop is seasonally decorated with a Halloween theme. Witches, cobwebs and dried cornstalks set the mood. So does the cutout of actor Johnny Deep from the "Pirates of the Caribbean" movies.
"I graduated from the Parson School of Design…then I wound up sitting on a horse for 20 years," Louise says.
It looks like she has a handle on things. –E.H.

Smart Art
6:55 a.m.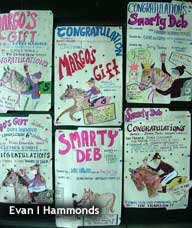 At the end of Doris Harwood's shedrow, six unusual posters have been tacked to the barn wall.
Each details a victory, with colorful explanations of the winning horse, trainer, and jockey. Three of these posters focus on Harwood's Grey Goose Juvenile Fillies (gr. I) starter, the unbeaten Smarty Deb. The cut-out decorations on the posters, fastened to simple cream file folders, look like folk art that should be framed in a child's bedroom. Harwood tells about the artist.
Apparently, Sally Steiner has been in racing "for ever ever ever," the trainer says. She runs the kitchen "The Quarter Chute Café" at Emerald Downs in Washington, where tradition requires that stakes-winning trainers buy coffee for the backside the day after their victory.
"When you do that, she makes up one of these little signs to tell everybody that comes in to buy coffee that it's been paid for that day, who bought it, who the jockey was…"
Steiner's artwork was getting "so darn cute" that Harwood hung onto all the pieces.
"I wanted to bring some of home with me to the Breeders' Cup, and these were perfect," she says. "Besides, Sally is just the nicest, sweetest, big love. She's a Momma to everybody on the backside."
And a talented one at that. – C.N.