My Main Man!
11:05 a.m.
Manning the Otis Elevator that serves as the stewards elevator at Monmouth Park is Ed Thayer. He knows the equipment….he's been operating the elevator for the past 11 years.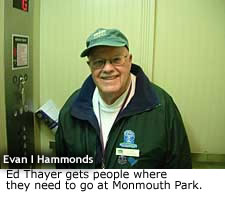 He notes it takes exactly 46 seconds to get from the basement level to the third floor. Upon exiting at the third floor, one needs to take two steps and then a hard right to the door that takes one to the press box and stewards' stand.
"We have a weight problem here," he says pointing to the sign that reads "Maximum 6 Persons."
"We had 12 in here one time, with the racing officials, and it was before the Haskell race and I had to get them up," he says. "It stopped. Finally, what happened was, we kicked everybody off and I took the officials up and they just made the race within a minute or two. That was about three or four years ago. That's why that sign appeared about three days later."
Ed is a very pleasant person and has been most accommodating this week.
"I'm retired; I retired in '90," the 75-year-old Thayer said. He then tells us how he found his way to Monmouth Park. "My wife said after awhile, 'Why don't you get a job; you're bored and you're getting to be a pain in the ass.' So I got a job here. After a year, they asked my wife to work here too…you see, she's charming and I'm not."
That may explain why Pat works the clubhouse elevator.
In his past life, Ed "was in charge of project management and design for the Jersey Central Power and Light Company in the engineering department. My last job was building the Freehold Mall. We did all the underground stuff."
That may explain why he doesn't mind being in a small enclosed space all day. –E.H.

Hard Pressed
10:40 a.m.
The old joke goes something like this: Everybody talks about the weather, but nobody does anything about it.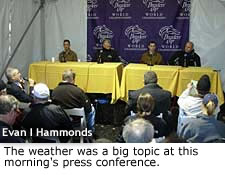 The weather is the kick off round of questions at a press conference being held back behind the paddock. The room is small and it's a full house. First up at the podium are jockeys John Velazquez and Garrett Gomez, trainer Todd Pletcher, and owner Terry Finley.
Velazquez weighs in on his two main turf mounts: The Leopard in tomorrow's Juvenile Turf and English Channel in the John Deere Breeders' Cup Turf (gr. IT).
"In my opinion, I think the turf was on the good side yesterday, maybe good-to-soft. With the rain last night and this morning, it's soft and on Saturday it's going to be soft. We just hope the horses can handle the ground."
Besides the weather, the "buzz" is building for the Breeders' Cup, especially for Finley, as his West Point Thoroughbreds will have multiple entries in the World Championships.
"The excitement level and the anticipation for the weekend is really starting to hit," he says. "We saw all of the horses training on the backside this morning, and I think over the next 48 hours, by the hour, it's going to get more exciting." –E.H.

Picture Perfect
9:30 a.m.
As horses make the walk up the sandy ramp to enter the track by the chute, they're met by a long string of photographers, videographers, and the sounds of modern technology.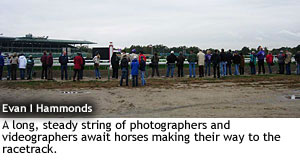 The whirr, clicking, and shush-shush-shush of the automatic shutters follow the horses wherever they go.
Apparently whatever happens at Monmouth Park doesn't stay at Monmouth Park.
It winds up on the Internet. –E.H.
Feeling Blue
9:25 a.m.
Bob Carver is not only a sports fan but quite a sport.
Carver, who owns a small interest in Hard Spun, is the longtime spotter for the Arkansas Razorback football team.
Carver and Larry Jones, who trains the Breeders' Cup Classic – Powered by Dodge (gr. I) starter, made a wager on the Arkansas/Kentucky football game that took place Sept 22. Arkansas has had a top team for years while Kentucky has its best squad in decades. Kentucky won, 42-29, at Arkansas.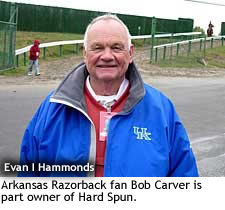 So, after the Kentucky Cup Classic (gr. II), which Hard Spun won, there was Carver wearing UK gear. And, on the backside of Monmouth Park Oct. 25, there was Carver wearing a Wildcats jacket.
"I'm paying my debt," a smiling Carver said. He then quickly pointed out that the new Arkansas basketball coach is Kentucky native and former player John Pelphrey.
Yes, Bob Carver is quite a sport. But he didn't say "Go Big Blue." –D.L.


One Exceptional Horse
9:20 a.m.
Walking up to the track to check out the surface, trainer Aidan O'Brien is swarmed by a horde of racing paparazzi. They circle in front of him darting left and right and crouching to capture Europe's leading trainer from all angles.
Light rain has been falling all morning, and the temperature has fallen as well; it is 54 degrees and cloudy. For O'Brien's John Deere Breeders' Cup Turf (gr. IT) contender Dylan Thomas, who likes a firm course, the weather does not bode well.
"Obviously the rain doesn't help a lot of my stock," O'Brien says. "I'm hoping it's not going to get horrible. We're delighted to come here to the Breeders' Cup but it's always tough; there are a lot of good horses."
Of course, it's nice to bring a really good horse of your own.
"Dylan Thomas is an exceptional horse," the trainer says. "He's unique in that he comes out of his races and turns around to run again so quickly. He's in good form and I'm happy with him. He's a star runner. To tell you the truth, I think I've never had a better one." – C.N.

Rain, Rain Go Away
8:45 a.m.
Trainer Dr. John Glenney Jr. watches on as his Transduction Gold enters the barn following his gallop and begins to cool out by walking the shedrow. The strikingly beautiful 4-year-old dark bay gelding was bred and is owned by John and his wife, Kim.
Facing the likes of Dylan Thomas, English Channel, and Better Talk Now, Transduction Gold will be longshot in Saturday's John Deere Breeders' Cup Turf (gr. IT) off his win in the Sycamore Stakes (gr. IIIT) at Keeneland last time out.
"It's such a tough race," Glenney says. "You've got two of the former winners of the Turf in Better Talk Now and Red Rocks and you've got the champion European horse and the champion American horse. It doesn't get any tougher than that. I have a lot of confidence in my horse, but he may run the race of his life and still finish fifth."
However, he may not run the race of the life if it's raining Saturday afternoon.
"He hates the rain," Glenney says. "When he's out there in the rain, he's shaking his head and he just does not like it. We had a work at Turfway when it was pouring down rain and it was a terrible work. He just turned his head sideways and didn't want to go." –E.H.
A Nice Quiet Spot
8:00 a.m.
Barn 8, home to James Tafel's Street Sense, is essentially ground zero on the backstretch at Monmouth Park. It's centrally located, it's near the entrance to the track, and its home to the Kentucky Derby Presented by Yum! Brands (gr. I) winner, so it's a perfect place for the media and others to huddle up and hang.
In the same barn is trainer John Sherriffs, with his Breeders' Cup Classic – Powered by Dodge (gr. I) contender Tiago and NetJets Breeders' Cup Mile (gr. IT) hopeful After Market.
Dottie Ingordo, Sherriffs wife, is standing outside. She got in last evening from California with Tiago's owners, Jerry and Ann Moss.
"It's really a meeting of the clan here," Ingordo says of the gathering. "I asked John if he had a nice quiet spot and he's four stalls down from Street Sense.
"That's the beauty of these races, you get to interact with all these wonderful people," she says of trainer Carl Nafzger and the Street Sense team. "It's a warm feeling that you get to share all of this with the people you respect." –E.H.

International Language
7:40 a.m.
Just below the viewing stand on the backside, trainer Saeed bin Suroor is talking on his cell phone. We're not exactly eavesdropping, but we're pretty sure he's speaking in his native Arabic language.
He then heads up the stairs of the stand where he's surrounded by the English press. They're discussing next year's European classic races. Eventually, the conversation turns to Godolphin's Discreet Cat. Off a better-than-it-looks third-place finish in the Vosburgh Stakes (gr. I) Sept. 30, Discreet Cat will be the favorite for tomorrow's inaugural running of the Breeders' Cup Dirt Mile. The colt also blew a hole in the wind Oct. 21 with a :57 2/5 work at Belmont Park.
"This was not the plan really," bin Suroor says of the workout in his Arabic-to-English translation. "But I talked to the jockey and he said that he finished his work well. I was looking for one minute. But he handled it really well and he's coming to the race really good."
So he didn't do too much?
"He's the kind of horse that has class…sometimes they do classy things."
Nothing lost in translation there. –E.H.

Awesome Hotwalker
7:35 a.m.
Strolling past Barn 6 in search of trainer Rick Violette, we catch a glimpse of a strangely familiar hotwalker. Is that Terry Finley of West Point Thoroughbreds? It is.
Muscling down the shedrow on the end of Finley's shank is Breeders' Cup Classic – Powered by Dodge (gr. I) contender Awesome Gem.
Trainer Craig Dollase laughs as Finley powers by.
"Awesome Gem's actually walking him," he says.
When Finley returns from his circuit of the shedrow, he hands the shank to Dollase and pauses to relate memories of his summers spent as a hotwalker for trainer Danny Lopez on the Monmouth Park backside.
"Remember those water buckets we used to stand them in to ice their legs?" he says. "I used to hate those things. You'd be sitting there and the horse would step backwards and the freezing water would go all over the stall…"
Finley worked two summers as a hotwalker, then graduated to rubbing horses and bringing them over for the races.
"I still have the picture of the first horse I rubbed – I walked him over and he was shiny as a copper penny," he says. "That was 1978, Monmouth Park. And you know who the jockey was? Tommy Albertrani."
Albertrani's riding career didn't last long; he turned his expertise to training and developed powerhorse Bernardini, second in the Classic to Invasor last year.
"It's great," Finley says of being back at Monmouth with a Classic contender. "He's feeling good. I have just one thing to say to the bettors; leave us out at your own peril." – C.N.
Grand Central
7:15 a.m.
The track is awash in purple as Breeders' Cup contenders – their names written in white on the colorful saddle cloths – stretch their legs over the surface.
From the clockers' stand at the gap near trainer Doug O'Neil's barn, Breeders' Cup Filly & Mare Sprint contender Dream Rush jogs past, going the wrong way with the pony. Bessemer Trust Breeders' Cup Juvenile (gr. I) contender Wicked Style does the same, sloshing across the wet ground. Shore Do, entered in the Juvenile as well, gallops by alone with his neck bowed, exercise rider bracing the reins. Salute the Sarge and Overextended – yep, you guessed it, more Juvenile contenders – are exiting the track. Breeders' Cup Juvenile Turf contender Strike the Deal and Emirates Airline Filly &Mare Turf runner Simply Perfect are coming on.
And all this in just five minutes.
It's gonna be a busy morning. – C.N
Not-So-Good News
7:05 a.m.
Walking away from the track is the gracious trainer Angel Penna Jr. He's got a worried look on his face. That's not his usual appearance. Perhaps he should a furrowed brow this windswept, gray morning: his Remarkable News drew the dreaded outside post 14 for the NetJets Breeders' Cup Mile (gr. IT).
"With the number 14, I was shocked. But you know, it is the game….what are you going to do?" he says. "That's the luck of the draw, but that was not a good number. It was a low blow, but let's hope for the best."
Earlier this year, Remarkable News won the Firecracker (gr. IIT) at Churchill Downs. Penna will also send out Secretariat (gr. IT) winner Shamdinan in the John Deere Breeders' Cup Turf (gr. IT). Shamdinan drew a better post: four.
"Also the rain worries me a little bit," he says of the two-day forecast for rain, followed by more rain. "Remarkable has been breezing on the soft turf, and he seems to handle it good, but the race is a little different story. It complicates things."
You just have to stay positive and hope everything works out."
Well said, with class. –E.H.
Bright Lights
Wednesday Evening
The National Turf Writers Association's annual Breeders' Cup shindig and awards dinner takes place on the good ship Atlantis. The boat takes the group on a dinner cruise from Highlands, N.J. up into New York Harbor and then up the East Side of Manhattan.
Honored on the evening are jockey Calvin Borel, veterinarian Dr. Larry Bramlage, and Turf writer Dick Jerardi.
Even through the rainy conditions, the view is magnificent out on the deck as the Manhattan skyline rolls by. Bright lights, big city.
After dinner, and on the way back to reality, the boat stops for a few minutes for an even more impressive viewing right off the Statute of Liberty. Stunning. No matter how many times one has seen her, Lady Liberty always makes for a 'Wow' moment. –E.H.