MAHUBUAH'S CORNER
By Avalyn Hunter

When Kelso took the fifth and last of his five consecutive Jockey Club Gold Cups (then at two miles) in 1964, many veteran horsemen believed that they had seen a feat that would never be equaled in American racing. That belief was understandable – but wrong. Last Saturday, Michael Moran's fabulous gelding McDynamo not only equaled Kelso's mark in a championship-level event by winning the Breeders' Cup Grand National Steeplechase (NSA-I) for the fifth consecutive time, but in some eyes went "King Kelly" one better – after all, Kelso wasn't toting 156 pounds over 14 fences each time, even if he was going a bit faster.

Flat racing and steeplechasing are different games, of course, and there is no real comparison between Kelso and McDynamo except in their dominance in their respective fields. But that McDynamo has earned the right to be compared with one of racing's greatest is in itself remarkable. While not exactly a "nobody from nowhere," it seems safe to say that McDynamo's great success as a steeplechaser was not what his connections had originally anticipated.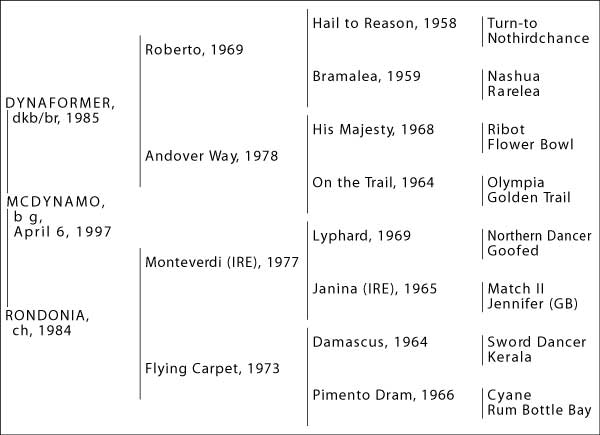 Bred by Richard and Nathan Fox in partnership with Richard Kaster, McDynamo is by Dynaformer, who stood for $17,500 when McDynamo was conceived in 1996. That Dynaformer now stands for $150,000 is a tribute to the success he has had under the management of Three Chimneys. The sire of 81 stakes winners (8.8% of foals of racing age) as of Oct. 22, Dynaformer has proven a consistent sire of tough, staying runners and this year got his second Classic winner in Lucarno, winner of the Ladbrokes St. Leger (Eng-I). His first, of course, was the late Barbaro, winner of the 2006 Kentucky Derby (gr. I). Dynaformer boasts 64.9% winners from Northern Hemisphere foals 3 years old and older, and he has improved on his mares throughout his career; he currently sports an Average Earnings Index of 2.19 against a Comparable Index of 1.72 for his mates.
Dynaformer, a foal of 1985, was bred by Joseph Allen along very similar lines to 1988 U.S. champion turf male Sunshine Forever: Both were by Roberto out of *Ribot-line mares from the family of Golden Trail and so were rich in the heritage of John Galbreath's Darby Dan Farm. (Darby Dan was, in fact, the breeder of Sunshine Forever.) Other good horses bred on variations of the same pattern include 1997 U.S. champion turf female Ryafan, 1996 Queen Elizabeth II Challenge Cup (gr. I) winner Memories of Silver, and 1988 Florida Derby (gr. I) winner and important Japanese sire Brian's Time.
While not the equal of Sunshine Forever, Dynaformer was quite a useful racehorse. His seven victories from 30 starts included the 1988 Jersey Derby and Discovery Handicap, both grade II events, and he also finished a close second to the older Nostalgia's Star in the 13-furlong Gallant Fox Handicap (gr. II) that same year. The colt retired to Wafare Farm (since renamed Richland Hills) near Midway, Ky., in 1990, later moving to Three Chimneys after the 1994 breeding season.
Fortunately for his connections, Dynaformer has been far more like Brian's Time than like Sunshine Forever as a sire. By the time of the mating that produced McDynamo, Dynaformer was already gaining the reputation of a useful stallion, his progeny including McDynamo's older full brother, Old Chapel. Old Chapel won the 1995 Generous Stakes (gr. IIIT) among his four victories from seven starts as a juvenile but never recaptured his best form in later years, eventually retiring with six wins from 41 starts.
McDynamo and Old Chapel were produced from the unraced mare Rondonia, a daughter of 1979 English and Irish champion juvenile Monteverdi (IRE) (by Lyphard). Monteverdi was probably the source of Old Chapel's early brilliance, but McDynamo seems to have taken more after his sire's later-maturing heritage. Damascus, the sire of Rondonia's dam Flying Carpet, undoubtedly contributed to McDynamo's stamina and toughness as well.
Flying Carpet comes from the family of Sea Snack, a stakes-winning daughter of Hard Tack. Far more successful as a producer than the similarly sired champion Seabiscuit was as a stallion, Sea Snack produced three stakes winners, including the high-class stayers Ricci Tavi and Endine, both by the Argentine import *Rico Monte. She also produced stakes-placed Rum Bottle Bay (by Thinking Cap), herself the dam of three stakes winners by Cyane, including four-time grade III winner Mo Bay and Pimento Dram, the dam of Flying Carpet.
While the family has produced its share of nice juveniles, its stock in trade has been tough, late-maturing horses with a taste for distance. Combined with the equally tough, late-maturing Dynaformer, the production of a fine staying runner is certainly no surprise. What is surprising is the emergence of first-class jumping ability in a family not previously noted for talent in this field; yet it seems that more than chance is at work, for Jamaican Flight, by Sunshine Forever out of Flying Carpet's half sister Kalamona, was a winner over hurdles in England.
Whatever the source of the spark that created McDynamo and all but gave him wings, the high-flying gelding has become a legend in his own right, as well as the leading money-winning American steeplechaser of all time. Regardless of the outcome of the Nov. 18 Colonial Cup (NSA-I), in which a rubber match with Iroquois Hurdle Stakes (NSA-I) winner Good Night Shirt seems likely to decide an Eclipse Award, McDynamo will be remembered as one of the best in one of the toughest of equine sports, proving him a worthy son of his hardy heritage.