Max-ed Out
Noon
Turns out you really shouldn't underestimate the power of the press.
The Blood-Horse's national correspondent, Steve Haskin, wrote an article for the magazine's Breeders' Cup Souvenir edition about Max's, a hot dog/deli joint located just a few miles south of Monmouth Park near the ocean. It's a legendary local spot, a hangout for folks like Bruce Springsteen, Jon Bon Jovi, and just about every major politician who's anybody in Jersey.
For lunch yesterday, Steve's pitch hooked Jerry and Ann Moss, owners of Tiago and Kentucky Derby Presented by Yum! Brands (gr. I) winner Giacomo; as well as their trainer, John Sherriffs and his wife, Dottie Ingordo; so the six of us whisked off to the eatery.
Trainer Bill Mott was already chowing down when we entered. In no time, our long table was stacked high with onion rings, fries, zucchini, a pot of warm sauerkraut, an egg cream, root beer sodas, and the foot-long hot dogs on which Max's has made its reputation for decades.
"Mrs. Max," Celia Maybaum, made sure everything was perfect with us.
A man soon approached Steve from a nearby table. "I came here from Alabama," he said, "and I ripped your article right out of the magazine and carried it with me until I walked in. You're why I'm here."
Fortunately, the man appeared truly happy to be tying on the feed bag at Max's.
Then, scant moments later, in walked Bill Farish of Lane's End Farm near Versailles, Ky., for the same reason. "I read the article," he said, quickly doing justice to the hot dog disappearing in front of him. "After that, I was odds-on to come here."
For you potential Breeders' Cup winners looking for a place to celebrate--there's obviously something special about Max's. –L.S.

Turf Talk
9:25 a.m.
On the chute, trainer Graham Motion is on his pony, circling his John Deere Breeders' Cup Turf (gr. IT) runner Better Talk Now. They're waiting to go onto the soggy turf course for a last-minute tune-up.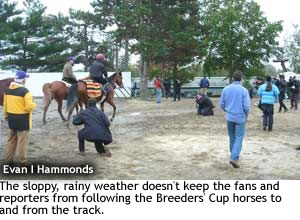 They'll have to wait a few minutes.
On the sloppy main track is George Washington, who has quite a following. Last year, the British sensation came billed as "Gorgeous George" and ran sixth in the Classic. This year he's winless in three starts, his crew is little more low-key, but he still draws a crowd.
The throng scurries as he makes his way down the chute on his way back to the European quarantine barn.
George Washington: First in war, first in peace, and last one off the track..at least this morning.
Better Talk Now, the turf course is all yours. –E.H.
Generally Confused
9:05 a.m.
Standing outside of Barn 9, 21-year-old Chris Duffy of the New Jersey Sports and Exposition Authority looks cold and uncertain. What's up, Chris?
"I have no clue what I'm doing. They just told me to stand here in front of Barn 10," he says.
Chris, you're in front of Barn 9.
"Yeah, um, Barn 9. That's what I meant."
Apparently, there was "another guy" with the NJSEA who was supposed to bring warmer clothes (Chris is only wearing a T-shirt under his windbreaker) and further directions (he's been standing there for 30 minutes without receiving any other than those previously stated).
A philosophy and religious studies major at Manhattan College, Chris has never worked security at a racing event before. When not in school he's usually busy at Giants Stadium, patting down football fans and breaking up fights.
"That's the main difference; there are a lot of fights," he says. "It doesn't look like a lot of people are fighting around here, so that's one good thing."
And it's about the only good thing, until the "other guy" shows up with his warm shirt and instructions. Or maybe he can find a stand-in so he can go back to his car and change.
"Right now, I'm just generally confused," he says.
We've all been there. –C.N.
Smilin' Ken
9:00 a.m.
What's a Breeders' Cup without "Smilin" Ken Ramsey? He's hanging around Barn 6 with his grandson Nolin.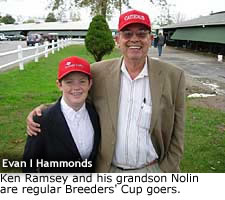 Ramsey, along with his wife Sarah, have three homebred horses in the Breeders' Cup: Cannonball in today's Juvenile Turf; Precious Kitten in the Emirates Airline Breeders' Cup Filly & Mare Turf (gr. IT), and Talent Search in the TVG Breeders' Cup Sprint (gr. I).
"I've got three in, but not as good a three as I had before," he says. He's referring to the 2004 Breeders' Cup.
"It's kind of hard to bring a Roses in May, a Kitten's Joy, and a Nothing to Lose to the Breeders' Cup," he says.
This year, all of his homebreds are by his stallion Catienus.
"All three were raised right there on the farm," he says.
Then he goes into salesman mode.
"Thirty-five-hundred stallion. I claimed him for $50,000 from Sheikh Mohammed. Catienus is by Storm Catout of a Mr. Prospector mare. He's leading in a whole bunch of categories. He's number 17 on the general sire list, ahead of some horse called….Storm Cat," he says with his patented laugh. –E.H.

Take a Dive
8:10 a.m.
Outside Barn 8, Sue McPeek holds the shank for Grey Goose Breeders' Cup Juvenile Fillies (gr. I) starter A to the Croft. The filly is getting her morning bath after a trip around the track.
"She had a nice gallop and marched around there like she owned the place," McPeek says.
"Hey, you're so sweet," she tells the filly.
A to the Croft stands like a lady, motionless except for the flutter of her nostrils, while a groom scrubs down her legs.
"She's very good," McPeek relates. "She's great in the stall and she's one you don't have to worry about. Jenna could have her fingers in her mouth to give her a peppermint and she would reach around them to just take the treat."
7-year-old Jenna is the daughter of Sue and trainer Kenny McPeek.
"Old Man Buck is pretty good for a colt," the lady McPeek says of her husband's other starter, a Bessemer Trust Breeders' Cup Juvenile (gr. I) contender. "If you're going to give him a peppermint he might be a little more aggressive, but he isn't mean. Repent, now, he was mean. He'd go after you, peppermint or no peppermint. He just wanted to take a dive at you."
Repent finished second in the Juvenile for McPeek in 2001. Maybe Old Man Buck's better manners will give him the edge he needs to dive into the winner's circle tomorrow. – C.N.

Tack Full
8:00 a.m.
Donna Morejon jogs out of Barn 5 and back to her white van. The blue lettering on the van says "Sunrise Tack." That's Donna's company.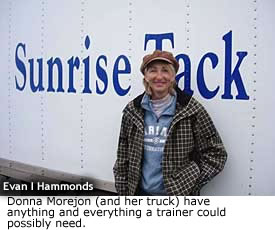 The Breeders' Cup has been "crazy" so far. Based at Payson Park in Florida, Donna visits Monmouth Park once a month.
She has everything the trainer needs. Just ask her.
"Supplements, leather, poultices, bandages, all that stuff," she says.
In the van is Jane Heart of Scottsdale, Ariz. She's in the equestrian jewelry business. It's all handmade items made in Arizona. She's just starting her "racetrack collection" and she notes she has a licensing agreement in the works.
Donna's tip for tomorrow: "Watch out for those Florida horses…and stay sane." -E.H.
Star Gazing
7:45 a.m.
From the O'Neill gap, there are sightings of Breeders' Cup contenders getting in one last stretch of the legs. Their hooves smack the damp surface, connect and withdraw with a heavy, hearty sound.
Whomp, whomp, whomp.
NetJets Breeders' Cup Mile (gr. I) runner Kip Deville gallops by going the right way, grey legs spattered with mud.
Emirates Airlines Breeders' Cup Distaff (gr. I) contender Prop Me Up does a freight-train trot through the slop, legs pistoning rapidly as she heads up the track.
Mile starter Nobiz Like Shobiz takes an easy gallop under Robin Smullen, looking good.
John Deere Breeders' Cup Turf (gr. IT) entrant Red Rocks trots by flanked by two ponies.
Entourage.
The purple saddle cloths begin to flash by almost faster than it is possible to figure.
Star power is underway at Monmouth. The show begins today. – C.N.

Coffee Time
7:40 a.m.
Trainer David Hofmans pours himself a cup of coffee outside the track kitchen at Monmouth Park. He adds a generous pour of milk and gives the mixture a stir.
"It's OK," he says of the coffee. Hmmm. He doesn't sound so convincing.
We think only half of what we hear from trainers we can believe.
Hofmans has two horses for tomorrow's Breeders' Cup races: Balance in the Emirates Airline Breeders' Cup Distaff (gr. I) and Greg's Gold in the TVG Breeders' Cup Sprint (gr. I). Balance went out on the track earlier this morning and Hofmans says Greg's Gold will go out later today.
"Balance did great," he reports. "She really likes an off track. She really gets through it. Greg's Gold did well yesterday, but it's a different track today. We'll see what the weather is like for tomorrow. We'll go from there."
What about you, Dave, do you like the off track?
"I don't," the Southern Californian says. "I'm not a mudder. I like it sunny and warm."
That we can believe. –E.H.
Return of the Suffolk Shippers
7:26 a.m.
Logging on in Barn 4, an e-mail from Tim Welsh flashes across the computer screen.
"Claire, what's up? Do you miss the Spa yet? Only nine months 'til opening day!"
The Suffolk Shippers – the band of not-quite-degenerate 30-something horseplayers who we met at Saratoga last summer are coming to the Jersey Shore tomorrow.
"Any inside info for me? I have a lot to win to make up for a tough, tough summer…" Welsh writes.
Welsh, Ken Semcken, and Mike Cummings will be minus Patrick "and down the stretch they come" Conlon, whose dejected and somewhat cryptic text message popped up yesterday afternoon.
"In Hawaii 4 wrk but wud rather b @ the jersey shore"
Have those words ever been said before? The Suffolk Shippers are hardcore.
Conlon's last text?
"Snd 2 picks."
Apparently, at least one offshore wager will be placed on the island this weekend – and three very live, very intent horseplayers will be calculating the odds here Saturday. – C.N.
Grey Area
Thursday Evening
There is no grey area about it: The Grey Goose VIP Party is a smash hit. Held a few miles east of Monmouth Park at the Ocean Terrace Ballroom on the waterfront, the party featured the music stylings of Jersey's own Southside Johnny.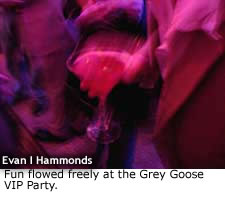 The site featured two large convention-hall type rooms. One featured plenty of food and drink options and had a mellow vibe for conversation; on the other side, one could rock out with the band. The hallway separating the two areas is decorated with walls of sheer fabric that are flooded with a bright blue light representing the Grey Goose brand.
In the spirit of things, Grey Goose vodka--the official spirit of the Breeders' Cup—is amply available.
The band comes on earlier than expected and rips through about a 90-minute set.
It's a tremendous show. One source proclaims that they're the "best band…ever."
Hey, we're in Jersey here. –E.H.
Hard Ball
Thursday evening
At the party, trainer Larry Jones is wearing his black cowboy hat. Todd Pletcher and Lawyer Ron, Steve Asmussen and Curlin, beware.
Jones sends out Hard Spun in the Breeders' Cup Classic (gr. I) – Powered by Dodge! (gr. I), and his talented speedster isn't going out to play softball with his frontrunning tactics.
Earlier in the day, jockey John Velazquez laid out what he considered to be the ultimate Classic nightmare for Lawyer Ron, his mount in the $5-million race.
"The only thing that worries me is that Hard Spun breaks a little slow, and if I'm on the lead he'll; push me along a little bit," Velazquez commented.
Upon hearing this quote, Jones shares some information the jockey might not be pleased to discover.
"That's exactly what's gonna happen if things go the way we plan. No question. Because his horse can be a little keen to get his race on and mine can settle much better. But that's what they should expect. I'm not gonna make it easy on them, that's for sure."
Tactics or no tactics, Saturday's big one is going to be a heck of a horse race. – C.N.