VIP Treatment
10:15 a.m.
Gerald Errichetti, Laura Von Glahn, and Connie O'Connell stop by the clubhouse dining room to inquire of the guest list. Volunteers with the Breeders' Cup VIP Escort Team, they're getting their assignments straight.
"We escort them everywhere," Gerald tells us. "We take them to the buffet, we answer questions about other locations in the building, and if their horses win we take them to the winners' circle."
Yesterday, Von Glahn escorted the Mark Gorman, Nick Mestrandea, Jim Perry, and their guests, connections to Breeders' Cup Filly & Mare Sprint winner Maryfield. O'Connell also had a winning team – Centennial Farms, owners of Breeders' Cup Dirt Mile winner Corinthian.
Von Glahn didn't bet on Maryfield.
"I hold my head down in shame," she says. "I'll be betting today."
Speaking of betting, and considering the girls' record, it might be a good idea to discover their assignments today.
In the Grey Goose Breeders' Cup Juvenile Fillies (gr. I), Von Glahn will accompany Proud Spell connections Brereton Jones and trainer Larry Jones. In the NetJets Breeders' Cup Mile (gr. IT), she has Live Oak Plantation with My Typhoon. In the John Deere Breeders' Cup Turf (gr. IT), it will be Jim Scatuorchio with English Channel.
Errichetti will be with Southern Equine Stable's Breeders' Cup Juvenile (gr. I) starter Salute the Sarge. In the Emirates Airlines Breeders' Cup Distaff (gr. I), he goes with Silly Goose Racing Stable, owners of Prop Me Up.
If that's not enough to get you started on a winning Pick 3, we don't know what is. -.C.N.


Food for Thought
10:10 a.m.
In the clubhouse dining room, where the guest list contains esteemed figures such as Bob Baffert and Doug O'Neill, one finds the menu for today's luncheon.
Lobster corn chowder with a dash of cilantro starts the meal off. You may order beef tenderloin with peppercorn sauce and butternut squash puree, a half lobster tail, a crab salad… more.
For dessert, it's Dark Side of the Moon – a fudge cake with white chocolate icing.
We're getting hungry. – C.N.
Bonding II
9:15 a.m.
Riding down the escalator, Frank Sicari and his son, Richard, attempt to locate the mutual clerk assembly point. They wear identification badges with "SARATOGA" emblazoned across the top.
Wait. Isn't this Monmouth Park?
"We drove down to work here today," Sicari explains. "We're trying to figure out where to check in, but we haven't been very successful."
Sicari scans the area. No assembled mutual clerks in sight.
"Oh well," he says. "It's a nice thing to do together. And it's always nice to come to the Jersey Shore."
Absolutely. – C.N.


And the Band Played On
9:00 a.m.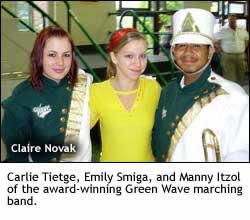 Before heading out to the area by the paddock, Long Branch High School students Carlie Tietge, Emily Smiga, and Manny Itzol of the award-winning Green Wave marching band pose for a picture.
They are "here to participate in the Breeders' Cup celebration," says assistant director Robert Stout.
This 72-member band doesn't mess around. Under the supervision of director Robert Clark, they won the Oct. 6 Yamaha Cup at Giants Stadium. They've traveled to competitions across the country.
"We practice a lot," says 14-year-old Tietge, who plays the saxophone. "We've been practicing for this in the rain."
"Yeah, that's been fun," jokes Smiga, also 14.
"Not really," says Itzol, 16, trombone in hand.
Looks like the band will be well prepared for today's forecast. Songs they'll be playing include the appropriately-named "The Horse" and "Carnival."
Maybe they could be persuaded to tackle "Rain, rain, go away" as well. – C.N.

Mud Caulks For Sale
8:45 a.m.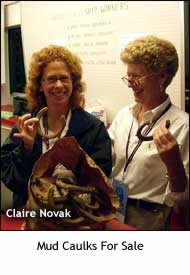 Ginger Malone runs the Finish Line Welcome Center in the first floor grandstand at Monmouth Park. A sign on the stand reads "Binoculars, $2.00," but Malone isn't interested in renting out one of the 20 pairs at her disposal.
"It's a big hassle," she says. "We have to take their driver's license, and we only have eight really good pairs left since they're always getting dropped all over the place."
Yesterday, Malone denied rental to several shady types. But she did allow "a nice-looking guy with an English accent" to take a pair, because he said it was really important that he see the track and he looked trustworthy.
Malone is much more willing to talk about her fundraising efforts for the Don MacBeth Memorial Jockey Fund, for which she sells $1 horse shoes to anyone who comes along.
"Al Gomez is our paddock blacksmith, and he makes sure we get the shoes," she says. "A lot of the regular gamblers know I sell them, so they're coming by and asking for some even though I don't have them out because of Breeders' Cup day."
Malone reaches under the counter and pulls out a bag of the contraband. The first shoe she picks up is studded with mud caulks.
Maybe that's a $5 shoe – for runners in today's races, caulks should provide an extra streak of luck. – C.N.

Bonding
8:30 a.m.
In the first floor grandstand gift shop, UPS business manager Sandy Fisher keeps a sharp eye out for intruders.
"We're not open yet," she says. "Not until nine."
Sandy, are you prepared?
"We're stocked up and everybody knows their positions; we have walkie talkies and lots of volunteers."
More than 200 people from United Way and UPS have been called into service to run the five different Breeders' Cup merchandise locations. One of them is unceremoniously dropped off in Fisher's care.
"Keep him busy," says Tom Contino Sr. as he introduces teenaged Tom Contino Jr. "Give him lots of lifting. Heavy stuff."
Junior mentions the reason he volunteered: "My dad dragged me here."
Fisher laughs. "Lots of families do it together. It's a bonding experience."
Now that sounds better. – C.N.