Mahubah's Corner
By Avalyn Hunter
The Breeders' Cup Juvenile (gr. I) can be a big temptation for the owner of a promising colt that has not yet proven himself to rank with the best. Some yield; others, usually proving wiser, aim for lesser targets, allowing their youngsters to continue their development under less pressure.
For owners Philip Lebherz, Al Mariani, George Schmitt, and Carol Wirth, the latter strategy paid off nicely when their Sierra Sunset picked up his third victory and second straight stakes score (following an eight-length victory in the Bay Meadows Juvenile Stakes) in the California Cup Juvenile Nov. 3. The colt has now won $169,696, a nice return on his purchase price of $40,000 at the CTBA Northern California September yearling sale.
Sierra Sunset was bred by Mr. and Mrs. Martin Wygod, who also bred California Cup Distaff Handicap winner Gentle Charmer. Both Sierra Sunset and Gentle Charmer are by Bertrando, whose status as a long-time stalwart on the California breeding scene was underscored by his three winners on the California Cup card. (The third was Bilo, who added a score in the California Cup Sprint to his earlier victory in the grade I Triple Bend Invitational Handicap.)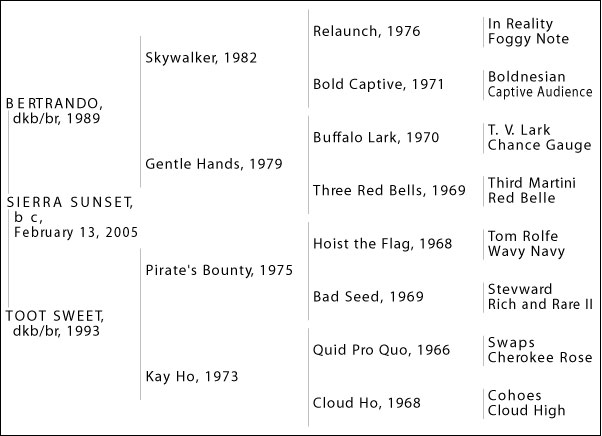 The U.S. champion older male of 1993, Bertrando has stood at River Edge Farm since his retirement. In an unusual but not unprecedented move, the stallion actually sired his first crop, foals of 1995, during a break in training for arthroscopic knee surgery; he recovered well enough to win the 1994 Goodwood Handicap (gr. II) in a thrilling stretch duel with Dramatic Gold but was unplaced in both starts as a 6-year-old in 1995 and retired for good. (Other stallions who have successfully returned to the track following a stint at stud have included *Ogden, who actually won two races in a single day at age 7, and Carry Back, who won the 1963 Trenton Handicap during his comeback. Both were fertile, unlike the less fortunate champions Twenty Grand, Grey Lag, and George Washington, who all proved sterile or sub-fertile prior to their returns to the track )
As Pirate's Bounty, another long-time regional leader, also stood at River Edge until he was pensioned in 1998 (he bred a few mares in 1999, and died in 2006), it was almost inevitable that Bertrando would be mated to many of his daughters. Unfortunately, this has not been a particularly productive cross. Of 105 foals of racing age produced by mating Bertrando to Pirate's Bounty mares as of Nov. 5, only 41 (39.0%) have won and only three (2.9%) have won stakes, Sierra Sunset being one; the other two are multiple grade II winner Smooth Player and 2006 Burlingame Handicap winner Seam Seeker. These results are subpar for Bertrando, who overall has 46.5% winners and 5.6% stakes winners from foals of racing age.
Toot Sweet, the dam of Sierra Sunset, was one of the better racing daughters of Pirate's Bounty to visit Bertrando as she was twice placed in restricted stakes for California-breds. She is a daughter of Kay Ho, whose firstborn daughter Kaylem Ho (by Salem) won four stakes in South Florida in the early 1980s and became the dam of 1995 Vanity Invitational Handicap (gr. I) winner Private Persuasion (by Pirate's Bounty). Through her unraced Pirate's Bounty daughter Wisdom Keeper, Kaylem Ho is also the granddam of Seam Seeker.
Sired by Quid Pro Quo, a son of Swaps whose chief distinction is his status as half brother to Fast Turn (dam of 1971 Horse of the Year and successful sire Ack Ack), Kay Ho failed to win in 13 tries but is a full sister to the stakes-winning colt M. A.'s Date and a half sister to another stakes winner in Salem Ho (by Salem). She is also a half sister to Mistical Mist (by Mehmet), whose granddaughter Mistical Plan (by Game Plan) won the 2007 Fair Grounds Oaks (gr. II), and to Princess Met (by Mehmet), whose grandson Windsor Castle won the 2000 Remsen Stakes (gr. II).
Kay Ho was produced from Cloud Ho, a winning daughter of Cohoes from the *Castle Hill II mare Cloud High and so a half sister to multiple stakes winner Sky Highness (by *Sky High II) and to multiple stakes producer High Heeled Honey (by the Mr. Prospector horse Gold Stage), whose grandson Jupiter Pluvius (by Johannesburg) won this year's Killavullen Stakes (Ire-III). The family traces back to Sarah Ginger, a half sister by *Spanish Prince II to 1925 Kentucky Derby winner Flying Ebony, and given the opportunities it has been provided has a respectable record.
Sierra Sunset is a complete outcross within five generations, the closest duplication in his pedigree being 6x5 to *Mahmoud. His breeding shows a nice balance of speed and stamina, suggesting that nine and perhaps 10 furlongs should be within his scope, and the maturity and determination he showed during the California Cup Juvenile should stand him in good stead as he continues his development. One can certainly hope that this will be a case of patience paying off.